Fête de la musique 2011
04/04/2011

James Leg (Black Diamond Heavies)
08/04/2011
Just a little heads up the the Girondins de Bordeaux will be playing at home this weekend.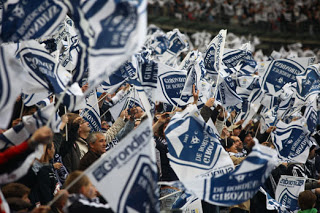 Their coach Jean Tigana has been struggling to get Bordeaux on the right track this term and the former France international will be wanting more than a draw to give fans something to shout about.
When: Saturday, 9th April, 2011 @ 7pm
Where: Stade Chaban-Delmas, Place Johnston, 33000 Bordeaux
Cost: Buy tickets here.
Ticket Prices : season 2010-2011

| | Catagory 1 | Catagory 2 | Catagory 3 | Catagory 4 |
| --- | --- | --- | --- | --- |
| *Grand Stand Centre | 10 € | 12 € | 14 € | 16 € |
| *Grand Stand bottom | 12 € | 14 € | 18 € | 22 € |
| *Grand Stand top | 18 € | 20 € | 23 € | 28 € |
| *Grand Stand Side | 23 € | 26 € | 31 € | 38 € |
| *Grand Stand Central | 30 € | 33 € | 40 € | 48 € |
| *Honneur | 30 € | 33 € | 40 € | 48 € |
| *Box Bottom | 40 € | 42 € | 56 € | 68 € |
| *Box Top | 50 € | 52 € | 68 € | 80 € |
| | | | | |
| Children – de 10 ans | 2 € | 2 € | 1/2 price | Full price |
| Ages 10 to 16 ans | 1/2 price | 1/2 price | 1/2 price | Full price |