The Triathlon des Châteaux, will take place on the Saturday 23rd April in the town of Arsac, which is situated in the Medoc region (around 20km from Bordeaux). This first edition of the event offers a "Short Distance Triathlon" with a 1.5km swim around the Monbrison Castle, 40km cycle through the Margaux vineyards and a 10km run past the Châteaux Giscours and Angludet… finally arriving at the Domaine de Cordet in Arsac.

The organisers also offer a relay race in the morning (Sichel Trophy) for amateurs: 400m swim, 20km cycle, 5km run. Children are also included with the creation of the McDonald's Kids Duathlon, an event restricted to less than 14 years and offering a cycling and running course.
The kick off for the main event will be at 3pm, with inscription fees of €23 (€43 without license).
A maximum of 250 participants are expected around the Domain de Cordet. After starting near the old gravel pit of Château Monbrison, the triathletes will launch into two laps of the 750m with Australian exit. Then they will jump on their bikes for a ride of 40km, also making too laps which pass through the small village of Arsac. Between castles and vineyards, this course is sheltered from wind and six hairpin turns.
Entry forms must be returned before the 17th April if you wish to compete.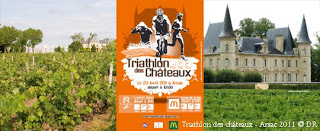 When:
Friday 22nd April 2011, 7:30pm : Pasta Party
Saturday 23rd April 2011
9:15am : Relay Triathlon – SICHEL Trophy
11:15am : McDonald's Kids Duathlon -McDONALD'S Trophy
12:30pm : Awards ceremony
3:00pm : Start of the Triathlon des Châteaux
6:00pm: Awards ceremony
8:00pm : Closing Dinner (€15-20)
Where: Arsac, 33460
Cost: €23 (€43 without license)