This Saturday the boys of the Union Bordeaux Bégles will be once again playing at home, this time welcoming Narbonne to Stade André Moga. After last week's defeat at the hands of Mont-de-Marsan (23-13), the UBB will be keen as mustard to hit back hard with a win of their own to keep their finals and accent to the Top 14 dreams alive.
The team is sitting jointly with Mont-de-Marsan (73 points), and a win this week is imperative to their final chances.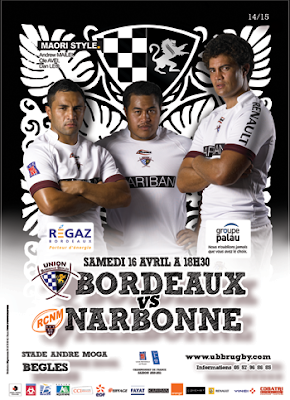 In other news, the UBB are beginning to prepare for next season and could even play again at the Stade Chaban-Delmas. The last time this happened was in October 2009 against Agen (15-29). The chairman of the UBB, Martin Lawerence, gave an interview to the Sud Ouest stating that he hoped to arrange more matches at the home of the Girondins de Bordeaux in the case of being promoted to the Top 14.
Here's hoping!
When: 16th April @ 6:30pm
Where: Stade André Moga, Impasse Delphin Loche, 33130 Bègles
Cost: Grandstand – €20 ; Enclosure: €10