Union Bordeaux Bègles Supporters Forum
03/08/2011

Beach Rugby Bordeaux
08/08/2011
The Soöruz Lacanau Pro, stage of the ASP Men's World Tour Star, the World Championship of Surfing Professional, runs from 11th to 21st August with the participation of the best international.
The 32nd edition of the oldest European stage will be pushing for the return of a Frenchman on the top of the podium. After Brazilan surfer Wiggolly Dantas took out the title in last years competition, followed by Alejo Muniz (BRA) and Richard Christie (NZL). The last Frenchman to win the competition was Joan Duru in 2009.
The Soöruz Lacanau Pro 2011 is also home to the Airwalk Lacanau Pro Junior (12th to 15th August), which has become an indispensable step on the world circuit the gromments who are younger than 21 years old. This also offers the winner a "Wild Card" entry which invites him to enter into the main draw of the competition 6Star World Tour.
Like every year there is a range of entertainment to be partaken once the sun sets. Fun for the whole family!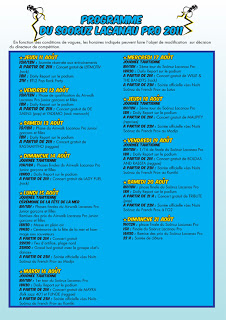 When: 11th – 21st August, 2011
Where: Lacanau-Océan, 33680 (60km from Bordeaux)
Cost: Free!

Soöruz Lacanau Pro 2010 – FINAL DAY from john sooruz on Vimeo.