The recent addition to the Bordeaux gig scene, I-Boat, is set to see the arrival of some swingin' tunes from the British Isles!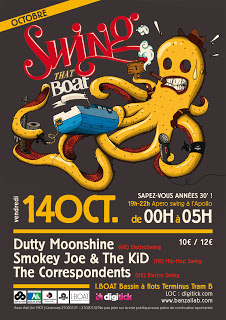 BANZAÏ LAB are putting on this night of Electro Swing/ Hip-Hop/ Drum & Bass as their inaugural outing upon the tides of trans Channel music connections. Be sure to strap on the spats, oil down the tommy gun and roll up the sleeves for a night of 1930's boogie-woogie beats.
THE CORRESPONDENTS (London, UK) – The Correspondents are MC Mr Bruce and DJ/Producer Mr Chuckles who collaborate to make Hip Hop for the 1930s and Big Band music for the 00s. Splicing swing samples with squelchy synths over dusty drum loops they've depicted a modern day journey into time of rogues, lust, affordable clowns and foot-tapping toe curling "get your brogues on" dance floor swing beat.
SMOKEY JOE THE KID (Banzai Lab / France) – Smokey Joe & The Kid are Bordeaux/Paris music mafia combo. Their identity based on the 1930 gangsters which is driven by remixes and original electro swing jams. To say their performances are energetic and in your face would be an understatement!
DUTTY MOONSHINE (Colorswing / Oxford, UK) – Swing for the rave generation and rave for the swing generation. Dutty Moonshine give you backgrounds of Drum and Bass, Hip-Hop, Funk, Electro and Breaks and a passion for vintage music, scantily clad ladies and dapper décolletage comes a duet DJ show which brings you back to the 30's with big bad dutty basslines thrown in to satisfy all those insatiable needs.


When: 14th October, 2011 @ 12am (swinging apéro @ l'Apollo bar from 7pm – 10pm / Free Entry)
Where: I-Boat, 1 Bassins à Flot, 33300 Bordeaux
Cost: €10 – presale (digitick) / €12 on the door


GET TICKETS HERE!