Roll out your yoga mats this Saturday for a chance to practice with a couple of real nice ladies…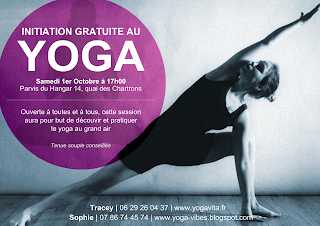 Sophie & Tracey have united their yoga forces and will be offering the chance to come together to share, explore and learn the benefits of yoga.
The session will take place outside next to Hangar 14 near the river. There will be English and French explations available…
So if you're looking for a way to relax, exercise or practise your English or French drop by for this free event.
For more information contact the girls directly:
Sophie: www.yoga-vibes.blogspot.com
Tracey: www.yogavita.fr
When: 1st October, 2011 @ 5pm
Where: Outside Hangar 14, Chartrons, 33000 Bordeaux
Cost: Free!