After a great second round win at home against Bayonne it seems the lads struggled somewhat when they went up against Clermont last week. They eventually went down 34 to 6, with Clermont controlling the majority of the game.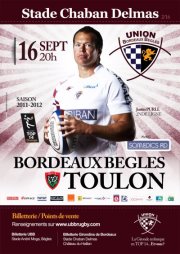 Gerard Fraser (UBB Fly-Half) commented after the match saying, "we didn't stick to the basics of rugby, with the aggression and desire to play. To take the ball in hand, pass and get our kicking right is something we just didn't do!"
Prop forward, Nicolas Decamps also went on to say that he thought the first 30 mins were of play were good but with Clermont's confidence and possession at the ruck it became much to hard to defend. "This is the TOP 14, where there is no room for errors. We'll have to play as a team (against Toulon) to better next week".
Following on from the raging success of playing at home at the Stade Chaban-Delmas in front of 26,000 spectators, the Union will be wanting to dig deep to give their Bordelais supporters something to cheer about. Toulon being another heavy weight of the TOP 14 will be wanting to get things right where the Bayonnaise did not. A saving grace for the UBB is that star players such as Jonny Wilkinson & Bakkies Botha will be out as they are representing their countries in the World Cup, but rest assured it will be a tough match as RC Toulon has the depth to cover their stand out players.
There are still some tickets left but get in quick as most of the good seats will go!
When: 16th September, 2011 @ 8pm
Where: Stade Chaban Delmas, 74 Boulevard du Maréchal Leclerc, Bordeaux
Cost: Starting from – €12 – €45