Easter Potluck Picnic
28/03/2014

ST. GEORGE'S ENGLISH BEER FESTIVAL @ the HMS VICTORY!!
15/04/2014
Cancer Support France Bordeaux & Région is pleased to invite you to Bald Is Beautiful!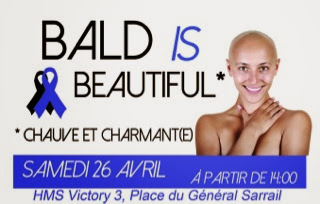 Come join us on Saturday April 26th at the HMS Victory (3 Place Général Sarrail just off Rue St. Catherine) beginning at 14h. Help us cheer as volunteers – including several well-known players from UBB Rugby – shave their heads to express solidarity with and support of people who are suffering or have suffered from cancer.
This will be a family-friendly event with face-painting, music, a raffle, and more!