The Cosmic Psychos are a punk rock band based in Melbourne and rural Victoria in Australia.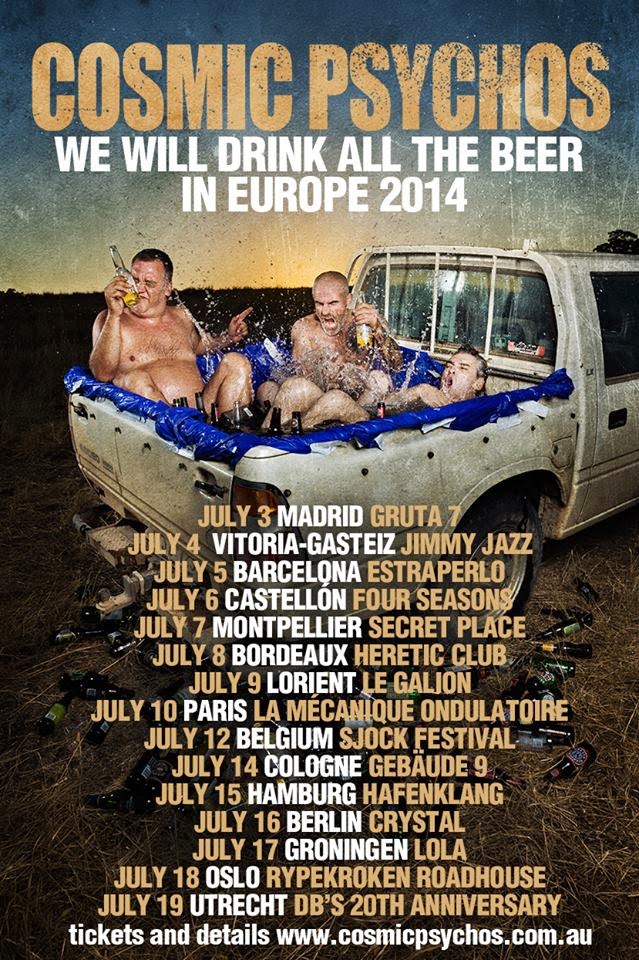 An underground band that has only ever achieved limited recognition, they were cited as a significant influence on the Seattle grunge scene of 90s. In particular they have been referenced by members of Mudhoney and Pearl Jam and have supported both bands. Known for their droning, fuzzed-out bass and wah-wah guitar with repetitive lyrics, the Cosmic Psychos have a simple sound that works well in context and remained largely untouched since they formed in 1982 when they evolved from the short lived Bum Steers and first achieved notoriety for their demo 'Custom Credit' which received enormous airplay on Melbourne public radio station 3PBS.
It was later released on the Down On The Farm mini LP for Mr Spaceman Records which also released their debut LP. The band later moved to Survival Records releasing Go The Hack which was later licensed to Sub Pop Records. They eventually signed to Amphetamine Reptile Records for the American market for their 1991 album, Blokes You Can Trust. Production duties were handled by the then little-known producer, Butch Vig, fresh from completing Nirvana's Nevermind. "Blokes You Can Trust" introduced a song that became an enduring fan favourite, "Dead Roo", which shed light on some Australian highway hazards.
The band went on to release Self Totalled and Oh What a Lovely Pie. In 2006, after a lengthy quiet period, the Psychos issued Off Ya Cruet on Sydney's Timberyard Records. Notable for being recorded with a new drummer, the title track on album is Kill Bill, a bitter song for ex-drummer, Bill Walsh.
The band was also covered by UK band The Prodigy who released a version of "Fuel My Fire" co written with L7 which was largely based on a previous Cosmic Psychos tune "Lost Cause".
Known for their hard drinking behaviour and vulgar lyrics, the Cosmic Psychos are one of the defining bands of the yob rock genre, a movement that celebrates the Australian male lifestyle.
The Cosmic Psychos are playing the Heretic Club on the 8th July.
WHEN: Tuesday 8th July, 2014

WHERE: HERETIC CLUB, 58 rue du Mirail, 33000 BORDEAUX
COST: €10.00
www.cosmicpsychos.com.au
www.facebook.com/thecosmicpsychos