The Hard-Ons are a punk rock band from Sydney, Australia that originally formed in 1981. They have been called Australia's most commercially successful independent band, with over 250,000 total record sales.
The group has recently turned thirty, celebrating when they played their first official show. To do this they recently carried out an extensive Australian and Japanese tour, this saw the return of original founding member Keish de Silva fronting the band for a 'Requests only' style set.
With the wind up of the four piece tour, Ray, Blackie and Murrary have just launched into a twelve date European tour in support of their new release "Peel Me Like An Egg".
Bass player, Ray Ahn, was kind enough to sit down and answer a few questions.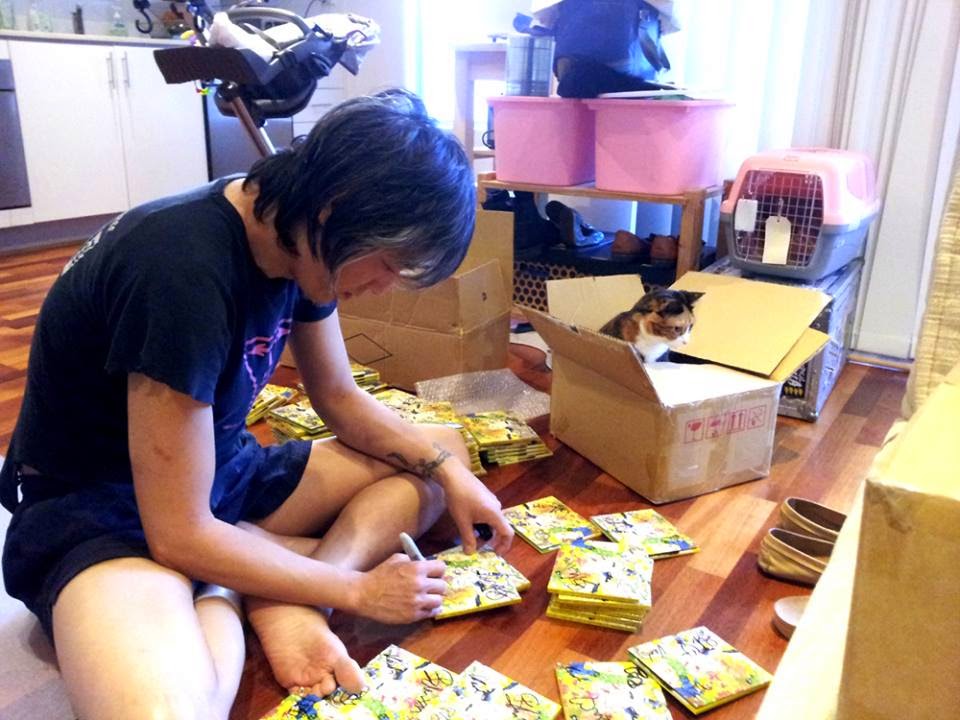 <BExpats> You have recently toured Australia and Japan on the back of your 30th Anniversary gigs. For these concerts you only played material from the first era (line-up) and now you're hitting Europe to support your newest release (Peel Me Like An Egg). How was preparing for essentially two different sets? I.e.: going from old material to the brand new stuff?
<Ray> To be honest it will affect Blackie the most as he has to now sing. We really just need to have a little band practise and it is not too difficult. By the way, Keish wants to be involved more with the band in the future and he did some vocals on the new album.
<BExpats> Will Europe be the first place you will have performed the new material?
<Ray> No, we played some of those songs in Australia already. In fact a couple of them had been in our live set for more than a year,
<BExpats> What songs can the European audience expect in the set?
<Ray> As usual we will play some very old songs but some stuff from new album and a mixture of other stuff, we always have a lot to choose from.
<BExpats> Going back to your 30th Anniversary concerts, Keish your original founding member, joined the ranks to perform your earlier material. Was there ever any talk of you bringing the same requests sets to Europe?
<Ray> Yes but Keish did not want to come. We already have done shows in Australia and Japan, and the four of us want to move on from those shows now.
<BExpats> Blackie recently hinted at trying to write new material as a four piece. I take it having Keish perform with the band again is always enjoyable, but do you ever envisage the Hard-Ons being anything but a three piece?
<Ray> Keish wants to come back as a full time member and he is welcome to. We are playing the MEREDITH FESTIVAL (Australian Music Festival) in DECEMBER as a four piece. We are not doing a retrospective set, so we will have to do a varied set with Keish doing all the vocals. To be honest, Keish is welcome back to the band any time, he is welcome to leave any time, he will always be a good friend and a really important part of the Hard-Ons whether he is on stage or not.
<BExpats> How was the Japan tour? What were the highlights? Any local Japanese groups we should take notice of?
<Ray> THE GUAYS from OSAKA are fantastic! They have one of the greatest punk drummers ever seen and she must be barely 18. We played with SLIGHT SLAPPERS again in TOKYO and as usual they were amazing. The audience loved the retrospective set and we really felt appreciated by them, one man in Miyazaki told me he considered the gig a dream come true, so it was very flattering
<BExpats> You've been coming to Europe since the late 80s, what observations can you make on how things are done in Europe compared to back home in Australia?
<Ray> I think there is an over reliance on pubs for shows in Australia but Australia still has really great bands. Europe seems to have more things like City Council and Municipality funded venues that do not run for profit. I wish there were a bunch of them in Australia but that is not the case. That seems to be the main difference in gigs, and also in the last years the festival thing in Australia was so overblown and popular it had to have an affect on smaller gigs. The huge popularity of big festivals was really bad news for small underground bands, there seemed to be a massive gulf between the levels of bands that did not exist to that degree in the 80's.
<BExpats> Do you find that European bands have the same DIY ethos that you are renowned for?
<Ray> All bands are the same all over the world
<BExpats> It's no secret that French cuisine is pretty rich for using meat. As Blackie is a vegetarian, does this pose problems in finding a decent nosh while on tour?
<Ray> He seems to work it out, in big cities there are many vegetarian places
<BExpats> The last time you played in Bordeaux was back in 2009, do you have any lasting memories of that gig or tour?
<Ray> That was our 25th anniversary tour and we were obliged to bring a stand-in drummer that meant he was not able to play every thing. Therefore, I did not enjoy the gigs but that was nobody's fault as Peter Kostic's repertoire could not really be learnt in a handful of rehearsals like we had with Greg (the stand-in).
<BExpats>Are you a fan of any particular French bands?
<Ray> THOMSON ROULETTES, LES WAMPAS, BURNING HEADS, TREPONEM PAL, METAL URBAIN, LES SHERIFF, FRANCOISE HARDY.
Cheers and good luck for the tour!
You can catch the Hard-Ons play in Bordeaux on the 30th September.
WHEN: Tuesday 30th September 2014 @ 19h30

WHERE: I-Boat, 1 Bassins à Flot 33000 BORDEAUX
COST: €9.00
You can also get their newest release through Boss Tuneage or at the gig!