With an unrivaled selection of British beers, chic upmarket atmosphere and superb menu, The Market Tavern has brought a fresh look to the Bordeaux gastropub scene.
Opening their doors in January 2015, they have landed the perfect location on 15 rue Rode on the Place du Marché des Chartrons – and are within easy reach of the Quais, Jardin Publique and trams B and C.
Part of the HOP/HMS Victory (Bordeaux institution) family of pubs, the MT has moved away from the standard Bordeaux expat pub 'package'. Less of the darts, cliché photos of the UK and ubiquitous French lagers, and more of the bagels, brunch and a wide selection of first rate draught British beers. Heavily geared towards the Chartrons scene and reminiscent of the new wave of gastropubs back in London, the MT is a long overdue addition to the Bordeaux international pub arena.
So moving straight on to the draught beers…
On tap the Market Tavern has a fine selection of ales and stout, listed below with tasting notes taken from the Beer Advocate website.
Abbot Ale – English Pale Ale – 5% ABV – A bright amber pale ale with shiny clarity and a thick creamy lacing resting on top. A little bit buttery and a hint of caramel; a subtle but pleasing aroma. Very malty with a kiss of orange and herbal hop. First caramel, then topped with a buttery yeast tone, then some toasted grain. Baked apple and golden raisins within the small fruity ester. Finishes a little sweet but with a long linger of malt.
Beer Advocate rating – 4/5
Belhaven Craft Pilsner – German pilsner style – 4.8% ABV – Golden color, crystal-clear appearance. White, close & lasting crown. Sulfur notes, hints of honey, earth, herbs & grain to the nose. Crispy & malty upfront followed by subtle & underneath honey & sweetness. Light body, moderate to soft carbonation, watery texture. Gentle & clean herbal bitterness lingers into a dry bitter finish while sweet & biscuit notes are shown on the aftertaste. Refreshing & kind drinkability.
Beer Advocate rating – 3.65/5

Belhaven Black – Scottish Stout – 4.2% ABV – Pours black as a starless night. World Class head volume, outstanding lacing and retention. Light nose of roast and chocolate over a slight mineral note. Heavy light body with just a hint of smooth texture. Above average carbonation level with a bit of effervescence in the middle and finish. The outstanding flavor profile is reasonably intense, a bit complex and very well balanced. It begins with chocolate sweetness which is a blend of bittersweet dark and milk characteristics. The middle has a very subtle bitterness from roast and hops over a distinct classic mineral note (think chocolate soda). The finish is a slow fade of rich sweet chocolate with hints of vanilla. This is an excellent choice to introduce someone to stouts.
Beer Advocate rating – 3.93/5
Magners Cider – 4.5% ABV – A unique Irish style cider made with 17 varieties of apples and a similar fermentation style to wine, for a fruity, complex character. Famous as the original over-ice brand.
"Cider on beer, never fear; beer upon cider, makes a bad rider."
~ English Proverb

(the mighty) Old Speckled Hen – English Pale Ale – 5.2% ABV – Pretty much the pinnacle of an amber/copper color, typical of ESBs/English pale ales. On the nose – mostly caramel malts, a touch of bready malts and yeast, some fruit esters and perhaps a touch of English hops just to tie everything together. On the palate – a rich yet balanced and not overly dense caramel flavor, coupled with some slight fruity tangs. Toffee and a touch of butterscotch are also there. Bitterness is well managed and makes the beer very quaffable. Subtle, yet refreshing embodying many of the qualities that make a good bitter, yet in a more indirect, drinker friendly manner.
Beer Advocate rating – 4.2/5

Twisted Thistle – English India Pale Ale (IPA) – 5.6% ABV – Clear amber pour with just a hint of red and a thick head with an excellent lasting lacing. Nice nose of light pine hops, mostly spruce but also a floral note, over a slightly sweet malt background. The body is on the high end of medium with just the right level of carbonation. Mouthfeel is smooth and just shy of slick. The flavor profile is quite nice and complex. It begins with caramel sweetness over a light spruce hop flavor, effervesces into a light bitterness with floral notes and finishes a bit tart. The finish itself is a blend of caramel sweetness and hop earthiness that lingers against a light bitterness over a background tartness. An outstanding "twist" on an IPA.
Beer Advocate rating – 4.33/5

And the resident guest beer – Double Hop Monster – India Pale Ale – 7.2% ABV – A clear, light amber color – topping it is a very small white head with short retention. The aroma is pleasantly fruity and sweet, not too strong but still easily picked up. The taste is sweet and feels creamy. Slight fruits, finishing with some roasty feel and bittery finish. A lasting hoppy aftertaste is nice. Very drinkable, expected it to be much stronger, but is actually pretty easy.
Beer Advocate rating – 3.89/5
The beers are from the Greene King (which includes Belhaven) and they have partnered up with the Sweeney Todd to organise the logistics of getting barrels driven down to SW France.

To keep the French happy, they have kept the effeminate Grimbergen rouge and blanche for those who chicken-out of drinking real beer. They are available in tiny feminine glasses with the option of an umbrella and a sparkler on top. mouah mouah xxx

For the uninitiated, they have beer paddles where you can try three beers for €9. Pints are also served colder than you would find in the UK to cater for local tastes and local weather! There are apparently regular comments from locals that the beer is 'flat'…

Prices are the usual €3.50 for a half and €6 a pint. Happy hours are Mon – Fri 5-8pm, Sat/Sun 4-7pm.
In the bottle they have:
Newcastle Brown Ale "Newky Brown" – English Brown Ale – 4.7% ABV – It has a bitter taste that is strong with some pine and even cedar notes. Though it it strong it is not off-putting and almost invites you to take another swig. There is definite orange and nutmeg in there too with some cinnamon and maybe raisin – all subtle and well blended. Very complex. Some breadiness there too, but light. Definitely a dark beer flavor.
Beer Advocate rating – 3.9/5

Magners Pear cider – Irish Perry style – 4.5% ABV – Pours almost as clear as water with a faint yellow-greenish hue and small foamy white head. Aroma is mild with notes of white wine, champagne and perfumed soap. Taste is medium sweet and light to medium acidic. Body is watery with sparkling carbonation. Finish is a bit short and only lightly crisp with notes that follow the nose.
Rate beer rating – 4/10
and… West Coast IPA on trial (possibly to come on draught).

There are a range of cocktails as well. English punch is served for €6.50 – Pimms and Lemonade with slices of lemon, orange, lime, mint and cucumber. They're doing jugs all summer… There is also an impressive selection of lesser know cocktails such as –
Mint Julep – traditional cocktail of the American South and particularly associated with the Kentucky derby – it has been put forward as the world's first ever cocktail..!
Bourbon, water, crushed or shaved ice, and fresh mint.
Old Fashioned – cocktail developed during the 19th century and given its name in the 1880s, is an IBA Official Cocktail. It is also one of six basic drinks listed in David A. Embury's The Fine Art of Mixing Drinks
Whisky, Sugar, Angostura bitters, club soda
Dark & Stormy – a highball cocktail made with Gosling's Black rum (the dark) and ginger beer (the stormy) served over ice and garnished with a slice of lime. In the US, the name "Dark 'N Stormy" and the corresponding recipe is a trademark of Gosling Brothers Ltd, the producer of Black Seal Rum and Stormy Ginger Beer in Bermuda.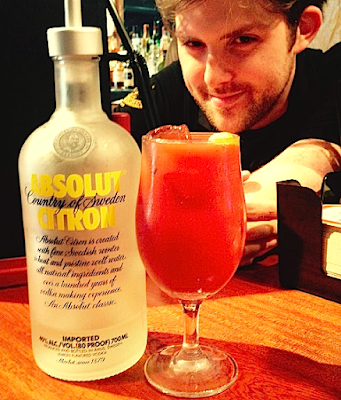 The Bloody (amazing) Mary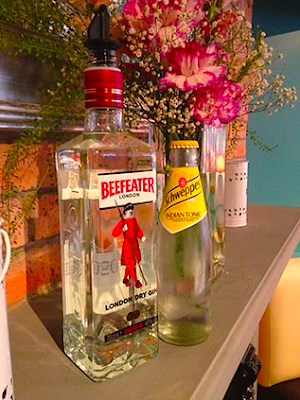 Interwoven into the fabric of the UK, the GnT darling…
On to the food…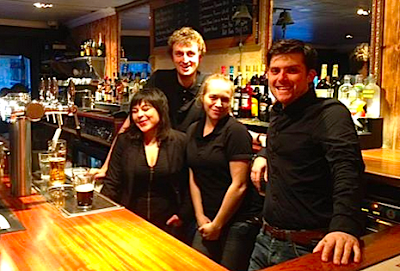 Andrew and his elite team of barstaff
The Market Tavern
15 Rue Rode
33000 Bordeaux