Jay-Jay Johanson is a Swede with an affinity for Portishead-esque trip-hop beats and melodies.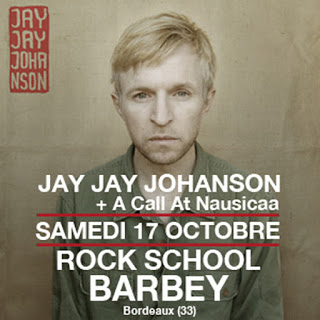 His trade mark floating vocals have spanned a little under a dozen studio albums, releasing his first record in 1996 and his latest offering coming out in June 2015.
"This new release is called Opium and it contains the very essence of Johanson's music: an ease with inventing melodies, a voice that gently caresses, and the jacked up, heady rhythms that lift and carry the songs."
Jay-Jay has a rather solid fan base in France, with his third album, Poison, being released in April 2000 and going straight into the French charts at number four.
In continuation with the promotion of 'Opium', he is setting out on a 10 date tour around la France in October.
He will be dropping into Bordeaux on the 17th and we have 2 tickets to give away!
For your chance to win, be the first person to contact us with what city in Sweden Jay-Jay was born.
Entries close the 14th October. TICKETS ALREADY AWARED
WHEN: Saturday 17th October, 2015
WHERE: ROCK SCHOOL BARBEY, BORDEAUX
TICKETS: www.base-productions.com/fr/agenda/139/
www.facebook.com/jayjayjohanson