Kelly is a Canadian artist who's been living in Bordeaux since 2009. The Bordeaux cultural buzz is growing on an international scale and allowing for many new opportunities for creatives, French and expats alike.
Where are you originally from?
I'm from Vancouver. I left Canada 19 years ago and have lived in several different countries…Australia, the UK, Sweden, but most of my time has been in the land of the croissants!
Where are you living at the moment?
I live in Le Bouscat with my French husband and 2 girls, aged 4 & 6.
I used to call it 'Le Bousac' but my GPS never seemed to find the place!
How long have you lived in the region?
I've been living in Bordeaux for 8 years. Previously we were in Annecy in the Alps, which is a lovely place but it had its limits in terms of work. Before that we lived in Lyon for 3 years.
Why did you move to France and why did you choose Bordeaux?
I moved to France because of a love story with a French man and an expired student visa in the UK . We got hitched in a small village in France in 2004 and to everyone's surprise and relief perhaps, we are still together! Bordeaux came up when my husband was offered several transfer options with his company. I wanted to go south and was really missing the ocean – so we moved here with no regrets.
What do you wish you knew before moving here?
Well maybe that the ocean isn't really next door. I still go down to the coast as much as possible, but you need a traffic plan on sunny days. The other thing I still find challenging in France in general, even after all of these years, is the red tape.
Did you find it easy finding accommodation when you first moved here?
Well my first career was as an architect, so house hunting for me is like drinking good wine – I love it! I visited 56 houses before buying our first place. (Crazy lady I know!!!) The property market was much more accessible when we first arrived. It's not the same story today.

What do you do for a living?
As many expats, my career path hasn't been linear. I worked as an architect in Lyon and Annecy, working mostly on public bids for infrastructure projects such as stadiums, pools and health care facilities. I then decided to make a change and took a CELTA certificate course. I worked independently as an English teacher and translator for business clients.
Today I'm an artist. I have been marketing and selling my artwork for the past year and I'm over the moon with the results. My work appeals to foreign visitors and the Bordelais alike. I have had numerous exhibitions and local partnerships. This new focus is really inspiring and I'm quite excited about where this might take me.
Was it easy finding work?
I believe that with enthusiasm and perseverance, we can always find something. It can be hard in France as a foreigner and the job market is no exception.
Has it been easy meeting people?
Up until recently, my friend network was mostly French nationals that I met via work or school related links. Expat and other like-minded groups are now easy to find with social media, so meeting new people has become much easier. I'm really pleased to have new international friends and I find it reassuring to speak with other expats and also to speak in English to other native speakers.

Did you already know French?
Yes. I went to public school in French in Canada. Although my level was quite good, I still had difficulties with accents, idioms and social codes.

How do you find the cost of living/lifestyle in Bordeaux?
Good – things are still reasonably priced I find. It's the cost of real-estate now that is making a difference.
What's the best thing to do in Bordeaux on a summer's day?
Get out of town and head to the beach! There are so many great spots on the ocean, on the bay or on the lakes to go for a swim, a walk or a good meal. In Bordeaux, I love going across to the 'Rive Droite' and have a glass of wine with my feet in the sand at 'Les Chantiers de la Garonne' or listening to music at la ginguette 'Chez Alriq'. Cycling along the docks on summer evenings is also a favourite of mine!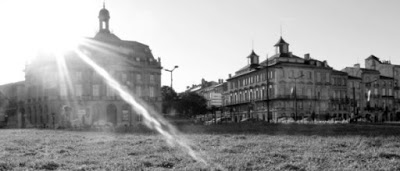 What's the best thing to do in Bordeaux on a rainy day?
There are various events and festivals all year long in Bordeaux, so you can generally find something fun to do on the weekend, even indoors – in the 'Hangars' or in the museums. A brunch in one of Bordeaux's great restaurants is also a good option. During the week, just going for a coffee in a café on Rue Notre Dame can be a nice option.
What are the positives of living here?
The light, the climate, the proximity to Spain and maybe the buzz that Bordeaux is feeling right now on an international level.
What are the negatives of living here?
The rocade!
Are you involved with any groups / associations / teams, etc?
Not really at the moment, I do some art exhibitions with a few local art associations. My 2 kids, job and the rest of it keeps me quite busy!
Do you have a business / website / blog?
https://www.art-kelly-allison.com/
https://www.facebook.com/artkellyallison/
https://www.instagram.com/artkellyallison/

Any closing comments?
Don't hesitate to contact me ☺
I love meeting new people — 'old' or new expats in Bordeaux!