If it weren't for a pair of shoes, Deborah Dawson wouldn't be in Bordeaux and in all likelihood, the world would be short a flamenco dancer.
Author: Melissa Rindell 
"It was love at first sight," Deborah says, remembering the first time she saw flamenco, when Centro Flamenco performed at her high school in Vancouver. "I loved how visually arresting it was, even more than the music. I loved the skirts, the costumes, the colours, the intensity of it all."
Deborah went home and begged her mum to sign her up for lessons, who agreed reluctantly. Deborah, after all, like most 14-year olds had started many things only to lose interest a few months later.
"I had no idea what to wear and showed up to the first day of class in shorts, a baggy t-shirt , and clogs. At the end of the class, the teacher told my mum where we could go to buy a skirt and shoes and it was more expensive than we had thought. My mum said, 'I don't think we're going to do this,' and Rosario (Ancer, the director of Centro Flamenco) overheard and offered to give me a pair of her old shoes. I still have them today."
Ancer's generosity was well placed and 2 years later Deborah was the youngest member accepted to Centro Flamenco's professional training program. 2 years after that, she was on her way to Spain to study with the masters.
"By my last year in high school, I knew I really wanted to go to Spain to study. I had been accepted at UBC (University of British Columbia) in a political science/social geography program, so I deferred for a year."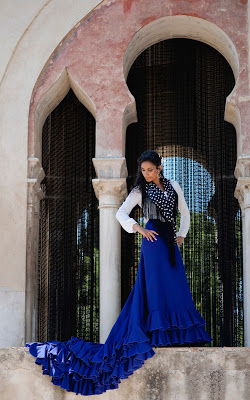 If Deborah's parents had objections, they were nothing compared to her determination, besides she had their history on her side. Deborah's parents moved from Malaysia and to Canada so they could work with more freedom as journalists and her mother's parents had left India for Malaysia. In her immediate family, only her brother, remains in the country in which he was born.
At 18, with a year of high school Spanish, Deborah moved to Seville, taking classes in the morning and working as an au pair in the afternoons and evenings.
"It was kind of naïve, looking back on it, but I'm glad. If I knew more, I might have over thought it and talked myself out of it."
After five months in Seville, Deborah met her future husband, flamenco singer, Alejandro Mendia at a flamenco show and a month later they travelled to Portugal together. Their next trip took them to France, where Deborah performed with Mendia's group, "Les Noces Gitanes."
"That's when it hit me. Before, I thought I would go back, go to University and teach on the side. But performing with Ale's group made me think, 'I could do this, I could really just do this.'"
Deborah has been dancing professionally ever since and has performed in Portugal, Malaysia, Russia, France, Switzerland, Ecuador, Morocco, Spain and at the Winnipeg, Calgary and Vancouver Folk Festivals, where her shows reached more than 15,000 spectators.
Deborah has been granted a residency this Fall at Le Cuvier in Artigues-près-Bordeaux to develop a show that explores her Indian roots and how she looks at flamenco, "It is said that the Gypsies who established, and continue to guard the essential character of flamenco, came from India. This show integrates the influences of classical Indian dance into flamenco. It's a project that's been festering for a while and is coming together with the right musicians. I'm working with people I really admire."
The show, which is not yet named will première on October 26th, 2018 at Le Cuvier.
In Bordeaux, Deborah is part of Le Projet Téléphone, a cross-genre/cross-cultural game of artistic telephone featuring local expat and French artists. Deborah watched a long-form monologue and was called upon to create a dance based on what she saw before sharing her work with the next artist in line (The line-up includes a writer/actor, flamenco dancer, DJ, illustrator, songwriter, costume designer, theatre company, filmmaker, painter and mixologist.).
Performance – Le Project Telephone
"I've never been part of something like this and I've never created a piece using flamenco that is so far from flamenco. Seeing someone else's work and knowing I was going to pass it on made me be as clear about my intentions as possible. The first decision I had to make was whether or not I was going to use music and I decided not to, because that would tell its own story. Then I had to decide if I would tell it as a non-verbal monologue or take pieces from it. I decided to do it as a non-verbal monologue from beginning to end, taking the ups and down and the emotions and show it as a story. It's not simultaneous, like with flamenco where the story evolves in harmony with the musicians. Here, I have to keep the energy going by myself."
Deborah moved to Bordeaux 3 years ago and says, "It wasn't buzzing yet. It's just in the last 2 years. There's an influx of expats and it's incredible that we're getting support from places like Les Vivres de l'Art and Le Cuvier. The expat community makes such a huge difference and being in Bordeaux right now is really exciting. For the first time since I left Vancouver I feel I'm in a place that I can call home."
Performance – Le Project Telephone
One is immediately reminded of another young woman who received a fateful pair of shoes and the phrase she was called upon to repeat, "There's no place like home."
Deborah will be performing in Le Projet Téléphone on April 29th at Les Vivres de l'Art at 9:00pm and at La Grande Poste on May 3rd at 8:00pm.
www.instagram.com/lacaramelitaflamenco
About the author: 
Melissa Rindell moved to Bordeaux from New York, where she worked as an actor, playwright and director. Before that she was a sports journalist for the Associated Press and did public relations for the Sydney Blues of the Australian Baseball League, Boston Red Sox, United States Olympic Committee and International Management Group. Melissa has been living in Bordeaux since 2015.