Bordeaux Expats are stoked to have teamed up with Musette Bicycle Café and Derek Rose Videographer to make this short promo clip.
The goal of this mini project was to form a collaboration among fellow expats in Bordeaux as our community has many talented and motivated individuals who all share a common goal of finding their place living here in the South West of France.
Massive thanks to Derek Rose for making sure the shoot went as smooth as possible and his professional approach to the project.
Thanks to the expat and local community who turned out to help being 'extras'. Apologies if your footage didn't get used but we appreciated your help regardless!
Thank you to Chris & Rob for being so welcoming and cool with the concept. They opened Musette bicycles and coffee in late November 2107 and shortly after we ran this article about them. Since then they have been doing well, repairing lots of bikes and selling Genesis gravel bikes (despite the rain), improving their latté art skills and their cake recipes.
To celebrate this rocking little production, Chris from Musette has provided his recipe to his famous carrot cake. 🙂
Be sure to drop past and say hello, grab a coffee and buy a bike! 🙂
Cheers!
Mike Foster
www.mikeefos.com
www.instagram.com/mikeefos/
Musette Carrot cake: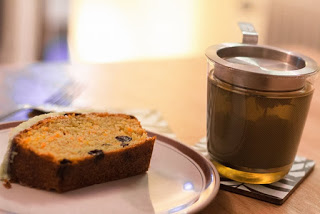 Ingredients:
175g light brown sugar
100ml groundnut oil
75ml apple purée (compote)
200g grated carrot
80g raisins
175g organic flour
11g baking powder
3 organic free-range eggs
Grated zest of one large orange
2 teaspoon of grated cinnamon
1 teaspoon grated nutmeg
For the icing:
15ml freshly squeezed orange juice
150g icing sugar
1. Use a bit of butter to grease the sides of a loaf cake tin and line it with strips of baking paper.
2. Preheat the oven to 160C° if you have a fan oven or a bit hotter if you are using anything else.
3. Grate the carrot using the large blades of a grater and then grate the orange using the fine blades before cutingt the orange in half and squeezing it for the juice.
4. In a big bowl mix the sugar, oil, apple purée and eggs. Then mix in the carrots raisins and orange zest. Finally mix in the flour, baking powder, and spices. Mix it all up by hand using a spoon.
5. Pour the mixture into the baking tin and leave in the oven for 40 minutes.
6. Take the cake out of the oven and leave it until it has completely cooled off (roughly an hour)
7. Mix the orange juice the the icing sugar in a small pouring jug. Make sure the mixture is runny but not too runny. Then pour over the top making a stripey design letting it drip down the edges to make tiger stripes. Once that has dried the cake is ready to sever.