My hometown is Bristol in South West England, which also happens to be one of Bordeaux's longstanding twin cities. It's possibly best-known for its Suspension Bridge, and for giving the world Massive Attack and Banksy, but surely its greatest claim to fame is that it was the birthplace of Nik Kershaw.
Where are you living at the moment?
I live in Saint-Aubin-de-Médoc, a little way out of town. It's not the most rocking of places but is very pleasant and is a great town to raise a family.
How long have you lived in the region?
This is actually my second stint in Bordeaux as I spent a few years here in the 1990s. I then relocated to Paris and returned to Bordeaux in 2010, eight years ago!
Old postcards, today!
Why did you move to France and why did you choose Bordeaux?
I was at university in Southampton studying French and there was an exchange system with what is now Montesquieu university (formerly Bordeaux III), so I initially arrived as a fresh-faced graduate teaching English to delightful students. It was a fantastic experience and I enjoyed every minute. And then never quite made it back to the UK.
What do you do for a living?
I work in the communications department of the avionics (aircraft electronics) branch of Thales, now based at a modern facility that opened a couple of years ago in Mérignac.
You're very active with your blog, Invisible Bordeaux. What's its aim and how long have you been doing it?
I launched Invisible Bordeaux in 2011 with the aim of providing English-language articles about sights and stories that were not necessarily on the tourist circuit but which I thought could be interesting to read about for visitors to the area. So you get bits and bobs of history, architecture, culture, unusual local sights and places. Anything goes really: one item I published compiled the puns used by hairdressing salons for their names in and around Bordeaux! And over due course the Invisible Bordeaux brand has extended to the ubiquitous social media channels, so you'll find additional content on my Twitter, Facebook, Instagram and YouTube accounts (see below), and there is also a French-language website with a selection of articles translated for local readers.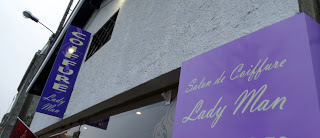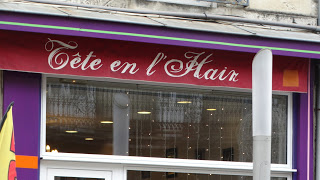 Hairdressing Salons and their puns!
Your articles are extremely well researched. How do you prepare an article and piece together the historical elements even most French people don't know.
My bookshelf is weighed down with quite a few books about the area, so that helps. Real world encounters have also led to a number of interesting discoveries. For instance, a chance meeting enabled me to piece together the history of the Domaine Catros arboretum in Le Haillan, which is a story that certainly deserved to be told. But I've mainly become a very proficient Googler, digging out obscure information that is lurking somewhere down in the depths of the web. That has sometimes resulted in eureka moments when joining the dots, resulting in articles that reveal things that locals had either forgotten about or weren't aware of, such as the story of the 1970s "winegate" scandal, or the sad connection between France's football (soccer) coach Didier Deschamps and a 1987 plane crash in Eysines. I do my best to mention my sources so that readers realise I'm not making everything up!

What is a stand out experience from blogging about Bordeaux?
There have been many, but one that will always stay with me was a road trip with a fellow blogger and my younger son to Puynormand, 60 kilometres to the east of Bordeaux, to view something which doesn't actually exist: the point where the 45th parallel north and the Greenwich meridian intersect. In the pouring rain, we ended up hammering into the ground a homemade sign marking the exact spot where east becomes west mid-way between the Equator and the North Pole. As far as I know, the sign is still there. As you can see, it's all about making the invisible visible!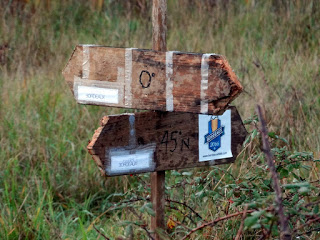 45th parallel north and the Greenwich meridian intersect
What is the most unusual or surprising fact you've uncovered about Bordeaux?
There are two great taboo subjects in Bordeaux. The first is the extent of the wealth generated by the slave trade, and the city is slowly coming to terms with that. The second is the city's role in the Second World War, which was an especially dark period and which is still conveniently brushed under the carpet. I feel as if I've only just scratched the surface so far by covering stories such as the anti-semitic exhibition held in the grounds of the city hall or the chequered legacy of Bordeaux's wartime mayor Adrien Marquet. But the city also formed the backdrop to some inspiring wartime chapters such as the Operation Frankton commando raid on the city, Portuguese consul Aristides de Sousa Mendes's actions which enabled the escape to freedom of several thousand refugees, and the story of the rebel German Heinz Stahlschmidt (later Henri Salmide), who pretty much saved the city from full-on destruction. I'm currently reading a lot about the Maurice Papon trial on charges of crimes against humanity. It's all very disturbing…
On a much lighter note, it has also been interesting to discover bizarre sights such as the UFO landing pad in Arès and the national social security museum in Lormont. It just goes to show there's so much more to the area than wine and the golden Atlantic coast beaches!
UFO landing pad in Arès
How have you seen Bordeaux develop over the time you have lived here and where do you see the city in 10 years?
Well, as I was here in the grimy 1990s, I have witnessed massive changes! For instance, I remember the Garonne waterfront as being an inhospitable thoroughfare, so to see the "quais" these days is incredible. Much the same could be said about Place Pey-Berland. Despite feeling a slightly irrational sense of nostalgia for the rootsier Bordeaux of yesteryear, I do love the way it's been transformed into such a pedestrian-friendly and bike-friendly city. Where do I see the city in 10 years? Well, it's certainly edging out in all directions, so you just have to hope the infrastructure keeps up. Some of the things you don't see on postcards, such as the Rocade ringroad at rush hour or the challenge posed by trying to get from one suburb to another by public transport, really need to be sorted out if the metropole is to continue flourishing at its current rate.
You're a bit of budding musician, can you tell us about your recent or upcoming musical projects?
Singing, playing guitar and playing piano have always been a bit of a constant and my most recent project is the end-product of an Invisible Bordeaux subject: the life and career of the legendary New-Yorker Mort Shuman. Shuman penned a number of classic pop tunes of the 1950s and 1960s as an integral part of the Brill Building scene, then became an easy listening star in France, developed connections with the city and is buried in Caudéran. So The Shuman Show (as it is known) is a words-and-music extravaganza that tells the great man's story. There have been a number of performances in and around Bordeaux and further dates are coming soon. I'm also working on a new show which I hope to be staging sometime in the not-too-distant future. I won't give away too much but it should be a bit of a crowd-pleasing trip through some memorable songs and stories!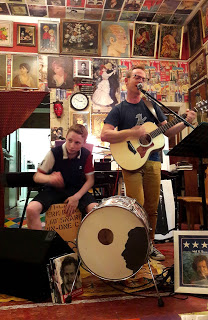 The Shuman Show
Do you have any other websites?
Ever since my first stay in the city I've been a loyal supporter of the local football team, Girondins de Bordeaux, even enduring the regular lows and savouring the occasional highs as a season-ticket holder over the past few years. So I recently launched International Girondins, a low-maintenance English-language guide to the club, its stadium and the whole matchday experience. Hopefully it will help a few away supporters or city-break visitors get the most out of a trip over to Stade Matmut-Atlantique to take in a game!
Any closing comments?
Well, one thing I'd like to say before signing off is a big thank you to you at Bordeaux Expats for always being so positive and supportive, making me feel like Invisible Bordeaux is part of the local online landscape by regularly mentioning the site and sharing links! It makes it all worthwhile. Keep up the great work!
Useful links:
Invisible Bordeaux: http://invisiblebordeaux.blogspot.fr
Invisible Bordeaux on Social media: