Philippe d'Armagnac is no stranger to the ex-pat lifestyle. He spent most of his post-BAC life bouncing between languages and countries, before returning to his native Bordeaux in 2015 with the intention of putting down roots.
By Melissa Rindell
At first it seemed natural that he'd work in the wine business, after all he had been working for a French wine importer in New York, but an unexpected call during the Foire Internationale de Bordeaux changed his trajectory.
Philippe first met Caroline Lubac in 1999 in Reims, where they were undergraduates working towards degrees in International Business at CESEM, and became good friends their final two years of study in Cholula, Mexico. After graduation, Caroline went on to start a company importing fair trade artisanal goods from Central and South America. Philippe returned to Bordeaux to get his Masters in Wine & Business from University of Bordeaux, before moving on to San Sebastian and eventually New York. The two had kept up sporadically over the years,
"Caro and her boyfriend, Benjamin were driving down for the fair and thought, 'Hey, we should call Philippe,' having no idea if I was even in Bordeaux or still had the same number. Throughout my time abroad, I always kept my French number and I'm glad I did.'"
Philippe answered the call and visited them at the fair the next day, where they were selling braseros imported from Mexico,
"My wife and I were considering doing a fire pit in the garden and a brasero seemed like a better idea. It's closed, safer, looks nicer and is multifunctional. It's a terrace heater, BBQ, oven, pizza oven, stove and can even be used inside as a heater with ethanol. We decided to get one and Caro asked if she could leave a stock with me. There was a lot of interest in Bordeaux and while they do shipping from their base in Normandie, it's expensive and time consuming to deal with the packing and organise the logistics," Philippe said.
At the time, Philippe was looking for a job in the wine business, but was disappointed in the response his resume was getting,
"In New York, having experience in four different countries and three different languages was considered a huge plus. In France, they like to see a straighter line. It's always harder adapting when you come back to your home country, instead of adapting to a new country. You become used to a spirit of work and you evolve a lot, but when you come back, you find things haven't evolved in the same way and you're faced with the challenge of fitting yourself into a mold you no longer fit."
Philippe was surprised by the number of calls he was getting about braseros and started reconsidering his business plan. Whatever hesitation he felt about abandoning his years of study and experience in the wine business, was eradicated by his faith in his new product,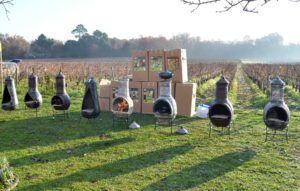 "They're made by artisans in a little village in Jalisco state in Mexico under fair conditions, with no child labour, and the producer is paid fairly for his work. Every piece is handcrafted from ecologically responsible materials and each piece is unique, so yours is never going to be the same as your neighbour's."
In 2016, Philippe started the Bordeaux branch of Terre d'Enfer and has been selling braseros full-time ever since. He started selling his product in local markets and has since expanded to covering garden fairs and special events, like the Country Ô Lake Fest in Gujan-Mestras June 23rd and 24th,
"The fests are fun, because they're always interesting and not necessarily something I would go to on my own. There's a lot of things happening in the area and Bordeaux has become a lot more diverse in the past few years. More and more expats are moving here and there's a much larger international community. The city has changed a lot. It was called, 'La Belle Endormie,' for years, but they cleaned away the black when they put in the tram, and the city is beautiful again. It's back in the game."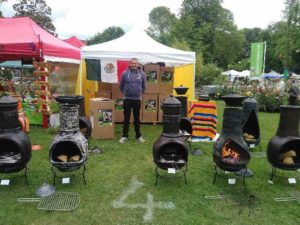 In addition to the renewed beauty of the city, Philippe is happy to be back in Bordeaux, surrounded by good bread and cheese, cheap wine, and old friends.
Philippe can be found Sunday, June 17 at Marché de Merignac-Mondésir; Saturday & Sunday, June 23-24 at Country Ô Lake Fest; and every Tuesday of July and August at Marché de Piraillan, Cap Ferret. His website https://terredenfer.wordpress.com, lists his current inventory and complete market schedule. In addition to Mexican braseros, Philippe imports artisanal cook pots from Portugal.
About the author: 
Melissa Rindell moved to Bordeaux from New York, where she worked as an actor, playwright and director. Before that she was a sports journalist for the Associated Press and did public relations for the Sydney Blues of the Australian Baseball League, Boston Red Sox, United States Olympic Committee and International Management Group. Melissa has been living in Bordeaux since 2015.