The lyrics of I AM STRAMGRAM are poignant, poetic and almost always in English, so it comes as a surprise that Vincent Jouffrey, the musician behind the music, is not a native speaker.
"I've always sang in English. I'm into English music mostly, it links naturally to folk rock music, and I like its flexibility."
Vincent grew up in the Charente-Maritime department of France and was at an age when he was, "long haired and pimply," when his neighbour received an old guitar from an uncle, and his first band was formed.
"My singing was awful, " Vincent says with an easy smile.
Vincent's music is described as, joyful, familiar, tender, sometimes painful, but above all without regrets, so it's not surprising he looks back good-naturally at his youthful failings.
"You have to be honest," Vincent says. "I listened to what we recorded and I knew my singing wasn't good, so I got training."
Apart from his vocal training, Vincent is self-taught and is able to play guitar, bass, keyboard and drums, despite never having learned to read music.
He applied the same work ethic to learning English and when failed to get the language score required for a study abroad program at University of Sydney, he petitioned for an exception, "I went in and said, 'I really want to improve my English and this is the best way for me to do that. I asked," he says with a shrug that is humble, hopeful and fearless all at the same time.
His determination paid off and he was granted an exception. In addition to working on a Masters in New Media Art, Vincent spent his year in Australia busking and making music for student films.
"Australia was great. I was able to play a lot and I became fluent in English. Plus, it's always eye-opening to live somewhere else," Vincent says.
Vincent followed his time in Australia, with a year in London, and returned to France in 2010, fiercely committed to making a career in music. After a year of couch-surfing and burning through savings, Vincent attained intermittent status. Today Vincent regularly plays at venues like Ocean Climax, Fnac Live, Francofolies, and Inouïs de Bourges.
"To be honest, the biggest are far from being the greatest," Vincent says citing his recent experience shooting the video for Empty House in the Grottes de Bétharram and performing for an audience of one at La Chappelle du CROUS Bordeaux as part of Le Projet Téléphone earlier this year.
"I had to create a song based on a drawing and play it for a single person, it was a really intimate exchange and the Chapel has such a special feel," Vincent says.
Le Projet Téléphone is a cross-disciplinary/cross-cultural collaborative. Their debut project, presented last Spring at Les Vivres de l'Art, was an artistic game of telephone. It opened with a monologue from the point of view of a Rohingya refuge who had witnessed her village burning. The monologue was reinterpreted as a flamenco dance by Deborah Dawson , transformed into a DJ track by Jowen before evolving into an illustration by Ita Duclair. Based only on Duclair's illustration, Vincent composed a song whose lyrics include, "Can you feel the heat coming? It's cracking the ground," and "Even if it has been decided that bones return to ash."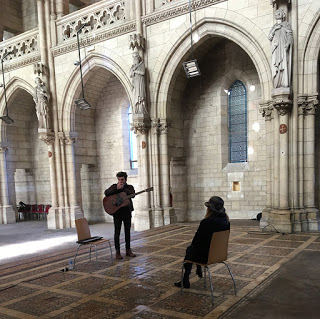 Le Projet Téléphone co-artist Dawson says, "Vincent's music is such a compelling balance between nostalgia and hope. His storytelling is vivid and his Le Projet Téléphone piece, 'Make It To the Moon,' connected so well with many of the other artists' creations."
"It was really cool to work on that and see how everything connected," Vincent says. "You can get inspiration from anything; a road, cats, drinking coffee on a terrace, a nice light on the kitchen floor, anything really, but sometimes it's nice to be given that homework, to explore creation within a constraint."
Vincent is returning for Le Projet Téléphone's second project, Le Point de Départ, Sunday, October 14th at 5:30pm at Frida. This time all the artists will be working from the same point of inspiration in an event that is part exposition, part performance, part dining experience.

"I worked from a picture last time, which is pretty open. You can read whatever you want in a picture, this time it's a sentence, which already has a meaning and we're all creating something based on it, so it'll be interesting to see the different ways that meaning can be interpreted through different art forms and perspectives."
When Vincent isn't touring, he can be found in Bordeaux , working with Collectif du Fennec, a collective of Bordeaux musicians he co-founded, and on occasion hosting open mic nights at the The HMS Victory and The Houses of Parliament.
###
Other artists for Le Point de Départ include: Canadian flamenco dancer Deborah Dawson , French Theater Company Collectif OS'O, American solo performer Melissa Rindell, English filmmaker Fred Cavender, Azerbaijani filmmaker Emil Karimov, Canadian painter Kelly Allison, French-German illustrator Ita Duclair, American illustrator Charlie Padgett, French photographer Lyna Bay and Estonian costume designer Helina Raak. The team at Frida are creating a cocktail and dinner paired with wine based on the same theme.