Derek Rose is a freelance cameraman and video editor based in Bordeaux with over ten years experience.
He has worked in both production and post-production, as well as collaborations on different art related events.
Originally from Dublin, Derek has been based in Bordeaux the past four years with his wife and daughter. They originally planned for a one year trip but decided to stay when they fell in love with the city.
Having had the opportunity to work in post production in other European cities for a number of years, the chance of implanting his skills in Bordeaux has been a great opportunity and real learning curve. Being a Micro Entrepreneur for the past two years, this has seen him work on corporate and community based projects.
I can imagine I'm not the first person to find themselves in this situation having moved to such a beautiful city and to become self employed. With so much happening, family events, open air concerts in every park – the list goes on. It's really difficult to dislike the place. For me personally, everything it seems is just so much more interesting to film – the warm weather helps of course.
Being a native English speaker, how has been the transition to working in France?
Well it's not been easy, and that's mainly because of the language barrier of course. Most of the projects I have worked on are french English speaking clients. But slowly I have managed to turn it around, but really still need to work on the french. That's why I am back attending French lessons for a few hours a week.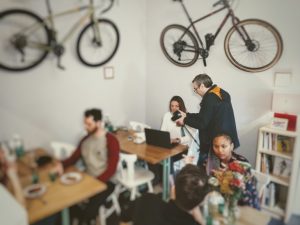 What services do you offer?
I offer a range of services but lately I have been focusing on corporate and wedding projects. This usually involves covering the event and capturing all video and audio. I then edit the complete project to the specifications of the client and provide the master files directly.
I also cater for documentary films, web commercials, presentations, live events and video editing services.
Describe your video creating process from beginning to end.
I work best in a team for production, but I enjoy the freedom of editing a layout alone before showing it to the customer. From that point it's easy to move forward together once you have a base to start with.
What is your favourite project that you've worked on in Bordeaux?
I have loved them all. From scripted shoots to live events, they are all exciting.
What has been your most difficult project that you've worked on in Bordeaux?
Well to be honest, it's every time I sign a contract with a new customer. You simply want to produce the best intended result that the customer requires. Of course planning and trying to understand the customers needs is so important. Thankfully, over the years I have gained enough experience to cover most options. On another subject, weddings are by far one of the strangest events to film. I simply love them because i am given so much freedom. I don't shoot them, I document the actions around me and this I think adds to a really relaxing atmosphere for everyone.
We understand that you're a bit of a sci-fi fan and actually wrote a novel. Tell us about it.
That's correct, I authored a novel called "The Creatures on the Bathroom Ceiling" available from Bradley's Bookshop and Amazon.
The story goes, girl meets boy, girl likes boy, girl and boy make out, girl dumps boy – Boy goes insane.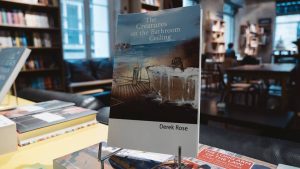 I can imagine many people will relate to those few words above, and the crazy emotional roller-coaster that follows.
On the eve of his eighteenth birthday Francis Williams' sister, Alex, gifts him a mysterious and bewitching stone. This sets in motion a series of events which introduce them to a secret world where they happen upon extraordinary creatures that have the strangest of stories to tell. Francis finds love with the most unusual entity imaginable and experiences a coming of age while dealing with loss, along with an ultimate confrontation with a form of evil hell-bent on retrieving the love of its life.
Do you have a business / website / blog?
www.derekrosevideographer.com
www.instagram.com/derekrosevideographer
www.facebook.com/DerekRoseVideographer
Any closing comments?
It's never over, it just starts again.