Over the past decade, the amount of English and Irish pubs in the city of Bordeaux has exploded. This is an extremely positive thing when it comes to celebrating Saint Paddy's day as you won't be short of any options this Sunday 17th March.
So, strap on your over sized Guinness Top hat and get on board with the Bordeaux Expat's pub crawl! We've listed a few of our favourite pubs, and set out the best laid route for your to follow so that's it's as easy as following the Green Brick Road….
Molly Malone's
83 Quai des Chartrons, 33300 Bordeaux
This is a locals favourite and you're always assured of a true Paddy's day experience. The pub will see Gerry Burton from Cork providing some typical Irish music to keep the party going.
Cambridge Arms
27 Rue Rode, 33000 Bordeaux
Set yourself up for a fine selection of beer and whiskeys. Grab a bite to eat and catch a bit of the Six Nations!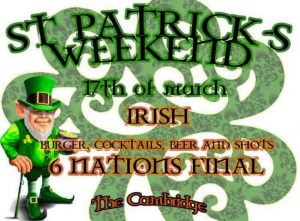 The Dog & Duck
5 quai Louis XVIII 33000 Bordeaux, France
Keep the party going and walk off the fish and chips you just ate. Head along to the Dog & Duck and shift into a higher gear with a couple of their cocktails!
The Black Velvet Bar
9 Rue du Chai des Farines, 33000 Bordeaux
A true Irish pub in the heart of the old town of Bordeaux. The locals and regulars of the Black Velvet know that Paddy's day here is an important event. Dubbed as 'Belfast in Bordeaux', the patron, Barry, is a welcoming chap and his team are always up for a craic.

Sweeney Todd's
2 Cours d'Alsace-et-Lorraine, 33000 Bordeaux
Our favourite fish bowl pub, where you can always be assured of great atmosphere! Lance and his team are keen as mustard for Sunday, with Happy Hour (16h-19h) Pints going for €4.50, Cocktails €6!