Introducing Bordeaux band Slowrush and their debut release, The Parallel World E.P.
There's a new band in town with a distinctively 21st-century Britpop feel. Please give a big hand to Slowrush, whose debut release, The Parallel World E.P, is available now on all streaming platforms.
The Bordeaux-based trio features Englishman Tim Pike on vocals and guitar. Tim's adventures have regularly
cropped up on Bordeaux Expats, mainly because of his Invisible Bordeaux online guide to lesser-known
sights and stories in the area. With Slowrush he is drawing on years spent listening to classic British artists
such as Blur, XTC and Joe Jackson, to create songs that have been built around timeless mainstays such as
catchy tunes, verses, choruses and middle eights!
His son Dorian is on drums, bringing a refreshing millennial touch to proceedings, citing influences including
Everything Everything, Foals and Tame Impala. On bass, Olivier Rols has a enviable track record in local
bands and is equally at home playing rock, jazz and even punk!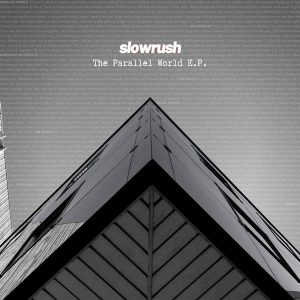 The band's first E.P. comprises four songs: Parallel World, all about the desire to be able to bottle dreams
and use them in real life; Mr Morality, which is a polite word of warning to overbearing parents; Bordeaux
Watergate is inspired by a long-forgotten scandal in the 1970s wine scene; and Four Walls reflects on the
magical nature of the buildings and places that surround us, in Bordeaux as elsewhere!
Slowrush hope to be able to perform live as soon as the concert scene picks up again, and more songs will
be released over the coming months. In the meantime, check out The Parallel World E.P. on Spotify, Deezer,
Apple Music, Bandcamp and elsewhere. A CD version of the E.P. is also available directly from the band. And
you can follow the band's adventures on Instagram, Twitter and Facebook!
Find Slowrush's "The Parallel World E.P." on the streaming app of your choice here.
Contact : Tim Pike > slowrushband@gmail.com