From the 8th to the 17th of May, the 89th edition of the Bordeaux International Fair wll gather 2,300 exhibitors to present their wares for sale and presentation.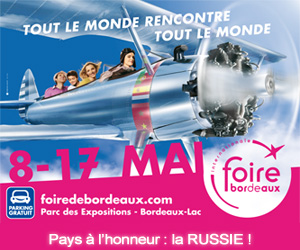 The expo is taking place at the expostion centre at Bordeaux Lake and includes 80,000 m² of fun an goodies for practically anything you can think of… whether it be personal projects for around the home, spare parts, leisure items or that new leather jacket you always wanted.
This years theme of the Fair is "Voyage to Russia", the goal is to transport the visitors through the history and diversity of Russian culture. They will open the doors for your to peer into the world of their famour ballets and opera (not to mention a few nips of Vodka!)
The Fair also presents a wide range of demonstrations. This year to celebrate a centenary of Bordeaux-Mérignac aviation "The Conquest of the Sky" displays flying machines of yesterday and today.
The Fair is a great day out with loads of things to see and do for families and singles alike.
When: 8th – 17th May (9.30am – 7pm)
Where: Parc des Expositions de Bordeaux Lac
Cost: Standard: €7.70
Children 7 to 11 years: €5.70 (Free for kids under 6 years)
Internationals that are visiting France: FREE! (Bring your passport)