It was brought to my attention recently that this long weekend brings about an important event on the Women's World Pro Surfing circuit.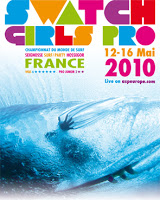 The Swatch Girls Pro is going to be held from the 12th until the 16th May at the world famous surf breaks of Seignosse and Hossegor and will welcome the elite of women surfers from around the globe.
For its first edition, the Swatch Girls Pro will see a much expected battle take place between current ASP Elite Top 17 members including three-time ASP Women's World Champion Stephanie Gilmore (Gold Coast, AUS) and uprising talents seeking for valuable ratings' points.
With the number of ASP Star Series Women's events in Europe jumping from one in 2009 to four this year and the Swatch Girls Pro allowing the world's best female surfers to get back to France and surf its powerful quality waves, the set-up for this first edition is ideal.
Classified 6* in the World Qualifying Series (WQS 6*), this event will see the top women surfers competing on one of the world's top beach break.
The ASP 6-Star Swatch Girls Pro and ASP Grade-2 Swatch Girls Pro Junior run from May 12 to 16 at Les Bourdaines in Seignosse, France.
When: 12th until the 16th May
Where: Seignosse and Hossegor
Cost: Free!