Averaging well over 100 shows per year, 'Foreign Beggars' are one of the most prolific and versatile Hip Hop outfits to emerge from the UK. Consisting of MC's Metropolis and Orifice Vulgatron, Producer Dag Nabbit, Human Beat boxer Shlomo and DJ Nonames.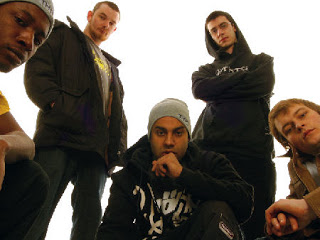 With roots ranging from jazz and classical training, to years of writing recording and performing hip hop, death/power-metal and drum & bass the group's varied experiences combine to create one of the most explosive live rap showcases on the planet.
Two of the groups members first met in Dubai playing in grunge and metal bands back in 1993. They further went on to create a group that focused on hip hop in 1996 throwing their own DnB parties in local community halls. In and around London in 2000 things began piecing themselves together with more members being added to the group and by late 2002 the first Foreign Beggars material was released.
They have performed on stage and opened for Snoop Dogg, Amy Winehouse, Public Enemy, Pharoahe Monch, Iain Brown, Femi Kuti, Mark Ronson, Talib Kweli, Roni Size, Asian Dub Foundation, Pendulum, K'Naan, Wu Tang Clan, Kano, Masta Ace, Herbalizer, East 17! Roots Manuva, and many more…
So if grimmy hip hop beats be your thing, get along and check 'em out…
When: Thursday, 23rd Spetember @ 9:30pm
Where: BT59, site de Terres Neuves, rue Marc Sagnier 33130 Bègles
Cost: €13