Bordeaux-USA is a member-run non-profit association dedicated to promoting and celebrating Franco-American friendship, language and culture. They offer their members and community an opportunity to come together, speak English, and participate in activities that support Franco-American relations.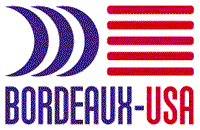 A brief history…
Association BORDEAUX-LOS-ANGELES (named this way until 2004) was created in December 1968 because of:
The close ties between the University of Bordeaux and California's student exchange program (established in 1962) and
The Sister City relationship of Bordeaux and Los Angeles.
Every Thursday evening they offer conferences that cover a variety of subjects including Politics, Literature, Expatriate issues, Films, History, Astronomy, American & French culture and of course one of their favorite subjects: Viticulture! If you would like to discover more about them before becoming a member, feel free to drop in at the Association, which is conveniently located near Place des Quinconces and trams B & C, on any given Thursday. Doors open at 6:30 pm, Conference starts at 7:00 pm.
We also sponsor two events each year: an Independence Day picnic in July and a Thanksgiving Dinner.
Thanksgiving dinner
This year the event will be on November 22nd from 7:00 – 11:00 pm at College Alan Fournier in Bordeaux. You're invited to join us for a traditional Thanksgiving meal that includes turkey, dressing, mashed potatoes, green bean casserole and pumpkin pie. The cost is 25 euros for members, 29 euros for non-members and 20 euros for students. Reservations are due by November 13th.
You can find the Reservation Forms and more about the association on their website: www.bordeaux-usa.com .
Any questions you may contact:
President, Concetta Antonelli-Lapeyre at calapbdxusa@gmail.com – 06.48.87.05.98
Vice-President, Kathryn Larcher at kattalin33000-larcher@yahoo.fr – 06.10.34.90.25.
Where: 38 Allées d'Orléans, 33000 Bordeaux