tunes: deep house
verdict: popular pre-cinema venue, spacious terrace, large menu choice, beers on tap, superb milkshakes
hamburgering rating: 15/20 (http://hamburgering.com/2012/03/13/5th-avenue-cheeseburger-bordeaux/)
Funky Burger
where: 5 rue du loup
when: mon, tues, thurs – 10h30 – 14h00 / 18h00 – 00h00 :: weds, fri, sat – 10h30 – 15h00 / 18h00 – 00h00
web: www.funkyburger.fr
fbook: https://www.facebook.com/pages/Funky-Burger/119991548056293
myspace: https://myspace.com/funky_burger
tel: 05 56 81 55 50
atmosphere: skater, urban, funky, original decor (traffic lights, darth vador mask, C3PO, widescreen tv), local artwork, tons of flyers for local club nights/bars – https://www.facebook.com/pages/BT59/162721060419903?fref=ts, http://www.bt59.com/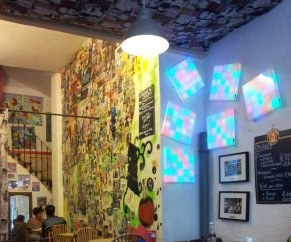 art/photo mosaic and light wall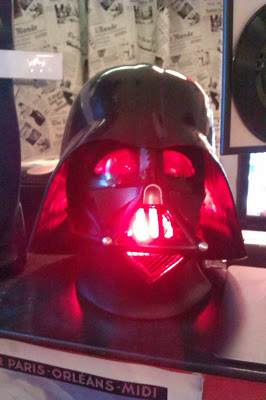 he finds your lack of faith disturbing…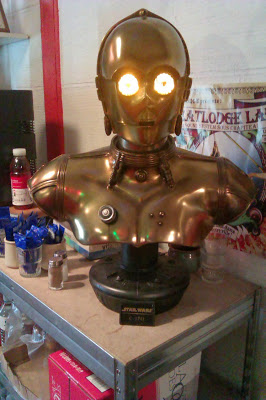 fluent in over 6 million forms of communication…

price range: single burger €4.20 – €8.95; double €6.85 – €11.65 :: €8.50 single burger meal deal +chips +drink :: boss burger – triple burger, chips, salad, soft drink 33cl €14.50
delivery: mon-sat 11h30 – 14h00 / 18h30 – 23h00 – min €15 – by bicycle
burger range: 100g… corleone (chedder, bacon), macfly (camembert), houston we have a problem (parsley mushrooms), vador (fourme d'ambert – blue cheese), betrash (xtra chilli sauce), I am your father (chedder, chorizo), jc duss (reblochon), goats from the pentagon (goats cheese, honey), pepper pots (spicy chicken), okkkkkkkkk (chicken, pineapple), you have beautiful eyes (morteau sausage, munster cheese), honey duck (duck breast, caremelised apples, mustard honey sauce) etc…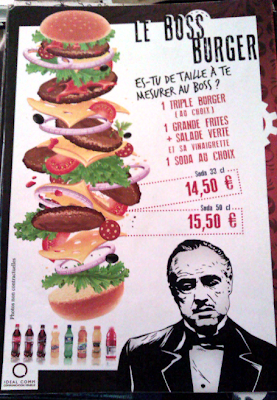 he'll make you a burger you can't refuse…

sauces: communal station – worcester, pickalilly, tabasco red/green, HP, louisiana hot, heinz american/cocktail/bbq, SaVoRa mustard – more to come!
buns: homemade
chips: homemade, big portions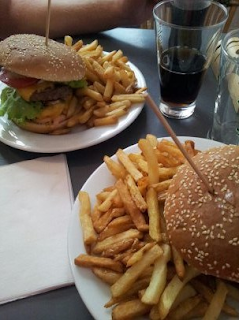 other stuff: wraps (chicken, beef, fish range) – €5.30 – €6.90; salads – €7.50, tapas (squid rings, chicken wings, fried cod etc) €4.80 – €7.90
desserts: brownies, donuts, muffins, cheesecake, homemade milkshakes (€4.20), ben & jerrys, fruit colis
soft drinks: vitaminwater, large range of cans, tea/coffee
beers: heineken can, stella, leffe, hoegaarden on tap (€2.60/€3.80/half) – wine by the glass
art: resident artists on rotation – this month, Gilbert Nadeau https://www.facebook.com/gilbertnadeau33,
Stephanie Duboscq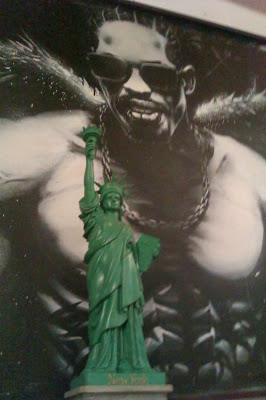 resident artwork

tunes: see website/myspace, classic/modern rock
special nights: funky burzday – fri/sat night free burger on your birthday. customers also chosen at random for free burgers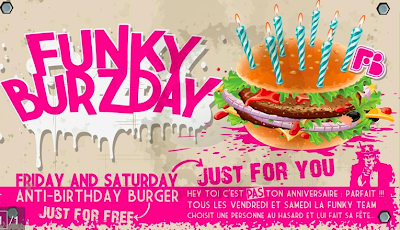 verdict: awesome decor, superb sauce selection (+spicy!!), large burger selection, great welcome and useful bordeaux underground info, star wars memorabilia
fourchette et confidence blog: http://fourchetteetconfidences.wordpress.com/category/les-decouvertes-de-morgane/brasserie/
hamburgering rating: 10/20 (http://hamburgering.com/top10hamburgerbordeaux/)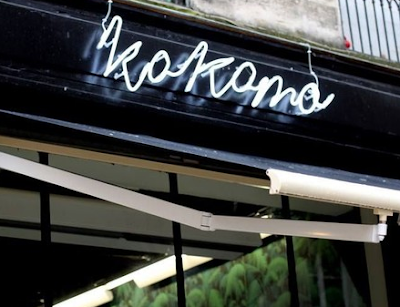 Kokomo Delicatessen
where: 12 place fernand lafargue
when: mon/sun – 12-5pm, tues-sat 12pm-midnight
web: to follow
fbook: https://www.facebook.com/pages/Kokomo-Delicatessen/161820437359687
tel: 05 57 77 07 24
atmosphere: urban, hawaiian, funky skater/surf art cafe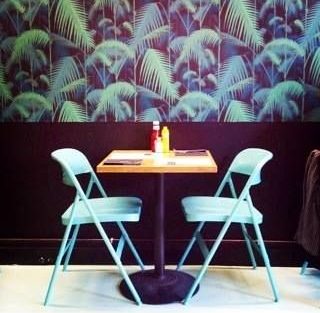 price range: €7-€13
delivery: no'p
takeaway: yep
burger range: double cheese (black angus steak, double cheddar, pickles, marinated tomatoes, mustard, jalapeno ketchup), J.D. (black angus flamed with jack daniels, cheddar, marinated tomatoes, bbq sauce), reuben burger (black angus, house pastrami, gorgonzola, confit onions, bbq sauce), felafel burger (vegetarian – homemade felafel, avocado, marinated tomatoes, coleslaw, house mayo)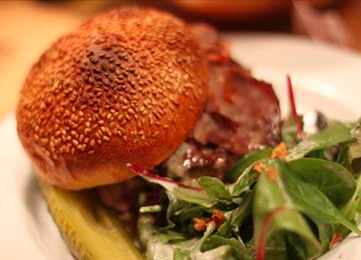 toasted sesame bun and jumbo gherkin

buns: from a bio bakery
chips: homemade
sauces: french's honey/classic mustard, homemade bbq
other stuff: tomato/buffalo mozza with truffle oil, tacos (king crab/quinoa), pork ribs, braised beef, fish & chips with beer batter, pastrami/salmon sandwiches, tofu dog, macaroni & pepperoni, giant new york gherkins, coconut noodle soup; sides of mayo ricotta noodleslaw, cesar salad, house mash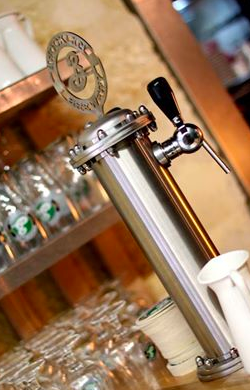 brooklyn beer on tap imported from NY

desserts: €5 – death by brownie (choc brownie, peanut butter, oreo icing), carrot cake (lime/coconut icing), milkshakes – range of flavours with chantilly €4, muffins, cookies
soft drinks: dr pepper, root beer, homemade ice tea
beers: brooklyn beers (on tap and in bottle – specially imported from the brooklyn brewery in NY – http://brooklynbrewery.com/verify) lager €6/pint, oktoberfest, pale ale, brown ale, lager – €4 a bottle, darwin beer (made by the darwin project in the right bank for special events) €4

liquor & cocktails: large range of spirits incl. venezuelan diplomatico rum & japanese nikka whisky, cocktails 7€ – mojito, caipirinha etc
tunes: hawaiian, blues, 70's/80's classics, soul, funk, house, special dj mix nights :: http://www.mixcloud.com/Energydreeg/dr-fudge-dreego-70-minutes-of-underground-sensational-part-1/
art: range of local art/photo exhibitions and connections with bordeaux underground art scene/artists…
Charl http://charl-zarl.tumblr.com/
Disket http://disketer.tumblr.com/
Landroïd http://on.fb.me/1jbqOcF
Odeg & Rooble http://on.fb.me/JrNJjB
Tack http://tackone.tumblr.com/
https://www.facebook.com/events/554706397951506/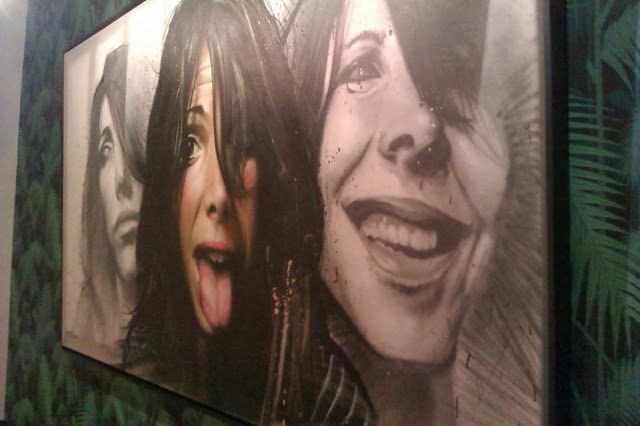 eg. of the superb wall art by local artists

events: regular dj nights, local club night flyers, mates with darwin project and sponsor of bordeaux rock..(artists all coming to dine in resto) http://www.bordeauxrock.com/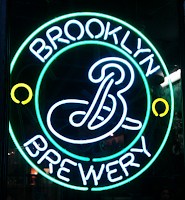 verdict: packed out at lunch time, terrace, swift service, great tunes, alternative art, superb brooklyn beers – latest addition to the growing alternative fernand lafargue scene








New York
where: 4 Cours Pasteur
when: 10.30am-midnight everyday, closed sunday
web: http://www.lenewyork.fr
fbook: https://www.facebook.com/newyorkbordeaux
tel: 09 83 50 98 80
atmosphere: new york style diner, cocktail/piano bar, great terrace for summer



price range: €10-€12 :: €3 homemade chips/herby potato wedges
delivery: no'p
takeaway: no'p
burger range: menu currently being updated
sauces:
buns: from san nicolas, round the corner :: http://www.gillespudlowski.com/50530/produits/bordeaux-les-entremets-de-cyril#.Us59QfY087A
chips: homemade, superb
meat: 100% charolaise french origin
other stuff: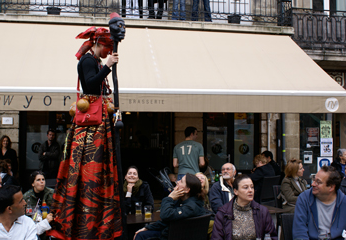 a very tall waitress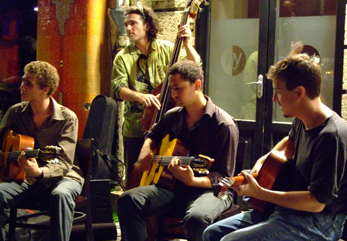 evening concert @the new york

desserts:
beers: heineken/affligem on tap, bud/biere de saison by bottle
softs: standard range of cans and fruit juice (€3-€5)
hard liquor: (€4-€6) bacardi, bombay sapphire, bombay original, eristoff vodka, william lawson whisky, jd, four roses bourbon, tullamore, janeiro cachaça, san josé tequila, cointreau, bailey's, manzana, get 27/31, 1O year old tenareze armagnac, fine wood chateau d'orignac cognac, calvados
cocktails: €7 :: bloody mary, mojito, cosmopolitan, pink lady, manhattan, aphrodisia, the bronx
wine: extensive local red and white selection, provence rosé
tunes: jazz/soul in the morning :: evening more rock
events: evening events organised, concerts, private room upstairs for parties, outdoor catering available for weddings/events – mini burgers etc
verdict: great burgers, large menu and drinks selection and live football. Manhattan meets Bordeaux…
le cannele d'adresses: http://www.lecanneledadresses.com/restaurants/view/fiche/458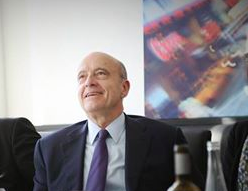 the mayor went…
Upper
where: 7 rue judaique
when: everyday – 12-4pm, 6.30-11pm
web: www.upperburger.com/
fbook: https://www.facebook.com/upper.burger.3?fref=ts
spotify playlist: https://play.spotify.com/user/1155032907/playlist/7IC4M5j8Bewwo84SfypTYP
tel: 09 83 50 98 80
atmosphere: 120msq, 2 floors, free wifi, 'classic american style burger joint'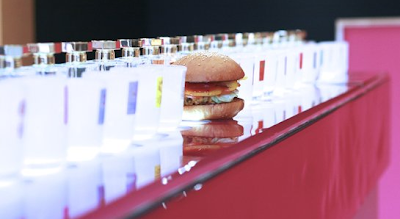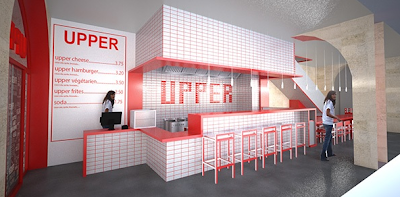 price range: compose your own burgers.. €7.50-€9.50 :: €10 menu upper burger/veggie +chips/salad +soft drink/water :: kids menu – €7.50…
delivery: no'p
takeaway: yep
burger range: 140g 100% natural fresh ingredients, cheese/bacon/veggieburger, chioce of market toms, lettuce, onions, peppers, onion marmelade, pickles; grilled aubergines, mushrooms, onions, peppers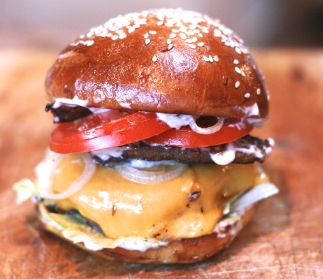 now this IS a tasty burger…

sauces: ketchup, bbq, blue cheese, hot sauce, hp, mayo, mustard
buns: artisan bread
chips: homemade, served in an upper tub, option of chilli powder or vinegar – €2.50
other stuff: salads – upper €7.50, caesar €9
desserts: brownies, cookies, carrot cake, cheesecake, cupcakes, muffins, whoopies; milkshakes €4 – vanilla, banana, fruit of the day
drinks: water – san pe, abatilles; softs, natural bionade €3, bud beer (bottle) €3, wine, american coffee (€1, 9-11am), hot choc, kusmi tea



tunes: spotify :: classic funk, rock, disco, james brown :: http://www.youtube.com/watch?v=MGbpucWLfpE
verdict: fab meat quality, good buns/service, phenomenal playlist
hamburgering rating: 17.5/20 (http://hamburgering.com/2013/12/14/upper-burger-un-ton-au-dessus/)







Vacher Burger
where: 38 cours portal,
chartrons
when: mon, tues, wed – 11.30-3pm, 6.45-10.45pm :: thurs, fri, sat – 11.30-3.30pm, 6.45-11.45pm :: sun – 6.45-10.45pm
web: http://vacher-burger.fr/
fbook: https://www.facebook.com/pages/Vacher-Burger/384292258336113
instagram/spotify: to follow
tel: 05 57 87 21 81
motto: "la vrai saveur"
atmosphere: 50's/60's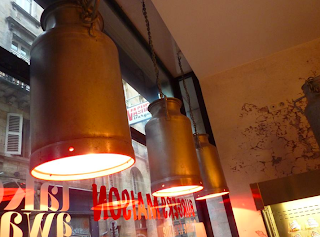 milk urn lamps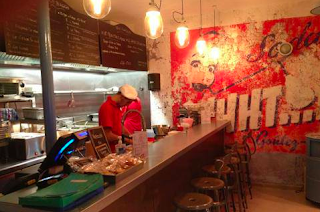 price range: burger €8.50, double burger – extra €3, meal deals €10-€15 – €7.50 kids and students
delivery: 7/7, 11.45-2.30pm (not sunday) / 6.45-10.30pm (every day) – min order €18; delivery within boulevards incl.lac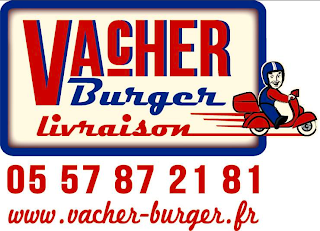 takeaway: yep
burger range: 125g…all with salad :: the robert (homemade ketchup, gherkins, onions, toms), the gaston (beef or chicken, homemade blue cheese sauce, bacon, walnuts, crunchy pear), the marius (fried cod, homemade tartare sauce), the victor (double cheese – spicy mustard sauce), the lucien (blue cheese – honey/thyme mustard sauce, fourme d'ambert cheese), the léon (double bacon – bacon sauce), the marcel (cheddar cheese/bacon), l'hubert (bordeaux sauce, shallot compote, parmesan), the patxi (basque burger – espelette pepper and chorizo sauce, sheep cheese, chorizo), l'odette (marinated curry chicken, herby cheese sauce), the jade (grilled chicken, wasabi cream sauce, coriander, ginger, green apple)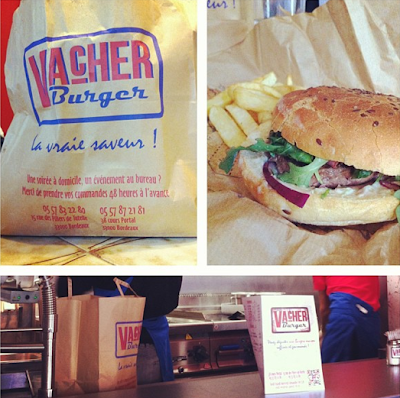 buns: artisan bread made specially for Vacher by Guillaume bakery
chips: homemade
sauces: burger sauces homemade every day, chip sauce – mayo/ketchup/bbq
events and parties: available for professional dinners, events, mini burgers and pastries available, group meal deals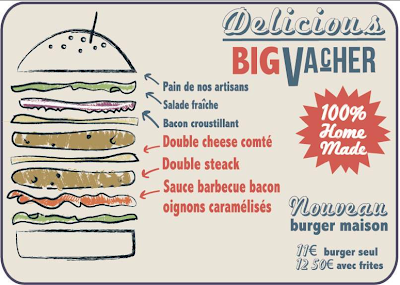 desserts: homemade :: cheesecake (orange flower, vanilla, tonka bean, mocha, violet, liquorice amaretto!) €3.50, brownies, cookies, muffins, slices of tart €2.50
beers: bud, bud original, heineken, corona, duff – €3.40; hapchot hossegor 75cl €8.50
wine: large list, €4.50/glass, €20/bottle
softs: abatilles, perrier, badoit water; rauch fruit juices (range), red bull, cans, double coffee €3.20
art: by an ex employee Cecilia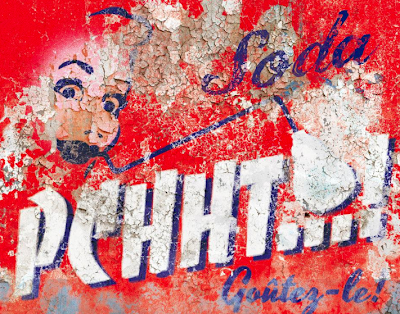 wall art by cecilia

tunes: 50's/60's – fbook/spotify playlist to follow
languages: door sign written in french, english, spanish, japanese, chinese :: the only place where they tried to speak english!
future projects: they are looking for a 2nd place by the barriere de medoc
verdict: the only quality delivery burger place in town, a fleet of mopeds, varied menu, patxi burger recommended, great welcome
hamburgering rating: 12.5/20 (http://hamburgering.com/2013/01/30/vacher-burger-bordeaux/)






West Coast Gourmet Burgers
where: 31 rue du cancera (angle of rue pas st georges)
when: 7/7, 12-3pm :: 7-11pm
web: http://www.westcoastburgers.fr/Homepage.html
fbook: https://www.facebook.com/westcoastburgers
twitter: https://twitter.com/benwestcoast
video: http://vimeo.com/74661403
instagram: http://instagram.com/westcoastben#
tel: 09 80 61 85 93
slogan: "authentic burgers"
atmosphere: chilled, friendly, surfer beach bar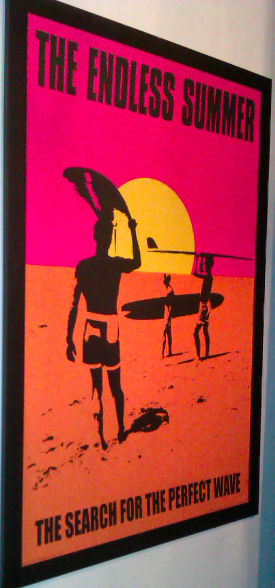 price range: €7-€9 – extras €1, chips and sides €3
delivery: no'p
takeaway: yep
food truck: every week day by cdiscount @bassins tram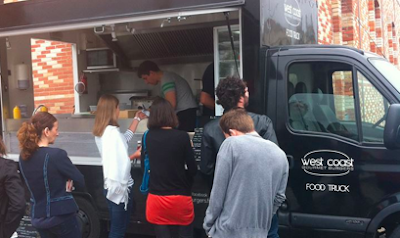 food truck @cdiscount

burger range: 100% limousin beef… classic, cheese (choice of mature english cheddar, blue, parmesan, aged comté), classic bacon/cheese (cheddar), west coast (avocado, bacon, caramelised onions), venice beach (homemade pesto, mozzarella, rocket), gorgonzola, gascon (chicken breast, lemon mayon bacon), tijuana (house battered chicken breast, homemade guacamole), bbq chicken (house battered chicken breast, bacon, fried onions, bbq sauce), vegetarian (actually vegetarian – not the french concept of vegetarian…), burger of the day (on blackboard)
buns: "proper buns" – artisan bread
chips: homemade – well good
sauces: french's classic yellow mustard/smooth and spicy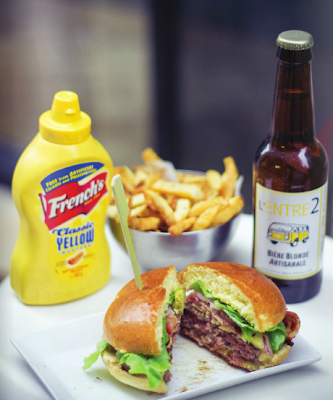 other stuff: onion rings, homemade coleslaw, caesar salad, sunshine salad
desserts: homemade lemon cheesecake €4.50, homemade brownie/ball of ice cream/pecan nut €4.50, banana split €4.50, 'benoît de la lune' artisan ice cream – vanilla, choc, strawberry, vanilla pecan, mint choc, salted butter caramel – https://www.facebook.com/pages/Beno%C3%AEt-de-la-Lune/190437898884 – sopisticakes cup cakes https://www.facebook.com/SophisticakesBordeaux
milkshakes: proper fresh milkshakes made with ice cream – choc, vanilla, strawberry €4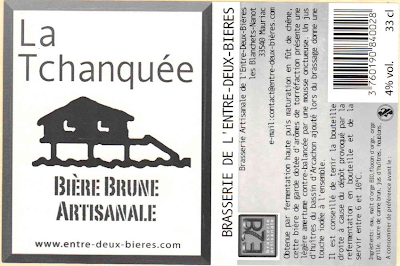 the legendary Tchanquée


beers: l'entre 2 bières – blonde, blanche 'la palombe', rousse 'la baïne' €4 – http://www.entre-deux-bieres.com, woll, gasconha http://www.gasconha.fr/, brooklyn, san miguel, budvar, corona – €4, heineken €3.50
cocktails: margarita, frozen margarite, cape cod, white russian, banana daiquiri €7
wine: €3-€3.80 a glass, bdx, south africa, aussie, california
byo: €7 corkage and can give directions to wine shops in the area!
coffee: gourmet coffee €6.50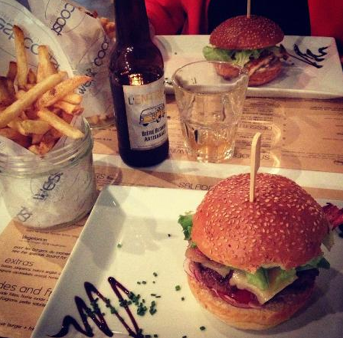 tunes: rock, hip hop, rap :: http://poolsidemusic.com/free-downloads-from-poolside/
events: food truck going out to lacanau pro, garorock, reggae sunska etc
verdict: a bit cramped (but looking for a new location) – superb beer selection, awesome burgers & chips, all round winner
hamburgering rating: 15/20 (http://hamburgering.com/2013/01/30/west-coast-burger-best-in-saint-pierre/?relatedposts_exclude=291)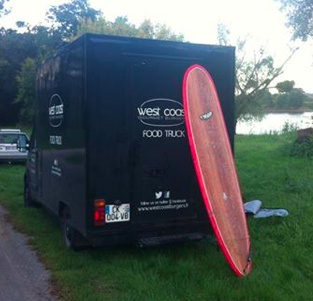 life's a beach



In the last year or so Bordeaux has also seen the advent of US style food trucks – https://www.facebook.com/photo.php?fbid=667324863288563&set=a.335787026442350.79374.119486811405707&type=1&theater. The main two offering burgers are West Coast and Camion ByOliver – El Taco Diablo is worth a visit as well: https://www.facebook.com/ElTacoDelDiablo. The West Coast truck is generally down at the CDiscount HQ by the Chaban Delmas bridge – they also head out to festivals and other events in the area.




Camion ByOliver
where/when: tues, thurs 11.45-2.15pm, fri, sun 7-9.45pm – place paul doumer :: wed, fri, 11.45-2.15pm – place st bruno, opposite (meriadeck) tram A – also @maxxess by the za alfred danet sunday lunch and some friday nights – check fbook site for regular updates
web: http://www.byolivertruck.com/
fbook: https://www.facebook.com/camion.byoliver
twitter: https://twitter.com/ByOliverTruck
googleplus: https://plus.google.com/100431118483071374889/posts
email: byolivertruck@gmail.com
video: http://www.kewego.fr/video/483a13dc585s.html?t=19
tel: 06 77 72 96 73 – orders before 11am
atmosphere: http://www.meteo-bordeaux.com/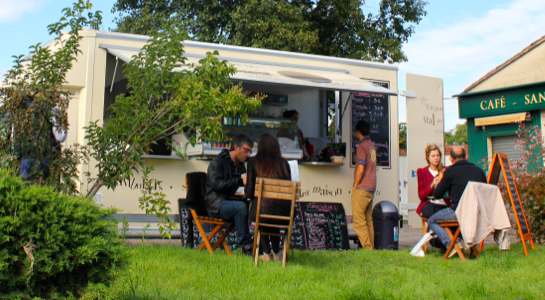 ideal for warmer weather!

price range: €7.30-€9.90 – burger meal deals €9.60-€10.40
burger range: 110g limousin meat french bovine origin freshly minced…the classic, classic cheese (cheddar), classic bacon, the bacon cheese, classic basco (sheep cheese, ventreche – pancetta style, onions, pickle, tomato, chef's sauce), the californian (grilled chicken, avocado, onion rings), the king george (onion rings, peppered ventreche, pickles, tomato, avocado, chef's sauce), the americano (lettuce, onions, pickles, tomatoes, chef's sauce), cheese americano, the magnum (double burger version of the classic), the no meat burger (vegetarian – avocado, crusty camambert, red onions, strawberries, cherry tomatoes, spinach, house sauce), burger of the day – see blackboard
buns: 100% organic artisan bread from Au Goût du Pain, place nansouty
chips: homemade – medium €2, large €2.50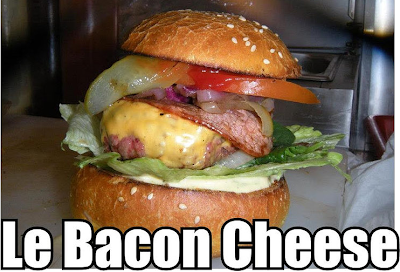 other stuff: baguette sandwiches – €4.20-€5.90 – €5.60/€6.60 meal deals, the elegant (organic baguette, bitter orange marmelade, fine herb/garlic cheese, smoked duck breast, walnuts, tomatoes, spinach), the paris-beurre, the bait (bacon, avocado, lettuce, tomato, house sauce, vinaigrette), the greek (roast chicken, hummus, toms, lettuce, guacamole) the mediterranean (mozzarella, tom/olive tapenade, serrano, tomato), the landais (fresh goat cheese, honey, bayonne ham, asparagus tapenade, tomato), the BLTA (bacon, lettuce, tomato, avocado)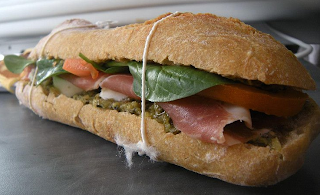 the landais!


desserts: €1.20-€3 – pancakes with maple syrup, cheesecake, shortcake, brownies with grilled hazelnuts, pavlova, desert of the day (revolté du bounty 5/01/14), fruit salad with choice of different fruits(clementines, apples etc)
drinks: organic softs, cans, fruit juice, abatilles water, heineken, despe, mini wine bottles, fair trade coffee
fidelity card: card given at first visit then stamped :: 10th burger free
events: every friday and sunday night (summer), place paul doumer – 7-10pm, tariquet apero night (free glass of tariquet with every €10 spent), giant chupa for kids :: the marché des capucins coming soon and summer 2014 @le porge plage…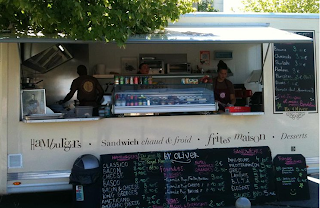 tunes: http://www.radionomy.com/fr/radio/urbanpopsoulreggaeelectrorock/index
verdict: fresh regional products, groundbreaking and original (the van is from england…) and has paved the way for the future of bordeaux gastronomy

———————————————-


Bordeaux underground links for further reading…

le vintage ::
https://www.facebook.com/VintageBarBordeaux?viewer_id=781505082
http://www.vintage-bar.fr/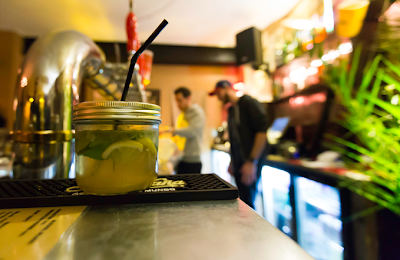 le vintage bar, the latest addition to rue st james

l'apollo ::
http://www.apollobar.fr/galerie.php
http://www.apollobar.fr/radio/radio.html
https://www.facebook.com/groups/76907165166/

la vie moderne ::
http://www.sudouest.fr/2012/01/23/la-vie-moderne-c-est-retro-613174-2780.php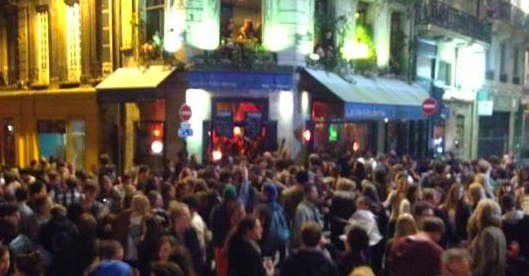 la vie moderne – news of the happy hour has obviously spread…

la grange/calle seche ::
http://www.lesamisdelapero.fr/bordeaux/bars/434-la-grange

café andrée putman ::
http://www.cafeandreeputman.com/

le comptoire du jazz ::
http://www.leportdelalune.com/

the grindhouse american pub ::
https://www.facebook.com/pages/GRIND-HOUSE-the-American-pub/464627206936431

bt59 ::
http://www.bt59.com/

bt59 club/concert venue in terre neuves
pdg+ ::
http://www.yelp.fr/biz/pdg-bordeaux

borO2 ::
https://www.facebook.com/bordO2cafe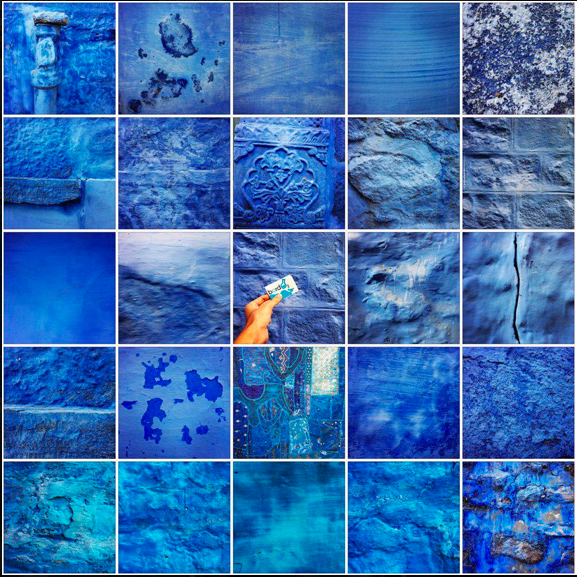 bord'o2 vapour bar

l'ours marin ::
http://www.loursmarin.com/

le gwadinina bar ::
https://www.facebook.com/pages/LE-GWADININA-BAR/210492862377417



kisskissbankbank :: bordeaux rock 2014
http://www.kisskissbankbank.com/soutien-au-festival-bordeaux-rock-2014

the darwin project @caserne niel ::
http://www.darwin-ecosysteme.fr/

summer party @the darwin project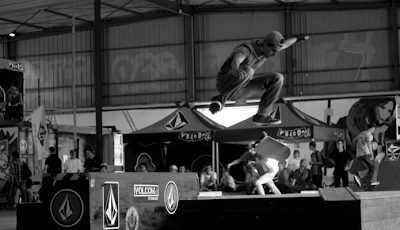 skating @the darwin project

bordoz ::
http://www.bordoz.fr/

cubeek magazine ::
https://www.facebook.com/pages/Cubeek/119486811405707?ref=ts
matvi gironde ::
http://www.mativi-gironde.fr/les-films/cubeek-depuis-2010-18-numeros-.html,9,19,0,0,2471,106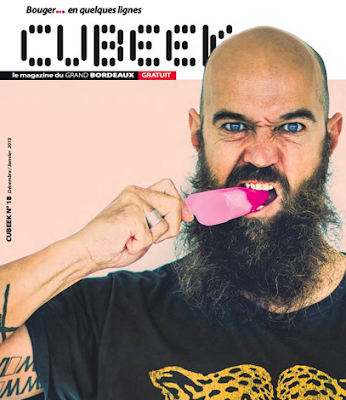 cubeek bordeaux alternative underground webzine

les scènes d'été en gironde ::
https://www.facebook.com/scenesdete?fref=pb&hc_location=profile_browser
allez les filles ::
http://www.allezlesfilles.net/



streetphoto bordeaux ::
https://www.facebook.com/groups/streetphotobordeaux/
http://www.flickr.com/groups/bordeauxstreetphotography/
https://www.facebook.com/pages/Street-Art-Bordeaux/255456054540033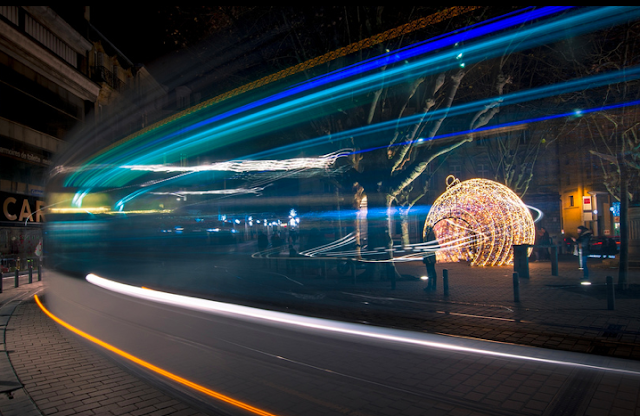 bordeauxurbanzik ::
http://bordeauxurbanzik.org/

bordeaux juggling ::
http://www.jonglargonne.org/
http://smartcie.com/la-compagnie/
http://www.windymorning.com/index.php
http://www.youtube.com/watch?v=WP_h9ZwpfCk



bordeaux pas cher ::
http://bordeauxpascher.wordpress.com/

minute buzz ::
http://www.minutebuzz.com/actu–indispensable-les-8-adresses-a-connaitre-pour-sortir-a-bordeaux-53139/
downtown exclusive ::
https://www.facebook.com/downtowncityguide?ref=stream