LE CAFE DANOIS by Chris Tighe
With the most restaurants per capita in France (numbering over a thousand, Bordeaux certainly doesn't lack for variety in choosing where to dine out.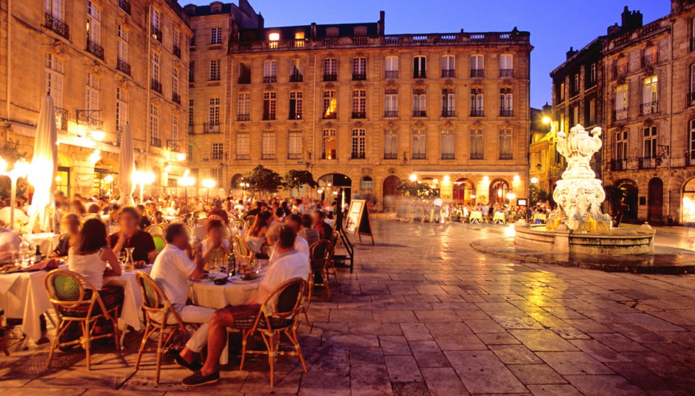 The bustling Place du Parlement
The list of expat-run eateries is fairly extensive; from authentic Italian, Spanish and Portuguese to Lebanese, Turkish, Armenian, Indian, Japanese, Korean, Thai, Vietnamese, Brazilian and even Ethiopian our city offers a truly eclectic multi-cultural gastronomic mix.
Adding a touch of Nordic style to the Bordeaux culinary landscape is Le Café Danois, 36 rue du Maréchal Joffre. Open since April 2012 the café can be found nestling behind the court house between Pey Berland and the Hôpital Saint André. The owner, Jesper Gotthard hails from Copenhagen and has spent the past 24 years living and working in Bordeaux. Developing a passion for French culture and wine from his student years he later worked in the wine industry as well as for Camus cognac. Looking to settle down and to cut down on all the international travel he embarked upon the NOMAD 'streetfood' course offered in Blanquefort by Thierry Marx until 2012 (now moved to Paris)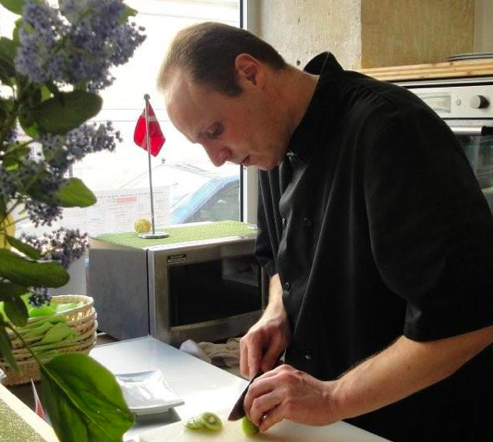 All dishes are made on the day by Jesper
His café offers a Franco-Danish fusion menu with a wide range of freshly sourced produce. All the dishes are homemade daily with takeaway available; Jesper offers a sideline in events catering with an épicerie offering salmon and herring by the kilo as well as homemade bread, a variety of French and Danish desserts and canapé trays.
The menu changes everyday and is posted on his facebook site – "This keeps the choice diverse and also ensures that the produce is as fresh as possible". The Scottish salmon is sourced direct from the wholesaler which means a maximum of three days from catch to dish. Mains are from €7.90 and meals from €9.20.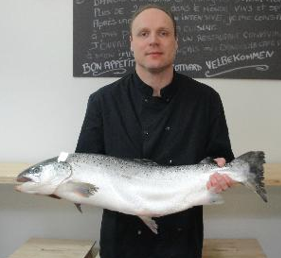 A hefty catch! Scottish Salmon sourced direct from the wholesaler
Starters on offer are dishes such as Smørrebrød – marinated Herring, roast beef with red cabbage served with homemade bread or Herring with mustard à l'ancienne, frikadeller of red cabbage served with homemade bread. Assiette de Saumon – homemade Gravelax, Salmon tatare, toasted house bread or duo of Salmon tartare with toasted house bread.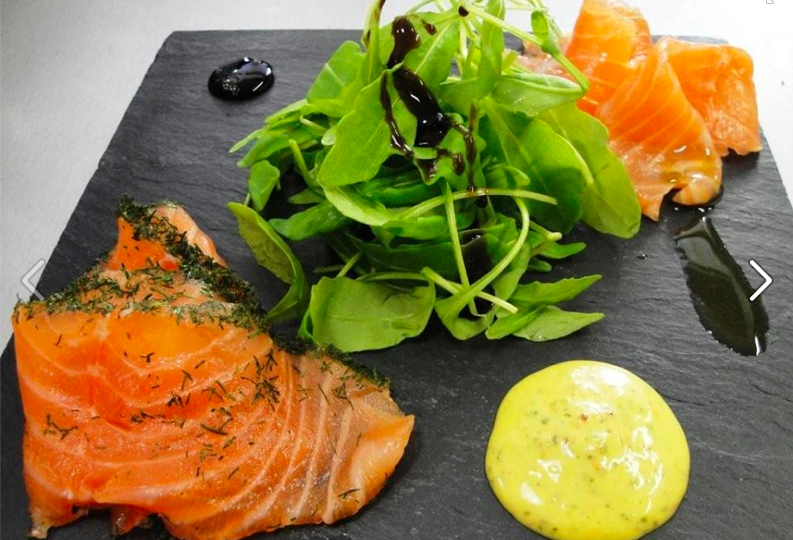 Duo of Salmon with a homemade sauce
For mains there are dishes such as the ever popular Assiette Copenhague – homemade Gravelax, spiced Herring, roast beef with red cabbage, homemade bread, Assiette du Sud – Duck confit with Bruschetta on house bread, Dish of the Day – pasta with homemade Bolognaise or Roast Chicken served with oven roasted potatoes amongst others. Organic Shrimps are also available on certain days.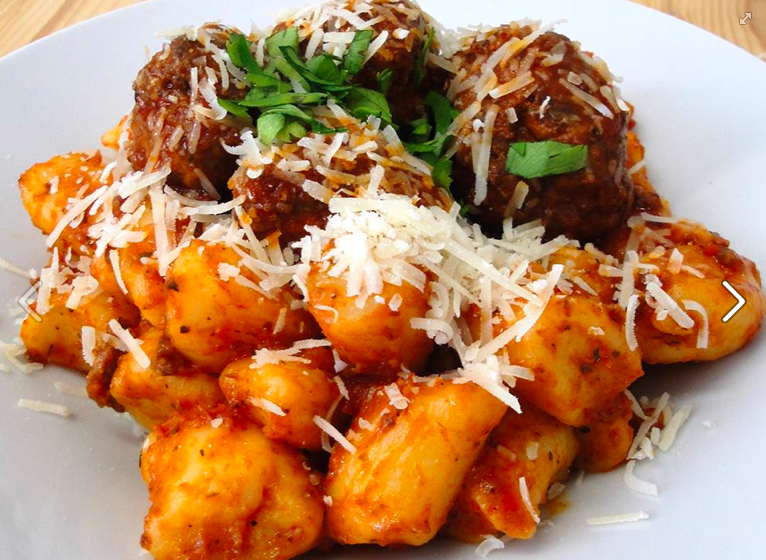 A Dish of the Day.. Gnocchis, tomato sauce and meatballs
The freshly homemade desserts are also original and innovative…  Crumbled speculoos with yoghurt and fresh fruits (served by the glass), Chokoladekrans med Pralin – chocolate and praline Danish speciality, Æbleskiver (Danish fluffy pancakes), Galette de « la Reine » (from Denmark), Kanel Snegle – a Danish cinnamon bun , and Konvolutter – a Danish 'envelope' pastry.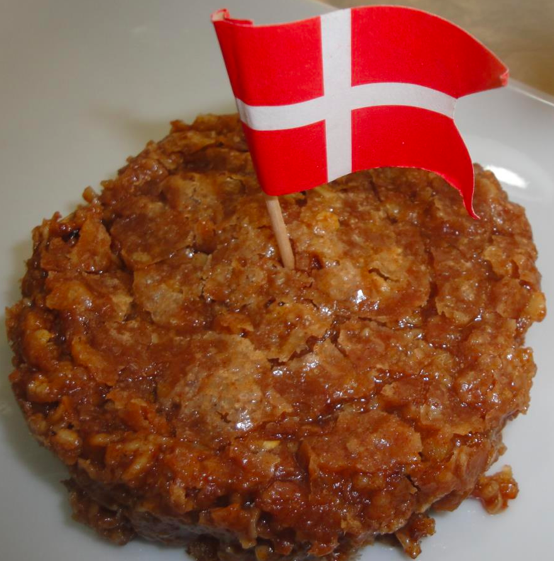 'Brunsviger', a popular Danish dessert
There are also a range of AOP local cheeses such as Ossau Iraty and quality Bordeaux red served by the glass. (Based on menus from January 2014)
The Epicerie offers Salmon Gravelax in a range of Danish styles – lime olive oil, dill, smoked, tatare or cut of fresh salmon. Herring comes marinated, flavoured with dill, curry, spices, tomato and old fasioned mustard. The homemade bread is superb and is available in loaves of black bread, white, white with grains, with carrot, dill or cumin. His desserts are a blend of French and Danish and include Cinnamon Rolls – Danish pastries to the English… Brunsviger – a doughy brown suger pastry, Danish carrot cake and Drømmekage – a vanilla, caramel, coconut 'dream cake'. The Franco offerings come in the familiar Basque cake, Tarte Tatin, Breton Tatin, Brioche, Cheesecake, Melting Choc pudding as well as Amarettis and Lemoncello.
Le Café Danois also offers specific events catering for parties, birthdays and cocktail receptions having previously supplied the nearby courthouse, a wedding for 100pax as well as personalised Christmas trays. A wide range of tailormade canapés is on offer both sweet and savoury with quotations available on demand.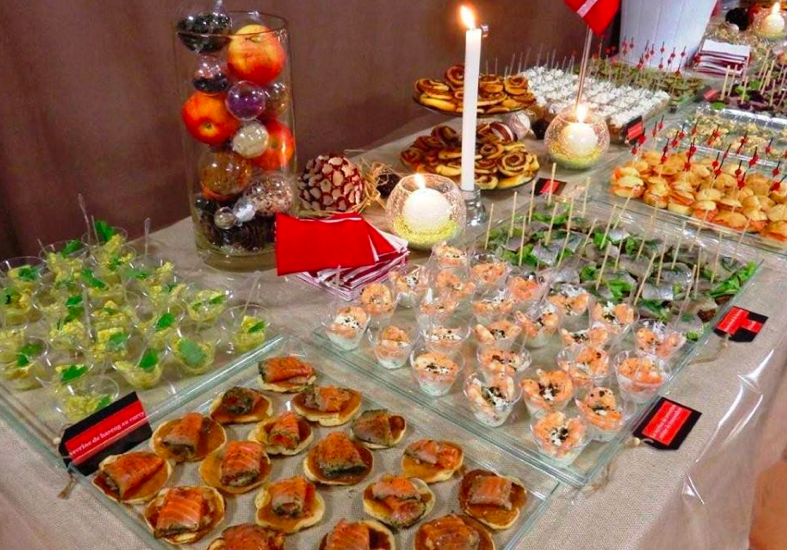 Canapé trays Danish style…
When I went down there I received the warmest of welcomes and was instantly offered an expresso. I asked Jesper his ideas behind opening a restaurant as well as why he chose to settle in Bordeaux – "There are quite a few Danish here (most living in the French countryside) as well as a consulate; the wife of Prince Joachim is French and there have always been ties between Bordeaux and Denmark through trade."
Indeed there is another Danish restaurateur in town – SILD caterer in Le Haillan offers a complete events catering service with a temporary restaurant currently up and running in the Bassins à Flot…
On the subject of opening a food outlet here – "Running a succesful restaurant revolves round a very simple formula: TURNOVER… you need a decent location with enough customers coming through the door on a regular basis. This is the reason I am only open from 9.30am to 3.30pm on weekdays and keep the menu straightforward, aimed at a specifically French clientele". Indeed the café does appear to have found a niche market. Offering quality fresh menus to the nearby workers at the hospital, court and town hall has proved a big hit with locals. He plans to stay in the same location for a minimum of three years then maybe look to branch out or expand.
As for the question 'Why Bordeaux?', I imagine the response is the same for most expats living here: "It's the ideal location, great wine, restaurants and cuisine, the ocean on your doorstep, the mountains for skiing and Spain within a couple of hours drive"…
For something a bit different head down to:
Le Café Danois, 36 rue Maréchal Joffre, 33000 Bordeaux,
Open: 9.30am to 3.30pm weekdays
Tel: 05 56 52 71 69
email: lecafedanois@orange.fr
facebook: www.facebook.com/lecafedanois
GODT NYTÅR 2014!