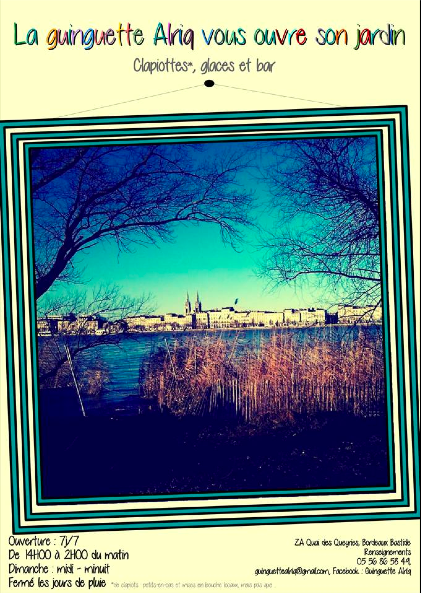 ZA quai des Queyries
33100 BORDEAUX
Disabled access
Animals welcome
Bar
Garden
Concerts
Amazing river views
Open after 10pm
Parking
Dance floor
Terrace
As the high-end luxury tourist flotillas commence their conquest of the quaiside (Viking tours and the Uniworld river Royale appeared this year by Hangar 14 and 10 BOATS are expected for 2015) the fate of Bordeaux as a luxury exclusive and EXPENSIVE destination seems increasingly set in stone. New exclusive chic hotels and venues such as the Mama Shelter have arrived on the scene and there is an ever expanding list of luxury restaurants and venues in and around town. At the same time a large number of the Chateaux are rapidly building oeno-tourist and MICE facilities in anticipation of the opening of the Cité des Civilisations du Vin in April 2016 – they include well known names such as Agassac, La Dominique, Giscours, Pape Clément, Petrus, Smith-Haut Lafitte, Du Tertre etc etc.

Visit charming Bordeaux without ever having to actually meet or deal with any scary locals or speak any French…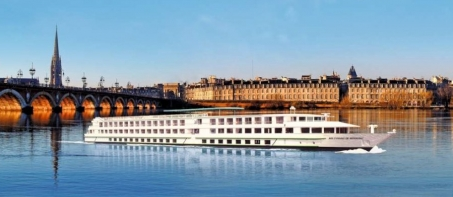 Cruise majestically up and down the river staring aimlessly out the window

Arty glass beads at the new event space at Château la Dominique, St Emilion
Luxury event space at Smith Haut Lafitte
The transformation of Bordeaux into a high-end destination is undoubtedly a good thing for expats and the city as a whole due the increased work opportunities (Viking etc. have actively been hiring Anglophone guides for the coming seasons and this can only increase) and the large injections of cash into a variety of projects. Indeed, the hoards of wealthy wine lovers who flock to Bordeaux seem to justify the city's reputation as the snobbish bourgeois world capital of luxury wine and the aspiring upper class – a trend which is only set to continue…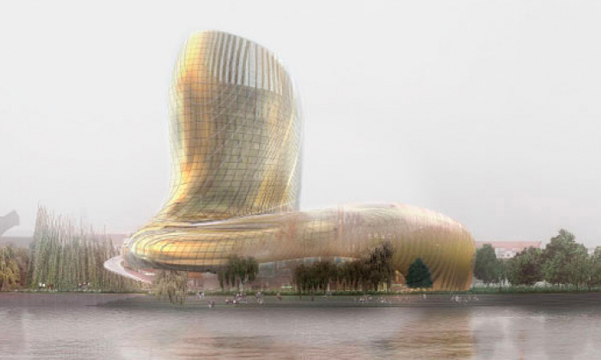 £he new cit€ d€$ civilisation$ du vin – KERCHING!
As an expat and a Londoner I've been on a constant mission to scratch beneath the surface of Bordeaux since we arrived 3 years ago. My blogs have taken me round hundreds of bars, cafés and restaurants around the city and the Bordeaux Expats Facebook site has opened up an astonishing treasure chest of alternative events and associations all over town. So in continuation of my quest to discover the 'real deal' down here I was delighted to recently uncover the hidden gem of Alriq's Guingette on the right bank.
Guinguette:  a "Small open-air waterside cabaret in the suburbs and the surrounds of a city, where craftsmen drink in the summer and on Sundays and on Festival days. The term comes from what are sold in these cabarets: a malicious light local green wine, that is called ginguet, such as found around Paris." (1750 Dictionnaire de la langue français)
The concept of the Guingette appeared in the 18th century around Paris as a growing middle took advantage of the new train system and looked for new ways to entertain themselves cheaply. The Guingettes were cabaret style establishments set up outside taxable city limits giving people access to low cost alcohol 'à la bonne franquette' especially on weekends and public holidays. They were apparently so popular that even Von Gogh and Renoir depicted them in these famous paintings (!!) :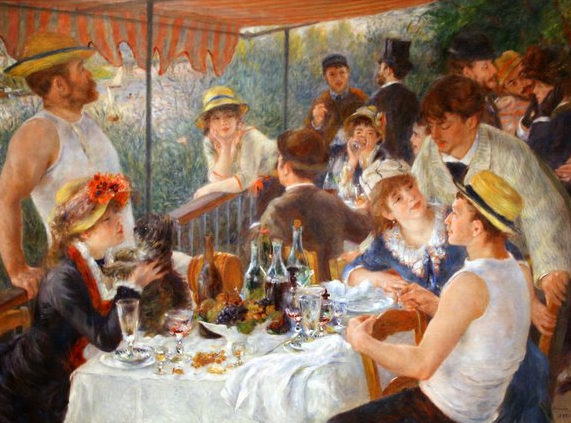 Auguste Renoir – Luncheon of the Boating Party 1880-1881
Vincent Van Gogh – La Guinguette à Montmartre 1886
Reminiscing on happier days past, Guingettes were popular throughout the early 20th century as nostalgic escapes from modern times and their resurgence today is much along the same lines!
Although being in existence for around 20 years the Guinguette d'Alriq is one of Bordeaux's best kept secrets. Tantalisingly close to the centre of the city's tourist revolution (the secluded garden cabaret is directly opposite the new luxury cruise boats…) it is completely detached from the hustle and bustle of the Quais. Reopening this season after a one-year closure following a police raid they are now once again fully licenced and raring for business. It was bought by the Niece/Nephew of the original owner, Alriq and they have taken on plenty of challenging projects. They have built a new cabin/bar this year in the garden and are currently renovating an indoor space away from the elements.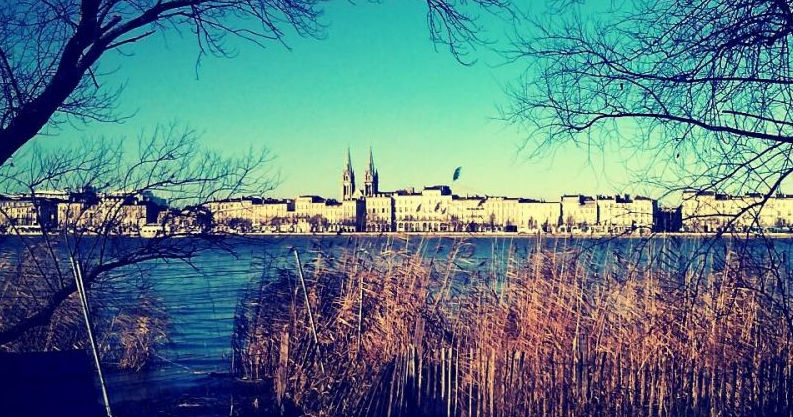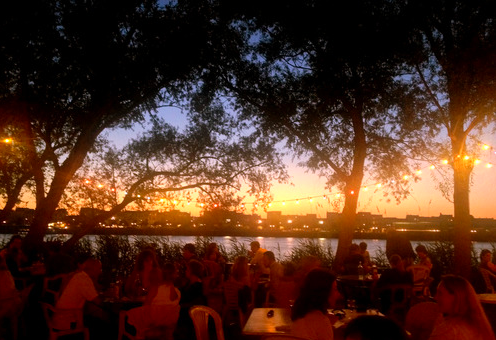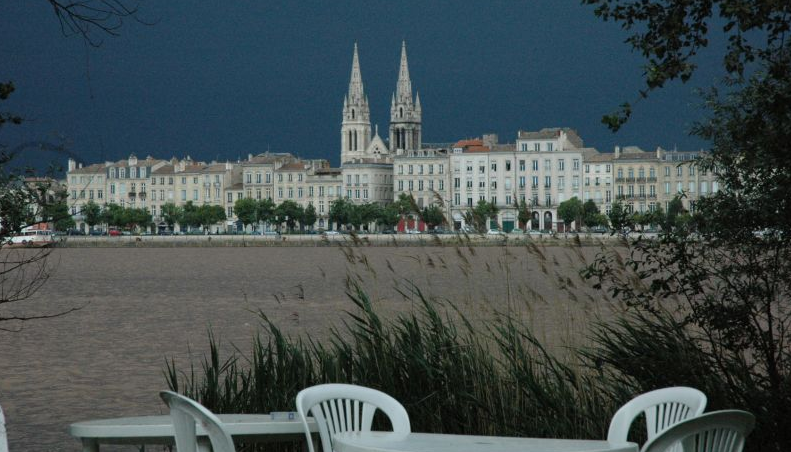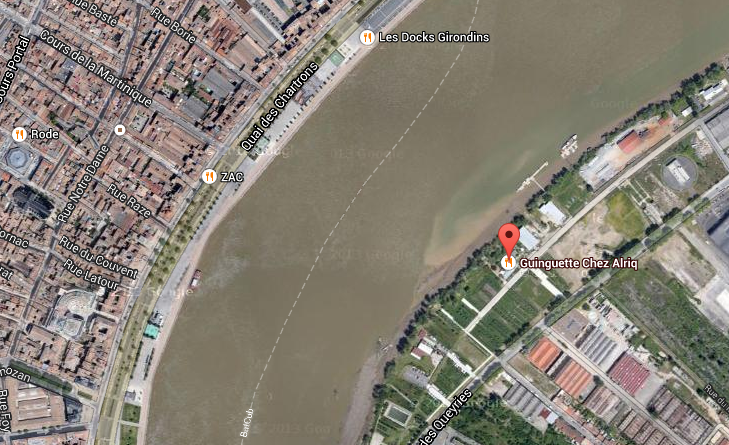 The stage is still in place and there are regular concerts with anything from ethnic music to local circus and theatre performances. This secret Guinguette is hidden away near the entrance to the Darwin project, is family oriented and offers a large range of local and organic products.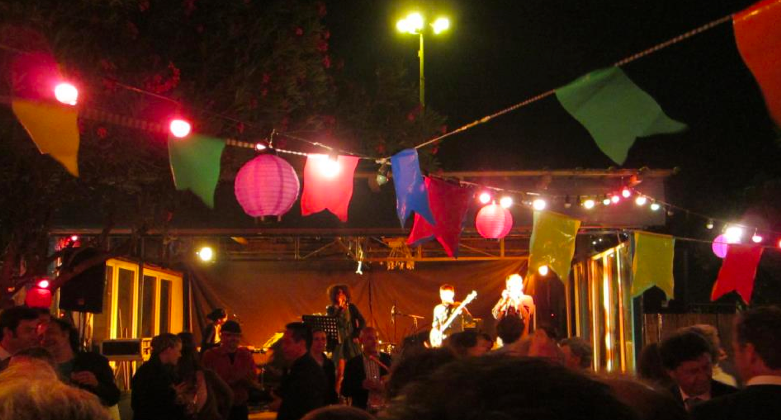 At the moment they have an exhibition from local photographer Jérémie Buchholtz on his road trip through west Africa and tomorrow night there is a concert by Akoda Afro Jazz at 9.30pm!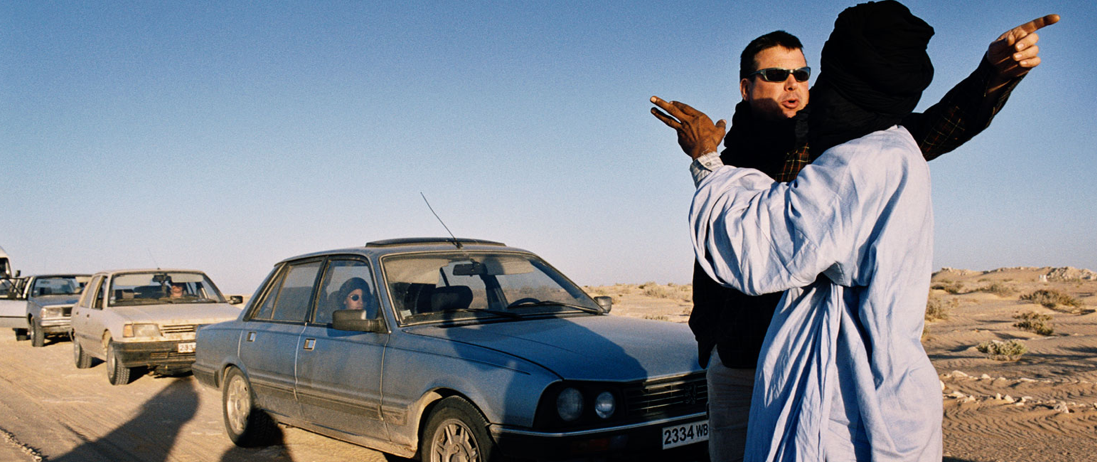 Photos on display in the current exhibition

They have no kitchen facilities so are only allowed to serve cold food and beverages (incl. tea/coffee). Nevertheless there is an impressive menu on offer. The Organic Lemonade for €2.50 is a refreshing option for a hot August afternoon as are the range of fruit juices/smoothies and beers (€3 – Orange, Grapefruit, Apple, White Grape, Green Tea Peach, Pear/Raspberry Smoothies – €2.50 for Mascaret wheat or lager on tap 25cl or Darwin beer). They have other local bevs as well such as Lillet and Château Lajarre/Château Grand Launay – red, or Château Landereau – white/rosé. For something stronger they have Caïpi, Mojito, Ti punch and Bombay Gin tonic, Diplomatico rum, Laubade Armagnac or Monkey Shoulder whisky for €6/€7.
On the food front look out for local oysters from the Banc d'Arguin – No.4 €7 for 6, No.3 €8 for 6; Lou Gascoun petit paté (€3), Jambon de Bayonne de "Ospital" (€8), fresh farmers goats cheese €8 for a whole (DELICIOUS!) – whole farm Camembert €9 for a whole, as well as chorizo and crisps. €3 will get you 100g of antipasti – anchovies, articokes, squid, stuffed peppers etc and for dessert there is a range of homemade ice creams – Vanilla, Choc, Coffee, Pistachio, Salted butter caramel, Vine peach, Raspberry, Lemon and Strawberry (€2 pot or cornet).
So please get down there for a relaxing afternoon in the midst of nature a stone's throw from the centre of Bordeaux, watch the weather forecast via their FB site and SPREAD THE WORD!
Concerts for the coming week:
Wednesday 13th August: AKODA
https://www.facebook.com/events/332311193598798/
Thgursday 14th August: Ziad Ben Youssef Trio
https://www.facebook.com/events/249502818592349/
Friday 15th August: Bal de la Guinguette
https://www.facebook.com/events/703831169685058/
Saturday 16th August: L'Electronik JâZe de MarTintouseul
https://www.facebook.com/events/683214671758798/