English Com'Eddy Theatre is a private school for learning English through humorist theatre. Now opening its doors to expats who want to improve their prowess in French.
Located in the South-West of France, in the city of Bordeaux, it has been created in 2007 by Eddy Radburn English teacher, playwright and stage director. He receives each year adults, seniors,
teenagers and children, beit all year training from mid-September to the end of June, or through 5 day total immersion periods during the school holidays.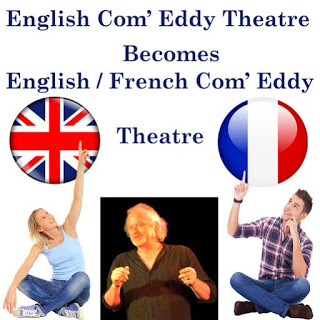 English teacher, totally fluent in French / trainer for adults and children for over twenty years, Eddy was challenged into using his theatre experience in 1997 when a young student asked him to write a play in English for the group. The result was so well received that he suggested it to his adult
students, always with the same success. Eddy finally decided to specialize in this method of education and so created in 2007 English Com'Eddy Theatre.
Since then, every year, "made to measure" sketches and plays for the new season are written, insisting on the importance of gestural body language and taking great care in choosing a vocabulary rich in everyday expressions where ever possible. Building deliberately exaggerated comic situations for the language learner to improve and better understand. Com'Eddy Theatre creates full audio support for each sketch or play in order to encourage and facilitate personal work. Its motto being: "We have fun, but it's serious!" So why stop there?
In France, most language establishments be it public or private are not yet ready to open up to an approach to language learning so far from the classic methods. But with "Com'Eddy Theatre" using the right pedagogic tools, this has changed.
For Eddy Radburn, a "living language" has to be enjoyed, to be seen, tomove, to interpret, and to come alive.
Theatre is: "To learn a text by heart ".
Theatre is: "To move or talk or both, to interact with your partner".
Theatre is: "To play, to put oneself in situation, to embody, comprehend"
Theatre is: "To repeat, again and again until it becomes automatic,
integrated and finally becoming second nature".
Theatre is: "A chance to employ the idiomatic, expressions of everyday"
Theatre is: "To gain confidence to vanquish timidity and put aside your
inhibitions, to be able to speak loud and clear in public".
"This is what I teach. This is what I enjoy doing. I create, it is not a job it is a passion. And I am more than pleased with the end results. It is a method that I have been employing for many years and the fact of having students expressing their gratitude years later spurs me on."
So now we are now planning to open a "French Theatre Class" for all who would like to improve their French in an active and convivial way.
The evenings chosen are on Thursdays from 7.30 to 10.pm. Assisted by Karinne Michel Radburn, française, biographer and ghost writer, who has participated fully since the creation of Com'Eddy Theatre. You can call her on 06 68 49 05 73 if you want to know more.
An extremely important aid to the learner's advancement are the, MP3 audio files that I create as a support to every sketch or play I write. The student simply downloads the files on to their documents directly from my website. This is a great advantage for the learner to work at home as well as
in the classes.
My principal function is to teach a language through the bias of theatre and not the contrary. However, when faced with students of a high level, the quality and richness of text is increased accordingly as is the theatre science. When you think about it the whole world for better or worse is like one enormous multi-cultural theatre.
William Shakespeare wrote:
All the world's a stage,
And all the men and women merely players;
They have their exits and their entrances…. etc.

2 bis rue de la Benauge
33100 Bordeaux bastide
Tram A. Arrêt Place Stalingrad
Our website: www.coursanglaisbordeaux.com