One in three people in the western world will suffer from some kind of cancer in their lifetime. Cancer and its treatment is difficult enough in your own country but in a new land and in a strange language it can be very, very, complex indeed.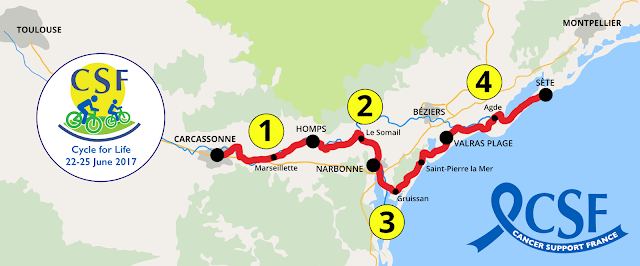 In 2002, Cancer Support France (CSF) was set-up to help people in exactly that situation, offering both emotional and practical help. Now, with a vast pool of knowledge and resources at their disposal, it helps thousands of people across the country. To raise awareness and funds for the charity and to support the fantastic and challenging work that they do for English speakers in France,
CSF holds an annual event, 'Cycle For Life', and this year it is being held to celebrate the legacy and memory of the CSF Founder Linda Shepherd who worked tirelessly to ensure the success of the charity and who sadly died of cancer in March 2017.
The 'Cycle For Life' ride will take place on June 22 to 25 starting in the Medieval city of Carcassonne and ending – with much celebration – at the coastal town of Sète, via the Canal du Midi, the Canal de la Robine and along a beautiful stretch of Mediterranean coast. It is not a race and everyone can take it at their own pace and do as few or as many days as they would like. The whole route is 200km but there are four stages of 50km, 40km, 50km and 60km and you can start at any one of them. It is all low-level, suitable for novice cyclists, and families and riders of all ages are welcomed.
'Vie and Velo' cycle tour company can offer help with bike hire, bike transport or booking accommodation. Denise from 'Vie et Velo" says "We are very excited to be supporting 'Cycle for Life' this year as it not only benefits a great cause, but highlights some of the fabulous cycling to be had in the Languedoc. We expect it will be a great event for cycling enthusiasts of all levels".
So, come and join us in a gentle meander through beautiful French countryside in the sunshine, sharing wonderful lunch stops, and enjoy the fun, food and of course wine! It is free to take part and you can raise money, if you wish, by asking people to sponsor you or to make a donation on www.alvarum.com
Details of the ride are on www.csfcycleforlife.org and with les than a month to go, it is not too late to take part.
Sponsors include Freewheeling France, LaFranglaiseWeb, Renestance and VideoProFrance.