Have a rank – Rate the best places near Bordeaux.
23/10/2017

MØME – French Electro
26/10/2017
The French Barbarians are lacing up their boots again in Bordeaux, this time against the Maori All Blacks on the 10th November.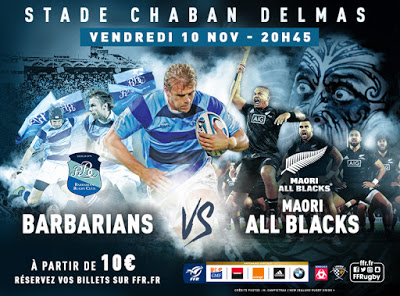 The long anticipated decision by many of the Bordelaise rugby fans was made after having already hosted a meeting between the Barbarians and Australia last year in 2016. The Stade Chaban Delmas, was again chosen to host the match, no doubt for it's great location in town and the fact that locals usually turn out in numbers to support the game.
The French Barbarians
The Barbarians are an invitational rugby club whose matches feature on the international calendar. The club was founded back in 1979 and have since meet ruby nations from all over the world. The current captain is former French international Aurélien Rougerie. The team is a great chance for up and coming players to cut their teeth in the international arena or former international greats to mix it up with new talent.
Māori All Blacks
The Māori All Blacks are a representive team of the New Zealand Rugby Union. The team is a selection of the best of New Zealand's Māori rugby players and boasts a proud history of defeating national sides.
WHEN: Friday 10th November 2017 @ 8:45pm
WHERE: STADE CHABAN-DELMAS – BORDEAUX
COST: €10 – €40
Tickets