Susie Bridger, she is DesperateAngloHouseWives Bordeaux – blogger, feminist, a kiwi, ex corporate lawyer, business school professor, musician,cook…even attempted French Masterchef.
Over 20 years in the Bordeaux region with a never-ending sense of humor, a workaholic, wine lover, solo mother of Louis and Colombe…loving life every day in this amazing city.
Where are you originally from?
I'm a Kiwi. A New Zealander from Auckland. I was fortunate enough to travel, live and study abroad growing up – Fiji, Cook Islands, USA, Switzerland, Sweden. Have spent the last 20 odd years in the Bordeaux region propping up the wine economy by drinking my way through the vintages.

Where are you living at the moment?

I live in the Chartrons in Bordeaux, a stone's throw from Jardin Public…was lucky enough to buy here when it was pretty cheap. Don't judge me please – I don't drive a shiny black SUV. My bike has rust.
How long have you lived in the region?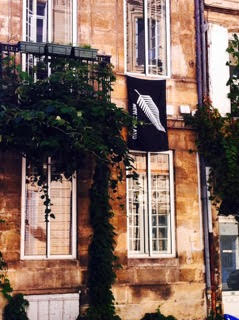 I've lived in the region for over 20 years.
Why did you move to France and why did you choose Bordeaux?
Love! I came to the region for love. I fell in love with a foie gras farmer and left my life in corporate law to join him. Despite major efforts our marriage sadly fell apart and I moved into Bordeaux with the kids in 2001. A time of great sadness and growth.
It was great to get back into the city…I remember lying in bed my first night here, the buses rolling past my open window, the sound of people yelling in the street, the smell of baking bread wafting up form the baker's night shift…was like paradise. I fell in love again, this time with Bordeaux.
What do you wish you knew before moving here?
That love doesn't always cross borders!
That my professional background would not be taken as valid – seriously that was hell. I had to learn humility pretty quickly and find an alternative profession to survive.
That somebody who speaks your language is not necessarily going to be your friend –  Kiwi naivity.
That tequila does not mix well with red wine!
That being a vegetarian equated with starving or not being invited out to dinner parties!! This has changed since..sort of.
My most embarrassing moments
Lost in translation – it's always sexual innuendo!
I once went to Galleries Lafayettes and asked for "une paire de saloppes (sluts!) pour mon fils" missed the "ettes" on sallopettes…and asked for a pair instead of just one. I have asked for tomato sauce " sans preservatifs" not to mention if nems/spring rolls can be heated " a poil" (in the nude!) instead of  "a la poelle."
I was also that girl who raced around the room getting everyone a drink before everyone arrived to a party (not my own!) not understanding why we had to wait until all the guests arrived… French etiquette!
I also tried to swallow suppositories, full of the flu at dinner a party, and nearly choked to death. We don't pop medication up our bottoms in NZ!
Swearing like a trooper in English on MasterChef, national tv… my kids loved it. I died of embarrassment.
Did you find it easy finding accommodation when you first moved here?
We moved into my ex husband's crumbling 13th century farmhouse in the country – no sewerage, no heating, no city water, rats and mice running up and down the walls and hiding in the oven and jumping out at me upon opening it… « Challenge » is the word.
When I moved to Bordeaux as a solo mum it was pretty heated. I found as a foreign mother alone back then I was looked at sideways -had to keep my sense of humour on board 24/24.
I finally bought a house 2006 just before the prices went mental. Wasn't easy. Feel very blessed.
What do you do for a living?/ Was it easy finding work?
In NZ I was a corporate lawyer specialised in resource management/environmental law, international relations and human rights – I worked primarily for petrochemical companies (the "dark side"!!), local government and was very fortunate to have worked on several significant Waitangi Tribunal claims, something that I was very proud of. At the same time I sung professionally in NZ National Opera chorus – that kept me sane.
I will be honest, finding work in Bordeaux was tough. The legal profession here was completely closed and my experience and qualifications were of little validity. I think this is the same challenge in any country for foreigners  – Bordeaux is no different to any other city. All about perseverance and a slice of feminine courage.
I started to work as a legal English teacher. I ended up head hunted by a business school where I am Dean of Business English programmes and also lecture geopolitics and international relations, negotiation, law and finance related subjects, and wine (could finally put all those wine tasting certificates into value).
I adore working with students who teach me as much or even more than I teach them. I wake up every day and basically run into work excited about every new day – sounds like a con but honestly my daily joy in being with my students is beyond words. Yes,there are tough, very tough, students but they usually end up being my most promising students. Ask questions, challenge me – love it! I am lucky enough to be able to choose my teaching staff and my teachers are gems.
I also work for the law bar in Bordeaux examining the "new barristers to be" in English comparative law. Can't comment too much on this as it's a very quiet world and one which I respect enormously.
I still miss working in the law and litigation in particular but my teaching and lecturing is such an amazing opportunity. I have learnt patience, empathy and a whole lot of love. I have an amazing director but I still don't feel like I have the respect professionally that I had in NZ. I earn about half of what I earned 20 years ago in NZ but I can survive on that here.

Has it been easy meeting people?
Depends on what your goal is. If you want to submerge yourself in all English speakers, forget it as a way of integration. My friends are such a mix of French and Anglophones. Open your head up to anybody, don't judge and you will always make friends. There have been hiccups along the way, but that's just life. Kiwi attitude?

What keeps me grounded?
My kids, my York Harry, my amazing Irish partner, my students, music, my piano, my books, the All Blacks, my girlfriends (they know who they are), Capucin markets for real food, cooking, my walking shoes, waves, National Geographic, Le Courrier International, The Shorter Oxford dictionary, Mollat bookshop, Utopia cinema, Sisters café in the Chartrons, my network of wonderful supportive friends who put up with my often tyrannic behaviour and opinions, the odd "emergency cigarette".
Did you already know French?
Yes, I lived in Switzerland and had good French in school in NZ. The banks in France had some challenges when I first arrived with cheques written in Swiss numbers… nonante trois…. same spice, different dishes???

How do you find the cost of living/lifestyle in Bordeaux?
Was great 20 years ago but I do find life more expensive now, won't pretend otherwise. Bordeaux is now expensive on a Bordeaux salary. We need to bring up the salaries here –  a necessity to keep up with the hikes in living costs.

What's the best thing to do in Bordeaux on a summer's day?
The wine (again!), a walk and oysters at the beach, the markets bursting with incredible produce, the hills above the rive droite… the sky and the old old trees. I especially love the magnolia trees in Jardin Public –  I talk to them on a daily basis.
I have a small courtyard garden – I love to entertain my friends in my garden on summer nights with a plancha of beautiful market fodder.

What's the best thing to do in Bordeaux on a rainy day?
That's easy –  Utopia Cinema, the best films ever, the best coffee, a sense of peace. Also I love the classical concerts on the first Sunday of the month Opera de Bordeaux followed by wine tastings.
What are the positives of living here?
I love that I can be in Spain in less than 2 hours, tapas in San Sebastien, another culture at my doorstep.
I feel safe in Bordeaux, its size does not overwhelm me.
The sea, although not close enough for a kiwi, is there and as a body surfer I can fall into the ocean for hours and be at one with the waves.
What are the negatives of living here?
The French administration. The opposite of French food –  bitter and twisted with ambiguities!
Odd ideas about breastfeeding –  I was called " primitive!"
Not being treated as a professional equal.

What keeps you going?
My kids, Louis and Colombe. They are courageous and open to all life has to offer. Bringing them up alone has been quite a challenge, a beautiful challenge. I am ever proud of them both and amazed by their capacities to adapt and explore life. I thank them both for making me whole.
I love that Bordeaux has become more international and more tolerant of foreigners… may this continue.

Are you involved with any groups / associations / teams, etc?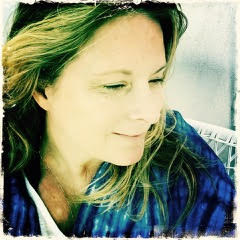 Not right now. But would like to be. Any suggestions?
I am not a club person, too shy, but appreciate that many people find solace in the ex pat clubs.
Do you have a business / website / blog?
desperateanglohousewivesfr.blogspot.fr –  I hide behind my blog started years ago. A place I go to try and resolve my love/hate relationship with France. There have been tons of trying times and this is the place where I vent and share. Join me there.
Any closing comments?
I LOVE BORDEAUX, but let's keep this city simple.
I adore meeting people so contact me (sbridger@hotmail.com)