Bordeaux expats recently caught up with Ira Szmuk to find out about her web design and brand new website Lost in Bordeaux
Where are you originally from?
I was born in Moscow and moved to Israel with my family when I was eight years old – I lived there until I moved to France six and a half years ago. I have spent most of my young adult life in Tel-Aviv, a very vibrant city that instilled in me a huge passion for city life and urban art.  It is also a city with an amazing start-up ecosystem, which is where I get a lot of my inspiration for web design.
Where are you living at the moment?
I live in Talence, 15 minutes away from the center of Bordeaux, with my husband and two young kids. It's not a place with a lot of action but when our kids were born, we decided to move to a quieter neighborhood, so here we are. Also, being next to Peixotto park is a huge plus; my daughter loves the ducks.. She goes "Ga ga ga.." all day..
How long have you lived in the region?
We are fairly new to the region; we moved down from Paris last summer and really love it here. I love Bordeaux, as it's a combination of a vibrant city with lots of things to do while also being relaxed, cosy and calm. It almost makes you feel like you are on vacation all the time!
"I love Bordeaux, as it's a combination of a vibrant city with lots of things to do while also being relaxed, cosy and calm."
Why did you move to France and why did you choose Bordeaux?
We really loved France as tourists and decided that we want to live here several years ago. We moved from Tel-Aviv to Paris in 2011 to study and fell in love with our French life too much to leave. About a year ago, my husband was offered a relocation to Bordeaux – we were a bit reluctant at first I must admit. We really loved living in Paris and were afraid to leave behind all our friends. However, we had heard so many amazing things about life in Bordeaux, especially with kids that we decided to give it a go. So we moved here with our little girl while I was 8 months pregnant with our second child and we have no regrets! We love living here and have found wonderful new friends and a very supportive expat community that makes life here feel like home.
What do you do for a living? Was it easy finding work?
I am a former accountant and economist turned web-designer and Bordeaux blogger so my career path is quite interesting. After 8 years of working as an accountant for PwC and then as a policy analyst at the OECD in Paris, I felt that I needed to change to something more creative and dynamic. After having my first kid, two years ago, I decided to try a business idea I'd had for quite some time. I started working on a startup that helps people practice their writing skills in a foreign language online (focused on French and English). After several pilots and while developing the writing program with French teachers I started working on building the technical platform myself. In order to do that I had to learn web design/development and I totally adored it. I have for now put my language platform on a lower gear as I investigate it in more detail – in the meantime I have decided that I want to make websites for other people.
In Paris, we had a very active life so when I arrived here I was always on the hunt for stuff to do in the city. What I discovered was that although there are plenty of things to do in Bordeaux and its surrounding, there was very little information in English available online. That's where the idea of Lost in Bordeaux came from. I thought to myself that the Bordeaux expats should have some sort of Bordeaux 'Timeout' to discover places and things to do in the area. It's a new website (I launched it at the end of February) but I have tons of ideas for the blog and I'm always working on several new posts that will hopefully be useful for my readers. And over time, I hope to add basic information about Bordeaux, which can be useful to first-time tourists.
For now, it's going pretty well; I have almost a thousand readers in less than a month of activity so I'm encouraged to keep going.
What is the best thing about being a web designer and a blogger?
As a blogger, I feel that I'm kind of an explorer who finds positive and useful information for people, and that makes me very happy. The thought that people read it to get to know the city better or get ideas of things to do at the weekend gives me great fulfilment.
As a web designer, I love the feeling of creation. The fact that you start with a blank page and you create something that your client is happy to show his customers and that many people are going to interact with.
What is the hardest thing about being a web designer?
I'm a beginner in this industry and it's not easy to find clients who are willing to bet on you.  People have started to notice lostinbordeaux.com, and I get positive feedback for my style – hopefully that will help me grow my client base over time.
Another thing I find hard which is common to all freelancers, is working on your own. I'm a very social person so working from home is not always easy for me. Luckily, the expat community in Bordeaux is very friendly and supportive so I make sure I take advantage of that. One of the groups I am very active in is
Bordeaux mums get together
. It's a great group of mums from all over the world and we have weekly coffee meetings.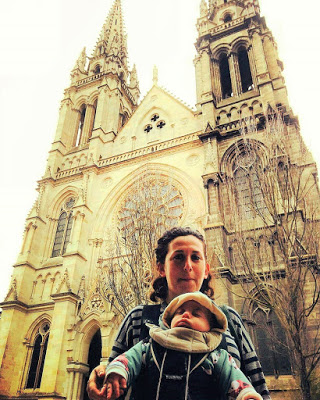 Do you have a business/website/ blog?
My blog about Bordeaux,
www.lostinbordeaux.com
is very active, I try to post new articles at least twice a week. My main feature for now is the "what to do on the weekends" posts. But I also cover a lot of other topics such as special places, culture and suggestions for activities in the city. I'll start travelling more around Bordeaux soon and will then add info about what to do in the Sud-Ouest in general as well as destinations outside Bordeaux.
Final thoughts?
I'm relatively new in this city and that's probably why I have a lot of energy to discover everything about it. So if you have suggestions for articles you'd like to see and places or topics you'd like me to explore please contact me on Facebook