In the inner city suburb of Bègles in Bordeaux, a special kind of festival is staged each year to celebrate a bygone era of commerce centred around the fishing industry that once was the backbone of the area.
History:
La Morue, or Cod Fish, has a long standing history in the suburb of Bègles dating back to the 19th Century. In 1892,  Bègles contained over 30 fish processing plants with a total of around 70% of the national imported cod being treated directly in the area.
Throughout the nineteenth century and the first half of the twentieth, Bègles was one of the largest fish treatment centres in France.
The fish arrived at the port of Bordeaux then barges left Bordeaux to bring the fish to to be dried.
In the 1950s, the city had 32 dryers and thousands of workers with, Bègles being nicknamed "the suburb of odours" with cod being the main source of activity.In winter, at the height of the season, the dryers employed more than 300 local workers, reinforced by seasonal workers from the Basque Country and Auvergne.
Festival:
Fast forward to 1996, with the first edition of the festival taking place with the focus being on gastronomy. Cod is primarily celebrated in bars and restaurants and the history of the city being revived around typical dishes. Only a few musical groups warm the mood and there was no real sense that the festival will continue and grow.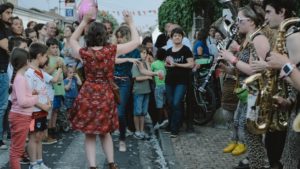 Twenty three years later, la Fête de la Morue has become a fixture in most residents of Bordeaux. Seeing the few thousand visitors of the first couple years to explode to more than 60,000 revellers in recent times.
A traditional draw-card is a giant cod omelette that caters for around 300 people. Along with exhibitions, concerts, street fairs and attractions the event is gauged towards young, old and families alike.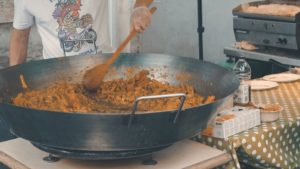 This video was taken over the weekend of 1 – 3 June 2018 and documents the sounds and sights of the festival's atmosphere.
Many thanks go to Derek Rose for his time, professional video capture and editing. It was a great idea to make this snapshot of this event, of which is something usually reserved for locals and not the international stage
.