If on a Sunday morning, you go the marche de Thouars, a grey canopy with orange lettering "Mam'zelle Ile" will catch your eye, along with the brilliant smile and energy of Ileana Elbaz, the young woman who owns it.
Take a look at what she's got on offer. Zucchini soup with goat cheese, topped with lardons; lamb kababs with mint, fishcakes, gooey brownie cheesecake squares and a very refreshing minty citronade. The company is called Mam'zelle Ile and the brainchild of trained, travelled Chef Ileana. We had a natter over very airy pancakes (quite unlike my brother-in-law's "crapjacks") and perfectly scrambled eggs worth a king's ransom given how light and fluffy they were.
Author: Ujwala Samant
What made you choose this career?
The career chose me, I am pretty sure of it! I started cooking one day as a 12-year-old as my mom was very sick and couldn't cook. It was then that I first touched a pan. It was destiny for me as at the same time I was a bit of a picky eater when I was younger. So, I had to cook to feed my family, as well as get over my own pickiness. My first step led me to my second and I started baking cakes, from that day.
My first patisserie was lemon meringue tartelettes and given my mom's kitchen and equipment, it was tough. It was rough, it was tough, but I was having fun! Then a light bulb went on in my head and I wondered, "Is it possible to have a hard time and have pleasure and fun? I want to do this job!" That was it. I found my voice!
Despite my Sephardic origins and a Mediterranean diet, it was only when I worked with Chef Thierry Galais at the spa at Brides-les-Bains, that I entered the magical world of transforming sustainable vegetables and fish and meat into tasty, simply delicious food. Chef Galais opened my taste buds and my sense of adventure into a whole beautiful world. Since then, I have lived and worked as a patissier in Vietnam, the US, Morocco and more recently at 5* at Megeve, Lyon, and Bordeaux. Each experience introduced me to a new pantry, a new field of ingredients and how to treat them. It also taught me to move from patisserie to cuisine, to cooking, to becoming a chef.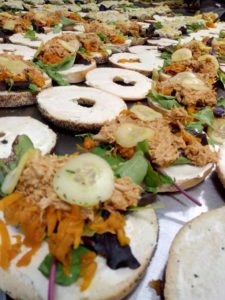 What is your philosophy around the food you make?
Well-being! I start from the fact that food is our fuel, just like gas for cars! When you accept the idea, you just can't choose your food the same way you used to. But it has to taste good! I try my best to make food that's as good on the tongue as it is for your body. And if it is not especially "healthy", I work to reduce the "negative" impact on it. Tough challenge but I can't eat "health food" that tastes like grass! Flavour, food must have flavour. So I make food with flavor, that the belly and the body can enjoy, you know?
How do you select your products?
Season first; that's my philosophy! Then I try to get the best compromise between price and location. I'm looking for ingredients to be French, local, sustainably grown or organic. It doesn't taste the same if you buy cherries in December or green beans from Kenya when we have green beans from here. Organic can be expensive and I have to watch the prices I charge, so seasonal, local, sustainable is what I look for. Seasonal products taste better like tomatoes, lemons, oranges, oohhh so delicious in their season.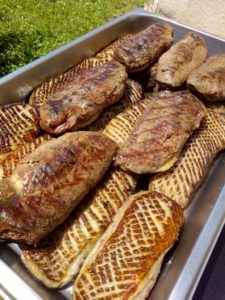 Are a lot of your products "Bio"?
Not all. Unfortunately, anything labelled "Organic" almost always means a serious price rise! I am more into sustainable growth, which in my opinion, the most logical way of growth. Just respecting nature.
Is it easy to stick with local products?
I travelled to the USA, Vietnam, Morocco and Poland. When you travel, you understand that to be the best, products must come from where they naturally grow. It is hard to stick with only local products with so much globalization, especially after you've tried products from other countries. You want to find them and cook with them, wherever you are! And as a chef, you also want to make others discover them. So, I use products that go with the dish. I use products like lemon grass, cinnamon, ginger, in different recipes. I have to get products from other countries when I make their dishes. Like maple syrup from Canada. And in the winter it is not always easy to find a wide variety of local products, but I try.
Which of your dishes are bestsellers?
My Fish Cakes always please guests! My Carrot Cake was qualified "The best Carrot Cake from Bordeaux" by a guest who tried them all around the city. I was really proud!
(I can vouch for the zucchini soup, the lamb keftas/kebabs, pancakes, fishcakes, and the brownie! I generally pick up a glass of the newest variety of citronade as I wander around the marche and I get asked by vendors if I'm having a mojito. No, I'm not telling if I was.)
Do you also work as a caterer? What kinds of events and meals do you specialize in?
Yes, I work as a caterer. Mam'zelle Ilé had its first event on Saturday 02/06. Catering is built on guest's needs, specific diets, allergies, and food intolerances. I just try to be where people need me. The same way, I don't specialize in specific meals or cuisine.
My cuisine is about fresh fruits and vegetables, lots of herbs, non-refined staples like dark sugar, prime choice olive oil, outdoor eggs. The product has the center place, based on the requests, the needs, and the budget of the client. I work very closely with the client. I'm going to be doing the lunches for a journalists' conference where I will be providing 200 lunches for 2 days. I also do parties for 50 people or less.
Do you have your own kitchen?
I wish! What I would like one day is to live in a house with a detached catering kitchen attached; and where my partner can have his own baker's oven. I would like to have my own hens, goats, and garden so I can control what I purchase and what we cook with.
For now, we rent space in a community kitchen. It gives me a place to store my utensils but given that it is a shared kitchen, there are issues. For now, it works for me. It's a good place for any chef wanting to start their own business but does not have their own equipment or the space.
You trained as a chef; do you see yourself with your own restaurant?
Probably one day, but I never do classical or typical cuisine. I like variety, especially based on the products available, customer likes, and not so formal. I would like to create a special place, where you can share a lovely moment at any time of the day. Come in, sit down, relax, enjoy the ambience, the food and come back because you enjoyed yourself. I would like to know my customers, and them to know and want my cooking. After all, food is about sharing, about creating memories on the taste buds and a good feeling in the mind.
I will build this project with my other half, Florian. Aside from cooking, his speciality is baking bread. This way, we could have a complete menu that included bakery, pastry and my cooking.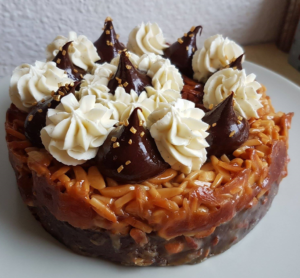 So, tell me outside of cooking, what makes you laugh? What gives you joy?
Ever since I was a kid, I always worked with my hands. If I don't cook, I draw, I write, I sew, or I decorate.
Sharing a privileged moment with all kind of life (human, animal, insects) is a real source of joy and inspiration for me.
And of course, travelling wherever my feet will take me!
Contact details for Chef Ileana Elbaz and Mam'zelle Ilé :
Phone: 06 01 30 61 25 Email : mamzelle.ile@gmail.com
The Thouars' Farmers market in Talence, on Sundays from 7am to 2pm and tell her you saw the article on Bordeaux Expats!
About the author:
Ujwala Samant is a serial expat and has spent time in various countries before returning to Bordeaux after living away from the city after 26 years.