Bordeaux Expats recently caught up with Nirina Ralantoaritsimba to find out more about her upcoming talk at the Bordeaux USA club. We last chatted to her in March about her groundbreaking debut novel – 'Nous sommes les ancêtres de ceux qui ne sont pas encore nés' – When Californian history crosses two French women's destinies.

What have you been up to since the launch of your novel in March?
I feel like a multitask cook! In fact, many things have been cooking in my "art kitchen" at home and abroad, since the last blog and some meals have been served at the restaurant's tables, some are still in the pot…
Abroad:
Last March and April, I got invited by the French Alliances of Abu Dhabi and Dubai (in the United Arab Emirates) to present my book to the francophone audience in the Middle East. It was very nice to speak with the expats there, because when you end up living in the UAE (like I did 8 years ago), it means that you already got different experiences of expatriation.
So my novel about the Gold rush in the 19th century sounded familiar to them who came to Abu Dhabi and Dubai in the 21th century in order to follow the "Oil rush"…
At home:
I am now preparing and rehearsing for a show coming soon on October 5th. This will be a new genre for me to perform, and I am very excited because I will revive the actress in me! Two musicians from Bordeaux and I are now working together to create a new piece: a "musical reading session" (Lecture musicale) of some extracts of my novel. This event will be part of a cultural festival called "Du Verbe à la Main" in La Teste-de-Buch. I can't wait to get back on stage!
I also gave some creative writing workshops for kids and I will do more within the coming months… (you can follow the news on my blog)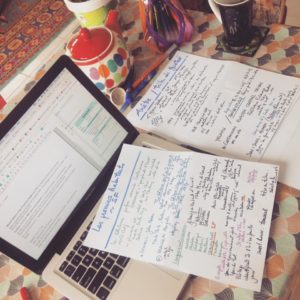 How are your art projects going?
I feel really blessed because it's been 5 years since I quit my job as a French teacher in order to commit full time to my artistic career which has so many facets. And after these years of hard work of all my crafts and also some deep inner work, I can tell that the harvest is coming. It's definitely like having been pregnant for many years and now I am ready to give birth because the art pieces are mature to be shared with the world.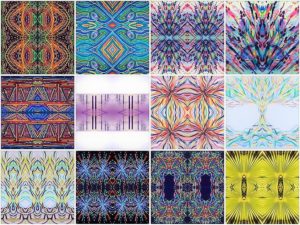 In June, I just finished the post-production of my short film produced by Révérence and supported by OCS, the CNC and the Adami. This comedy called "Bumper" ("Le Créneau" in French) just got selected by the San Diego Film Festival. The story is about a grandmother and her grandson…
Here is the pitch:
For many years, Max, a young man full of ambition, has been dreaming of being accepted in a prestigious political science school. The day before the interview, he plans to spend the night at his grandmother's house which is near where the oral exam will be taking place the next morning, thus hoping to be in the best mindset to succeed. But once he gets there, Max finds out his Grandma has decided to take her driver's license again…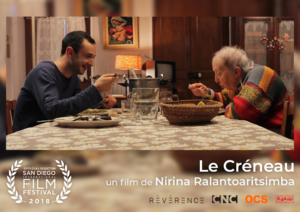 I hope that my film will soon be selected for festivals in France!
It makes me so happy to go back there to present my film to my fellow San Diegan people because, as I said in the last blog, I used to live there (2004-2007) and this is how I got to write my novel… Everything is linked, you see? I wrote my novel by living in California and now California wants me to come back there to share my film with the audience. I will try to get contact in order to coproduce a feature film that I already wrote with my brother.
And by being there for the festival, I will take the opportunity to give a conference about the novel at the French Alliance of San Diego. I am now preparing a pedagogic project with the French students of the French American school where I used to teach, so they can read some of my chapters about San Diego and participate actively to the presentation I will give on October 19th over there.
My life as a teacher, my life as a writer, as a director… everything draws a circle and nourishes the rest. This is a blessing to witness it while living it.
Do you have any new novels in the pipeline?
Oh yes! I have so many files of new novels and in some other genres.
Right now I am working on an essay, a very personal subject (my Madagascan and French roots) that will expand into a collective topic about our multicultural planet. This is not so far from the subject of my actual novel… But after the fiction based on Californian history, I felt like writing something even closer to my identity and more in touch with the contemporary reality of people who experience what it is to belong to several cultures on this planet. I want to do my part to contribute to inclusion and acceptance of others.
I am also working on a book of tales. Tales lead to universality. This is why I write: extend the horizon.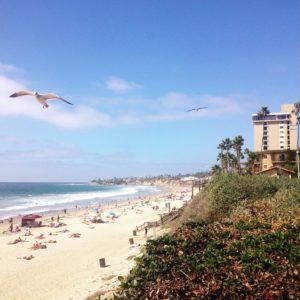 What do you have in store for your talk at Bordeaux USA on the 20th September?
I can't wait to speak in English about my book! This will be the first time to talk about it in another language than mine. This multilingualism is key to me. Adapt to others' language in order to reach a larger audience and share differences of point of view. This is my mission as an artist. If I only speak French, I cut myself form the rest of the world, so this is very important for me to "translate" my book's message as much as I can. I thought about translating the whole novel but my English is not good enough to catch the subtlety of my French style. I hope that one day a professional translator will translate my book for Anglophone and Hispanic people because I write also for/about them: the Mexican, Spanish, American roots of California. By translating, we respect a duty of memory, which is necessary to build a more peaceful world, I think.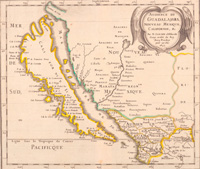 I will talk about the genesis of my novel, my PhD thesis, which nourished my fiction, and about my methodology as a traveller-writer. And I will also give a sample of my reading session by reading an extract! And also, hopefully, I will have hard copies to sign for the readers who want to get the book that is also available on ebook.
You can catch Nirina at the Bordeaux USA expat club on the 20th September at 7pm (doors open at 6.30pm). Their HQ is at 38 Allée d'Orléans, just behind the Quinconces tram hub.
See you there!
And please help support local artists!
If you live in France, you can buy Nirina's novel (eBook version) on the Librinova platform.

If you live abroad, you can order the eBook from a range of sites including Amazon.

If you want to contact the author for a conference or send over your comments after reading her book, feel free to write to: nirinaralanto@gmail.com
Visit her website here: nirinaralanto.fr
For an affordable price, you can choose some unique art pieces that she creates daily: