Hutong's owner and kitchen's backbone is Jason Ang. He was born in Singapore but grew up in Sydney blending his experiences from both cultures into something special. Passionate about the world of gastronomy, his many trips to Asia give a new dimension to his cuisine.
After travelling, he returned to Sydney to run a Japanese restaurant with his brother. After the proven success of this establishment, two more restaurants were opened. With the want of broadening his horizons and he packed his bags and headed to France in 2012, working at Comptoir Cuisine and Restaurant Solena before returning to his Singaporean roots and opening Hutong Streetfood with his wife Stephanie.
We did an article back in 2016, so we thought we would touch base to see what's been going on.
Since you opened, how has the local food climate changed? Is there more street food styled places opening?
Street food is definitely a trend in Bordeaux at the moment. However the definition of the term "street food" for locals is still rather vague- it seems to include everything from fast food to fancier stuff. For Hutong, we interpret street food to mean authenticity, in other words what you eat at our restaurant would be equivalent to what you find on the streets and in the hawker centers in Singapore. Hopefully the street food trend will bring more much-needed authenticity to the Asian food scene in Bordeaux, and who knows, hopefully it will lead to the development of a Chinatown!
There is, however, one big problem with the trend at the moment, and that's the general preconception by the public that street food equals cheap food, and/or fast food. A lot of customers still don't quite understand that producing great quality food from scratch takes a lot of time and effort and is not cheap since it's labour-intensive. People tend to judge the value of your dish based on what they see on the plate alone, which is really tricky for nearly all the dishes that we produce because we value taste over presentation.
It's all about the flavour at Hutong. Our chicken rice for example is a misleadingly simple-looking dish. The rice is flavoured with ginger, echalotte, fresh pandan leaves, and is cooked with a home-made chicken stock with all-natural ingredients (no stock cubes, MSG etc). I even use the chicken fat I trim from the chicken thighs to add extra depth to the flavour. The chicken thighs are cooked on the bone and with the skin on at a precise low temperature for a precise amount of time in order to achieve a tender result which is essential to the dish. I hand slice every spring onion and julienne every bit of ginger that goes into making one of its signature sauces. It's a dish that takes 2 days to prepare properly, but when it's presented on a plate, all the customer sees is some rice, a few slices of cucumber and some chicken on top. Our Beef Rendang is another example, curry paste made from scratch, quality beef shanks that are braised in coconut milk and curry paste for minimum 3 hours in a low oven. We've had some customers look at it and judge the value solely based on the number of cubes of beef they see in the bowl, completely oblivious to all the work it took to get it in that bowl. Again, it comes down to people assuming street food is cheap, basic and fast. I think we'd impress a lot more customers if we smeared sauces across our plates with the back of a spoon, used a siphon to create some aromatic foam and finished it off with some floral micro herbs…but that's not our thing.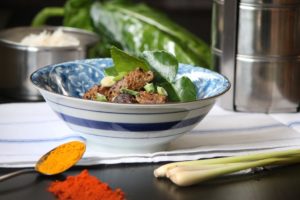 For those who aren't aware, what makes Singaporean food different from other Asian culinary styles?
Singapore, and Singaporean food, is a melting pot of a lot of different cultures. It's considered, and rightly so, one of the gourmet capitals of the world, where you can find almost any kind of cuisine.
What's interesting is that there isn't a lot of fusion (except the Nyonya style which is a marriage of mainland Chinese cooking and local Malaysian ingredients), Singaporeans don't tend to experiment with whacky flavours. They like to stick to what they know, each person has a special recipe for a certain dish that has been passed down through the generations and the goal is to strive for perfection (a bit like the Japanese). Everyone knows where to go to find the best Indian, Malaysian, Chinese, Indonesian, Thai… or even which hotel does the best British high tea.
In terms of ingredients you have all the usual South-East Asian suspects: lemongrass, pandan, galangal, fish sauce, prawn paste, coconut cream…but I think what sets Singaporean food apart is the complexity of flavour. Singaporeans and Malaysians really strive for depth of flavour, I'm not just talking about bold flavour, I mean a real level of richness and maximum umami impact. They love using a combination of pork and prawn in a lot of their dishes (prawn mee, hokkien mee…) as well as rendered pork fat for frying which brings a whole new dimension to the flavour of a dish. There's nothing subtle about Singaporean cooking (I'm thinking about durian desserts and rich laksa soups with lots of chilli and coconut milk…), it's refined in terms of balance of flavours but it's the kind of food that demands to be eaten with enthusiasm- there's no polite siping of soup with a spoon, you need to slurp your noodles down noisily to enjoy the full flavour impact.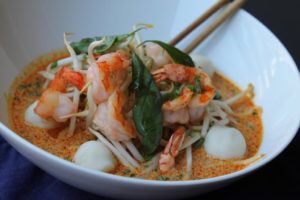 What were your impressions of Asian food and restaurants in Bordeaux (France in general) compared with authentic establishments in Asia or other countries?
There is so much competition in Singapore when it comes to restaurants that if you are mediocre then you don't survive. Eating is a national sport there. You can get an excellent meal at 3am if you like and if it's a good restaurant it will be full at 3 in the morning. Singaporeans will drive across the entire country to have dinner at your place if you have the best chicken rice, or laksa, or satay. And no one cares about the decor of the restaurant or the service: Singaporeans will eat on plastic stools with the rudest waiter in the world serving them so long as what they're eating tastes damn good.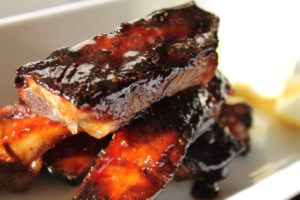 I remember my uncle bringing me to a car park in the middle of nowhere to eat fresh durians- it was just this tent set up in the middle of a big car park, you chose your durians, they cracked them open for you, then you pull up a plastic stool and ripped into them with your hands. No cutlery, no plates, no toilets, no roof…but the best durians you've EVER tasted in your life!
That's Singapore. It's all about the food. The fact that customers in Singapore are that demanding when it comes to the quality of their food is why the level of cooking there is off the charts. Which is exactly what Bordeaux needs- the locals here need to be more demanding. They shouldn't be satisfied with a restaurant that serves frozen spring rolls, or pours their sauce straight out of a bottle, or serves canned lychees in syrup for dessert. So long as the locals here keep thinking that's quality street food, the Asian food scene here is never going to elevate.
How did the idea of maintaining the traditional recipes and not toning things down for the French pallet work out? Do the locals appreciate a hot Laksa Lemak and the skin being left on the Hainan Chicken Rice?
We wanted 100% authenticy from the very start. I remember having discussions with Stephanie at the beginning wondering how the locals would deal with seeing poached chicken skin on their plates or cope with the chilli in a laksa but our objective was to present the real deal and to really transport people when they ate at our restaurant so I stayed true to the original recipes. I've since toned down the chilli in the laksa soup just slightly- at the beginning it was twice as hot- but we offer our home-made sambal chilli on the side of every laksa ordered for those who want to amp it up a bit. Not everyone is open to our level of authenticity. We still get complaints now and then about finding some small bits of cartilage in the chicken thighs (we make the effort of deboning our thighs whereas to be truly authentic we should serve it with the bone in), about the pork being too fatty (it's pork belly…don't know what to say…) but as a whole I'd have to say the majority of our customers are well-travelled and they appreciate what we do. I notice maybe half the plates of chicken rice come back with nothing else but a bit of chicken skin on them, but no one ever complains about it, they just push it to the side and keep eating.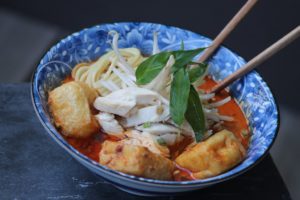 I remember last summer when we put durian ice cream on the menu we had to warn customers when they ordered it that it was an acquired taste and there's a chance they wouldn't like it. I'd say it was hit and miss- about half the people liked it and the other half couldn't bring themselves to have a second spoonful but the usual response was "I'm glad I tried it but it's not for me" which is great. Just FYI, I put only like 20g of durian puree per 1000g of ice cream. Singaporeans don't call it the King of Fruits for nothing.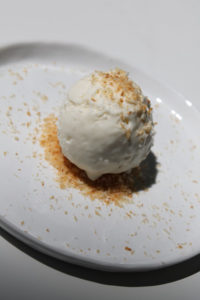 Where do you source the majority of your ingredients and produce? Also, are some ingredients hard to find or do you have to import them?
We work with Ly Kim Hak (rue de Begles, right opposite Marché des Capucins). They're super nice people and they have everything you need. There are fresh ingredients flown in from Asia, (we are pretty lucky to have fresh pandan leaves or gula melaka for example, without which Hutong wouldn't exist I think) and you can get frozen ingredients which are pretty good too. It's obviously more expensive because it's imported, but it's indispensable to what we do. I think there's a huge market for locally grown Asian vegetables and herbs however. If someone can start growing good quality spring onions here in France, for example, I can't even imagine how much money that would make. All spring onions at the moment are imported from Thailand or Vietnam at a hefty 13€/kg!
Be sure to check out their menu that is often updated.
Jason also offers cooking workshops with l'Atelier des Sens, so if you want to get some good tips on how to make authentic Singaporean food be sure to reserve your place!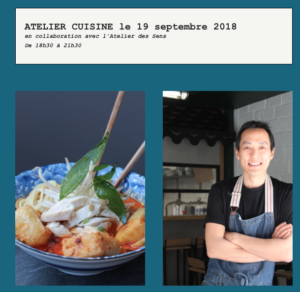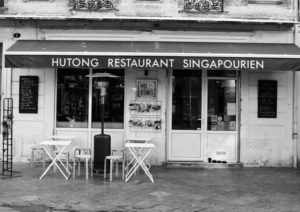 WHERE: Hutong, 1 Place Général Sarrail, 33000 Bordeaux
http://hutongstreetfood.weebly.com
https://www.facebook.com/restauranthutongbordeaux
https://www.instagram.com/hutongstreetfood/