Bordeaux is at the top of the list for the most dynamic French cities in regards to job creation.
This is according to a study carried out by private employment website HelloWork.
Bordeaux is projected to be the metropolitan region with the most jobs created, with a 34% increase in offers in 2018. This business dynamic even places the city above Paris in the pecking order!
With four online recruitment platforms, HelloWork is well placed to observe the goings-on within the French labour market. The company boasts over 110 million visits and 14 million job seekers/recruiters. They carry out a yearly study that ranks French regions and cities in accordance to their recruitment dynamics.
The region of Nouvelle Aquitaine sits high in the national classifications, with a 31% increase on job offers from the previous year. Nonetheless, the Île-de-France remains the most job-rich region with 20% of the national average.
Among the most affected Bordelaise sectors, we find industrial engineering at 31%, computing/IT at 30% and finance / accounting at 27%.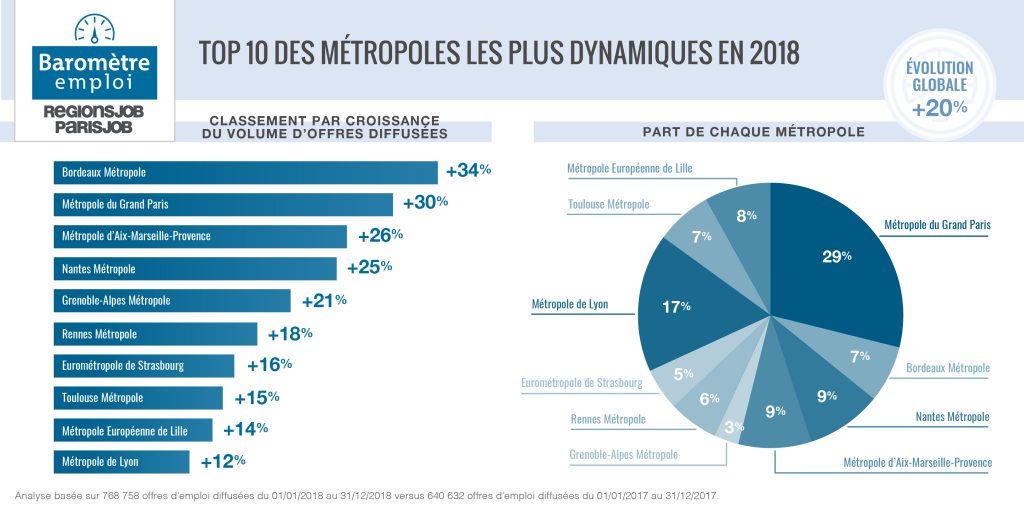 Last year was a good year for permanent contracts (CDI), which accounted for 66% of job creation in 2017. This has been increased to 71% in 2018.
A reason for the stark increase in the regions ranking maybe due to the launch of the LGV train line. Bordeaux in now connected to Paris in only 2 hours.
What does this mean for Expats / International profiles?
Well, this all depends on what you're bringing to the game. As always, when arriving in France you must expect to be in direct competition with the locals when going for a job. This means that you must have a great level of French and in some cases assure that your qualifications are certified or are the equivalent of French degrees within your domain.
Simply said: speak French, go hard with CV in hand, don't take 'non' for an answer.
Got other suggestions or opinions? Leave them in the comments below…