The tram is the way to get around Bordeaux if you're visiting as it is clean, cost effective and easy!
One thing that you'll notice when you arrive in Bordeaux is the efficient use of the tramway which was installed in 2003. The use of its ground level power supply means that there is absence of over-head wires, which doesn't obstruct the charm and view of the old city.
There are 3 different tram lines that form an extensive network of Bordeaux and it's surrounding area. The tramway operates from around 4:30am until midnight (around 1am on Thursday, Friday & Saturday night). All stops have panels displaying the waiting time until the next tram arrives. Weekday and Saturday services run around every 10-12 minutes, whereas on Sundays operates every 20-30mins.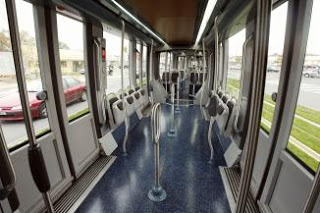 Tram A: Is the longest line and connects Lormont and Floirac to Mérignac (all of which are outer suburbs of Bordeaux). The line connects the left and right banks of the Garonne, passing over the old stone bridge (Pont de Pierre) and the center of Bordeaux. Tram stops of interest: Chaban-Delmas Stadium, Mériadeck, Town Hall, rue Saint-Catherine, Place du Palais, Porte de Bourgogne, Place Stalingrad, Jardin Botanique 
Tram B: This line also passes through the center of the city connecting Bordeaux's outer suburbs. It is the second longest line and connects Bacalan to Pessac. Tram stops of interest: CAPC Contemporary Art Museum, Quinconces, Grand Theater, Town Hall, Museum of Aquitaine, Place Victoire, University Montaigne Montesquieu.
Tram C: Is the shortest line connecting Les Aubiers to Terres Neuves. This line is useful for those of you arriving by train and also the people wanting to visit the New Stadium. Tram stops of Interest: Grand Parc, Jardin Public, Quinconces, Place de la Bourse, Porte de Bourgogne, Saint Michel, Gare St. Jean.
Tram D: Is the newest line and connects Carle Vernet et Mairie du Bouscat. Tram stops: Mairie du Bouscat, Calypso, Courbet, Barrière du Médoc, Croix-de-Seguey, Fondaudège Museum, Quinconces, Place de la Bourse, Porte de Bourgogne, Saint-Michel, Sainte-Croix, Tauzia, Gare Saint-Jean, Belcier, Carle Vernet.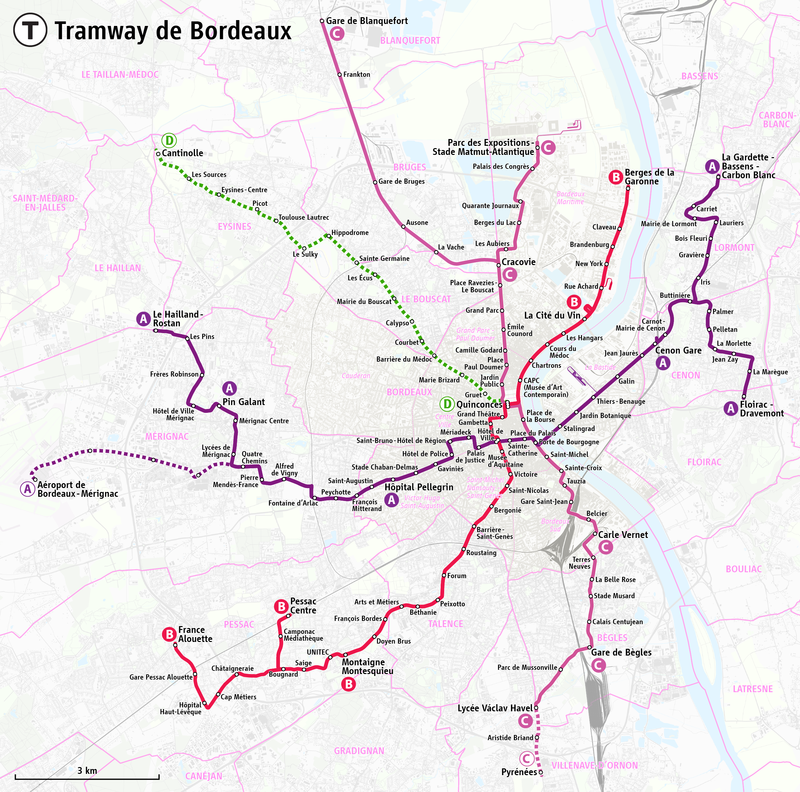 Even if the tram is a clean and easy way to get around town, for new comers to the city it may or may not be obvious as to what to do.
Firstly, you'll need to purchase a ticket to ride on the tram as there are inspectors that jump on and surprise the general public with a fine if a valid ticket is not produced.
Ticket kiosks can be found at all tram stops where you are able to buy an array of different types of tickets. The ticket machine is defaulted in French but there is a button to convert the language into English or Spanish. Once you have selected your language you can select your ticket by rotating the wheel in the center of the panel, click the center button to choose and then select the total number of tickets you wish to purchase.
To pay you will need to either pay by coins or credit card (notes are not accepted).
Ticket Types & Price: 
(After validation the ticket is good for 1 hour)
Type of ticket

Uses 

Price

 Tickarte 1 trip 

 For just 1 trip (Change as many times during 1 hour)

 €1.60

 Tickarte 5 trips

 Occasional travel. No expiry date.

 €6.50

 Tickarte 10 trips

 Occasional travel. No expiry date.

 €12.00

 Tickarte Relay Park*

 Combine car – tram – bus
(One day)

  €4.50

 Tickarte 1 day

 Unlimited trips for a day

€4.30

 Tickarte 7 days

 Unlimited trips for a week

 €12.00

 City Pass

 Unlimited transport access and provides access to museums, and other establishments (only available at the Tourist Offices)

 €25.00 – 1 day
€30.00  – 2 days
€35.00 – 3 days

 Evening Ticket (Pass Soirée)

 Unlimited transport access from 7pm until 7am the next morning,

 €2.00
* To be used in conjunction with the Park and Ride stations on the outskirts of the city.
* Prices may vary since this article was published. Check here from updated information.
Once you have boarded the tram there are two small yellow machines where you can validate your ticket.