Well after their first round against Stade Français in Paris last week, Laurent Marti's men are set to take on their not to distant neighbours, Bayonne.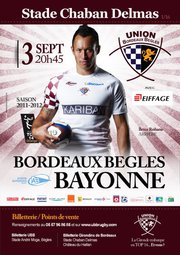 The gala match will be the first home game of the season and an equally special event will be that it will be the first event played at Stade Chaban Delams since 2009.
Bayonne has a long history of being a very comptive team, hailing from the Rugby heartland in the Pays Basque. They are fielding a very strong team with internationals such as Mark Chisholm (Aus),  Joe Rokocoko (N.Z) & Mike Phillips (Wales).
When: 3rd September, 2011 @ 8:45pm
Where: Stade Chaban-Delmas, Place Johnston, 33000 Bordeaux
Cost: Starting from – €12 until €45