After a witnessing a brilliant, (albeit the disappointing result) match last week against Stade Toulousain at Stade Chaban Delmas, the Union Bordeaux Bègles are taking a break from the competitive Top 14 competition to take on London Irish in the Amlin Challenge Cup.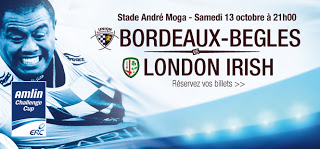 This Saturday's match will be played at the UBB's official home ground, Stade André Moga in Bègles. This being the first match of the competition, it will be a good test to see how the team can compete in the  second division of the European contest.
When: Saturday, 13th October 2012 @ 9pm
Where: Stade André Moga, 25 Rue Delphin Loche, Bègles
Cost: €15 – €20
Buy tickets here!
www.ubbrugby.com
www.facebook.com/ubbrugby
www.twitter.com/UBBrugby
Watch the last 5 minutes from last weeks nailbiter….