After a recent chance encounter at UCAR on Boulevard Wilson, Bordeaux Expats managed to grab a cheeky blog from long term US expat, Janice Brooks.
Janice Brooks hails from Alabama and has been a US expat in Bordeaux for over 20 years. She is a freelance translator who has worked a great deal with INSEEC amongst other companies. Her portfolio also includes interpreting, accompanying tourist groups as well as business English teaching. She works in coaching, training for companies and individuals in professional communication such as presentations, public speaking and negotiating. In the past, she has been an active member the Bordeaux Women's club and her partner happens to be the well known local artist, Arnaud Faugas…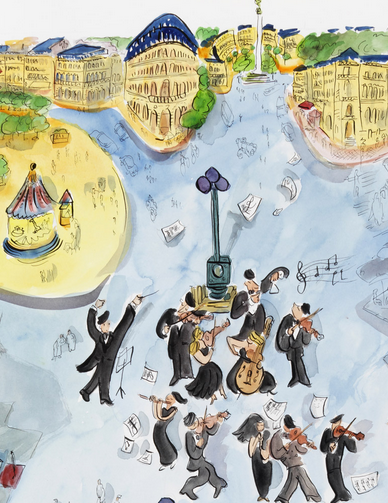 Bordeaux Musical – Arnaud Faugas

As well as her busy career, Janice runs a charity called 'Les Bonnes Causes de Céline' after her daughter was diagnosed with leukemia in 2011. During the treatment in Bordeaux, she encountered two associations, Parent'r'aide Cancer and Make-a-Wish France. These charities do amazing work for children and their families who have been faced with leukemia and other serious and debilitating diseases.
From this experience came the idea of a Christmas Sale organized every year in Bordeaux by two friends to benefit these two worthy associations, as well as occasional other events to help with fund-raising. With the creation of the association 'Les Bonnes Causes de Céline' (Celine's Good Causes) she can carry on her work raising money for charity. Please have a look at her FB page for more information.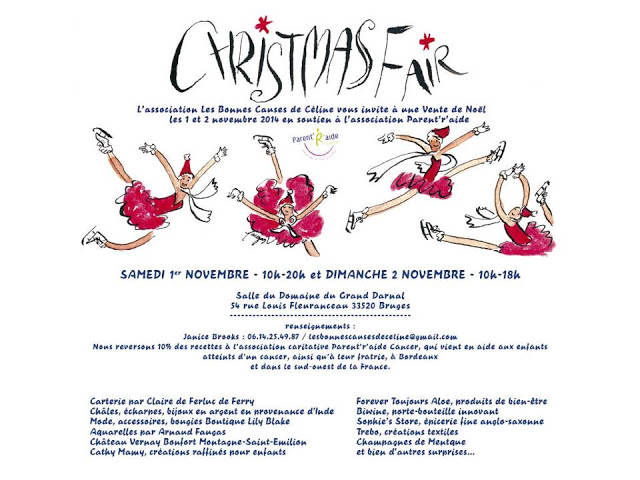 The 2014 Christmas fair for 'Les Bonnes Causes de Céline'
https://www.facebook.com/pages/Les-Bonnes-Causes-de-Céline

http://parentraide-cancer.org/
http://www.makeawishfrance.org/
Arnuad Faugas – an exhibition at Stanford University
Bordeaux painter/illustrator Arnaud Faugas will be exhibiting at the Stanford in Washington Art Gallery from September 17th.
Arnaud Faugas is one of Bordeaux's most well-known artists. For over twenty years, he has represented
Bordeaux
, its festivals and its vineyards….
A painter and illustrator, he works with India ink and watercolor, presenting in a colorful and humorous way the great themes of his surroundings, his city, the Bordeaux vineyards, the great scenery of the Aquitaine region but also more literary subjects like the Fables of La Fontaine, as well as classical and jazz musicians.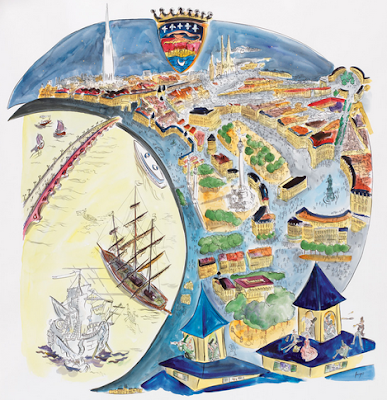 Port de le Lune – Arnaud Faugas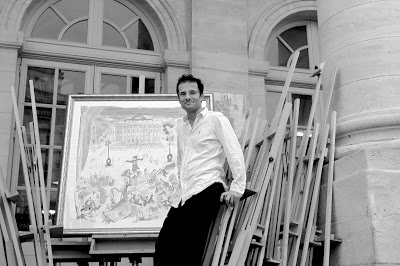 Arnauds' influences include famed French illustrator Sempé, but he paints Bordeaux in his own way, airy and light.
"Bordeaux has become the city I had dreamed of!" In 1992, Arnaud had already ventured all over the world when he returned to his home region. "The Sleeping Beauty" was still a city of blackened stone and dilapidated riverfront warehouses. Yet Arnaud was already looking at things differently. Back in the United States, he was impressed by the way Americans take ownership of their city, their uninhibited approach: "I was influenced by the New Yorker, its free and colorful illustrations. One day I went into a newsagent, I bought a sketchbook, a pen, a bottle of ink and a paint palette for children. I started painting, I was 30."
The style – somewhat like illustration; the medium – watercolor and India ink; the themes – Bordeaux, wine, music; all these elements combined and took flight in his first exhibition only one year later. Through his brush strokes, neighborhoods come alive and take on a festive air, music resounds, barrels roll along the Garonne; wine flows, the streets fill with a dense and colorful crowd, the monuments are adorned with light … "I have in my head a Bordeaux where everything is musical, twirling and dancing," says Arnaud. From festive Bordeaux to the neighborhoods of Paris, from the vineyard architecture and refined lifestyle of the Bordeaux chateaux that he appreciates so much, through to the fables of La Fontaine and even the seven deadly sins.
In addition to collaboration with several publishing houses, the Bordeaux Office of Tourism, and Le Grand Théâtre, and filling many special commissions, this painter amazes with his incredible spontaneity and freshness. "I have regular work with the city and the wine, which are my favorite subjects, but I appreciate just as much getting special orders, which enable me to approach new topics." Arnaud has been asked to design labels for numerous fine wines, has illustrated boxes for M Le Macaron, has designed cheese plates and other porcelain dishes for Table A Part.
Exhibits: Cours Mably, L'Encadreur, La Salle à Manger des Chartrons, Le Grand Théâtre de Bordeaux, Galerie Jerome B., Chateau D'Arcangues, La Maison Louis David….
See Arnaud's website and FB page for more information…