With the school holidays under way, parents surely must be going out of their heads with the kids hanging around the house all day. A relatively cheap and not too far outing is to head towards the bassin d'Arcachon and the amusement park 'La Coccinelle'.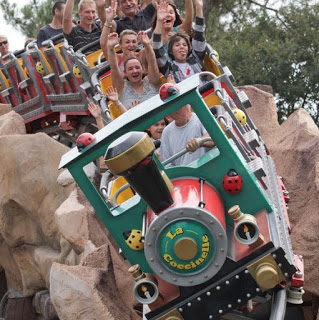 The park itself is located in Gujan-Mestras, approximately 50 km south west from Bordeaux, and has been around since 1985. Even though the decor may seem to be a little frayed around the edges, it does provide all you could need for the little ones to run around like crazed monkey children.
The visit begins with farmyard attraction where kids can pet & feed animals. The petting farm is rather small but there is a good selection of different types of animals and you are able to get close up and enter the enclosures.
There are also a variety of rides and slides that are adapted for children as young 2 years old up until around 12 years. The rides are small but still pack a wham for thrill seekers, with the Log Ride plummeting into a river of water or the roller coaster train rattling along for around a 40 sec thrill.
Along with the big kid attractions, there are also rides and trampolines dedicated to the little'uns, which is always a good mix if you have children ranging in age.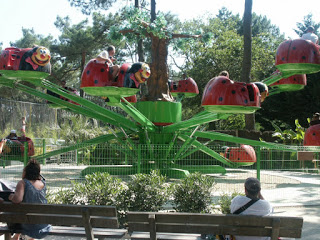 If you do head out there for the day, take a packed lunch as the canteen services are expensive and could put a damper on the day money-wise.
The park closes in the winter period and opens again in the spring (April until 5th November).
Prices:
0-14 years: €12 (€13 in peek season)
+14 years & adults: €13 (€14 in peek season)