Oliviers & Co, specialises in olive oil and also offers vinegar, condiments and delicatessen products in BDX.
Author: Ujwala Samant
Getting lost – not always fun. Getting lost in Bordeaux – always exciting. Olive trees of all sizes outside a store looked as strange as a mango tree in Brittany. I went into the store after eyeing and balking at the prices of the olive saplings and trees. Oliviers &Co specialises in all things olive – from fruit to root. Begun as a family store, it was bought in 2017 by the Occitane group, resulting in a change of branding and packaging. They have 60+ stores, 50% in France and the rest in Europe, Saudi Arabia, Taiwan, Philippines, and NY.
Claire Canovas and Didier de Lorenzo, both very passionate (and let's face it l'accent du Sud doesn't hurt) about the Almighty Olive. The oil (and there's lots of it) comes from independent producers all over the Mediterranean; France, Spain, and Italy mainly. Smaller amounts come from Portugal, Greece, Croatia, Tunisia and Morocco. The bottles are labelled much like wine and list the country, producer, breed of olive, year – to be used within the year of harvest. For me, an olive oil plebe, this was an eye-opener. The language of wine – which I am used to- being used for olive oil.  AOC? AOP? Okay!
Tasting:
Feudo Disisa made with Cerasuola olives from Monreale, Sicily. An oil could taste like tea and the sea (algues) and linger in your mouth was quite a contrast from the first one. A slight peppery kick towards the end too. Eat it or drink it?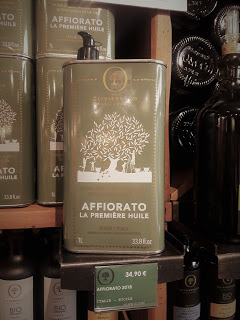 Il Fornacino from Tuscany, produced with 4 varietals by two women, was mother of God good. No wonder it's won awards. Fresh, grassy, and green apples – think spring not mowing the lawn.
L'Extraverte from Catalonia (Still Spain?) made with Picual olives. It was the extrovert of the lot. Packs a punch with the peppery-almondy flavours.  Lives up to its moniker.
Autour des Oliviers:
Douceurs de vinaigre or when there's olive oil, can vinegar be far behind?
Quite a range of balsamic vinegar, aged, un-aged, flavoured with aromates. To an Indian, mango is not a flavor that is easily bottled. Their mango vinegar which when coupled with citrusy olive oil wasn't half bad – confirmed by 2 Indians, that's a compliment. A little Malabar pepper on it… mmhmm
Specialty oils, seasoned salts – there's salt to be had, flavoured with olives, capers, etc. but the show stealer  were speciality oils where olives were pressed with fresh peppers from Chili, or with fresh garlic, or shallots or onions. With the optimism that Spring would be here soon, I picked up a couple of these to perk up spring salads, tarts, aioli. Just no sign of spring.
Delices by Michelin starred chefs – Olivier Streiff, Michel Roth, Gerald Passedat, Alain Passard, Jean-Andre Charial, and Giovanni Ciresa- like poivron and olive noire, tomate & piment d'Espelette, asperge & citron confit go well with the olive flatbread. A small selection of olives, quince paste, is available.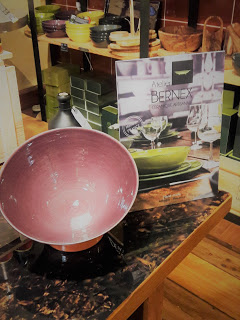 To help the hosts even further, Oliviers & Co have a range of handmade pottery in vivid colours, olive wood bowls, mortar and pestles, and charcuterie boards. And handy-dandy recipe booklets.
Go in, inhale, taste, discover, and enjoy.
WHERE: Oliviers & Co, 29 rue des Remparts, Bordeaux
About the author: 
Ujwala Samant is a serial expat and has spent time in various countries before returning to Bordeaux after living away from the city after 26 years.