Not far from Place Gambetta, is a small cheerful, colourful store window. On sunny days, there are 2 bright tables on the sidewalk. The sign "Dosa Hut" is visible on the glass door and window, against the colours of the Indian flag. T. Alan, (who prefers to be called Alan) owns the place with his wife Jerina, and has quite the story.
Author: Ujwala Samant
Born in Sri Lanka, raised in India, then returned to Sri Lanka and migrated to Bordeaux in 2007. And we're thankful for that. Trained in the culinary arts in Chennai, he worked at the Taj Group of hotels in India and Sri Lanka and then worked here at the grand Hotel, and Chateau Smith as a chef. Getting to and from work at Chateau Smith on a scooter proved challenging so he went to work for the restaurant Vinayaka. This March, he decided to start his own restaurant – The Dosa Hut. And again, we're thankful for that because south Indian food is hard to come by even in places known for Indian food.
I watched Indian students pop by for dosa (dosai to the purists) and eat them with the concentration reserved for soul food. Doesn't matter which part of India you come from, dosa, idli, vada, are soul food. Usually cheap as chips, clean restaurants, served on a banana leaf or stainless steel. Alan's wife Jerina makes the batter and the accompaniments. The accompaniments are just as important as the dosa – think a galette de sarrasin. On its own, mehh, but wrapped around a grilled sausage or filled with ham and cheese or scallops! The dosa is the same. The white coconut chutney, the red tomato chutney, the green coriander chutney, all serve their purpose: dunking and dipping fluffy idlis or crispy dosas and vadas. Always served with the Holy Trinity (idli-dosa-vada), is sambar. Every South Indian family and community has its own variation on this many layered lentil stew loaded with vegetables, nicely spiced and rich with tamarind. Sniffling lightly as you eat it, is a must.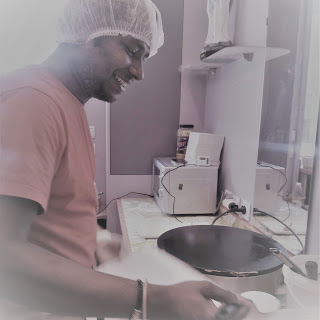 Alan offers:
Plain dosa – the basic crepe, crisp or soft, with the chutneys and sambar
Ghee roast dosa – crisped with ghee for a whole new buttery (is ghee-ey a word?) taste
Masala dosa – with a filling of seasoned smashed potatoes. Not your ordinary mash this. Boiled potatoes are tempered with black mustard seeds, curry leaves (worth their weight in gold in Bordeaux), turmeric, slivered ginger, sautéed onions, and green chili. A filling dosa, great for lunch and comes with sambar and the chutneys.
Mysore Masala dosa – the big mama of all dosas is layered with a spiced chutney, then the smashed potatoes and served with the usual sambar and chutneys. You'll be well full.
Uthappam – a thick savoury pancake, with onions, ginger, coriander leaves.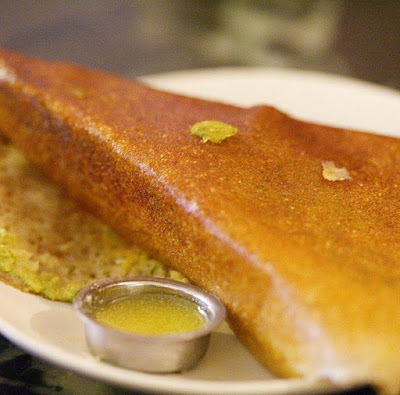 Specials: order ahead
Idlis – steamed heavenly fluffy pillows made from a lentil-rice fermented batter. The healthiest vegetarian breakfast possible. Make sure to drown these in sambar, top with chutney, and imagine yourself somewhere else.
Paniyaram – The closest thing to these tiny crispy (not fried) mouthfuls of fun are the Danish ebelskiver. Tablespoons of batter are dropped into a massive cast iron paniyaram pan and they just magically emerge crisp and fluffy.
Pani puri – the street food we run home for. Crisp orbs that are filled with cool boiled potato, filled with sweet-tangy tamarind chutney and a minty spiced water. Open wide, pop the whole thing in your mouth and crunch. Trust me, do not take a bite unless you want to be drenched with the sauces. Practice here and then go to India and eat it like a pro – 6 in 3 minutes?
Chicken biriyani – Alan revealed that his wife, whilst a vegetarian, cooks meat. And in his words, her chicken biriyani is only second to his mum's. At 8 euros for a plate of biriyani and yoghurt raita, it sounds good.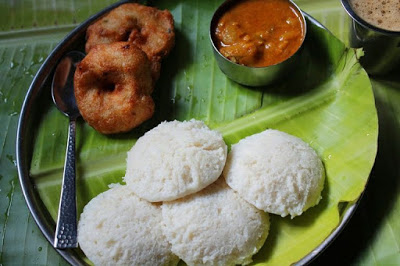 Alan is in the process of slowly getting everything organised hence the need to order in advance. Hi is skilled in making dosas thin, big, crisp on the single electric crepe maker, and that's the taste of home. We have tasted the ghee roast, the masala dosa, Mysore masala, and paniyaram.
I got there around 1:30 and he was out of pani puri (much to the disappointment of the Indian student who showed up) and had no idlis or vadas. He's getting a new cooler, so his drinks were not cold. He explained that he was reorganising the space to suit the Dosa Hut's needs and until then he would have this menu with specials on certain days.
Address: 20 bis rue Saint Sernin, 33000 Bordeaux, France
Phone: 06 28 70 28 68 Hours: M-Fri 11:30 – 6 pm. Saturdays noon – 7:30 pm
Prices:
€3.50 – plate of 5 pani puri
€8 – Chicken biriyani.
€4.50 – €5.50 – Dosas run
About the author:
Ujwala Samant is a serial expat and has spent time in various countries before returning to Bordeaux after living away from the city after 26 years.