For years now we've been hitting the paradise beaches and crystal clear warm water of Lac Cazaux (officially the Étang de Cazaux et de Sanguinet!). And the quickest route has always taken us through Mios, just off the main road to Arcachon.
As you leave Mios village towards Sanguinet, you cross a river and often see tons of people messing about in canoes on the banks. Well I finally decided to find out what they were up to!
A gallery forest
The river in question is called the l'Eyre or la Leyre and is one of the region's hidden gems. Nicknamed "Little Amazon", the Leyre is formed by drainage from the Platiet marshes in the Landes (around Sabres) and snakes down 155km to the Bassin d'Arcachon across the Grande Lande and Pays de Buch. There are numerous tributaries and the river system is essentially a kind of delta, which covers around 3000 hectares across the Landes de Gascogne Natural Park. A vast mosaic of marshes, reed beds and salt meadows, it hosts thousands of migratory birds and culminates in the Teich ornithological park at the east end of the Bassin.
Until the 1960s, the Leyre was largely bordered by meadows, which have since evolved into a deciduous forest, called a 'gallery forest'. Mainly made up of oaks, alders, and willows, the cool microclimate and soft light have a rich flora composed of water lilies, aquatic ranunculus, or rarer species such as the royal fern or the round-leaved sundew.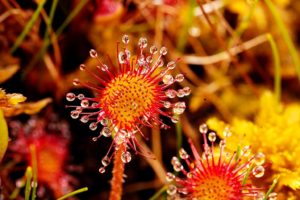 This green 'tunnel' forms a transition forest between the river on one side and the cultivated maritime pine forest or agricultural areas on the other. Narrow upstream, it widens up to one kilometre in the middle part of the valley.
An ecological oasis
Since its appearance, this hardwood forest has also become a habitat for many species, some of which are endangered, such as the European otter, the European mink, the European pond turtle, the common genet and bats.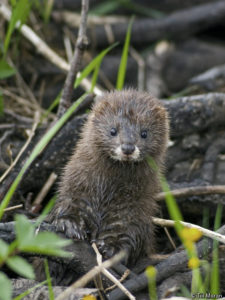 In the middle of the river, the water is clear, shallow and sandy. On the banks, where the waters are muddier, there are aquatic meadows and the tree branches are heavily intertwined – ideal hiding spots for varied species of fish, such as pike, dowels, dace, minnows and eels.
The Leyre Delta was listed as a Wetland of International Importance in 2011.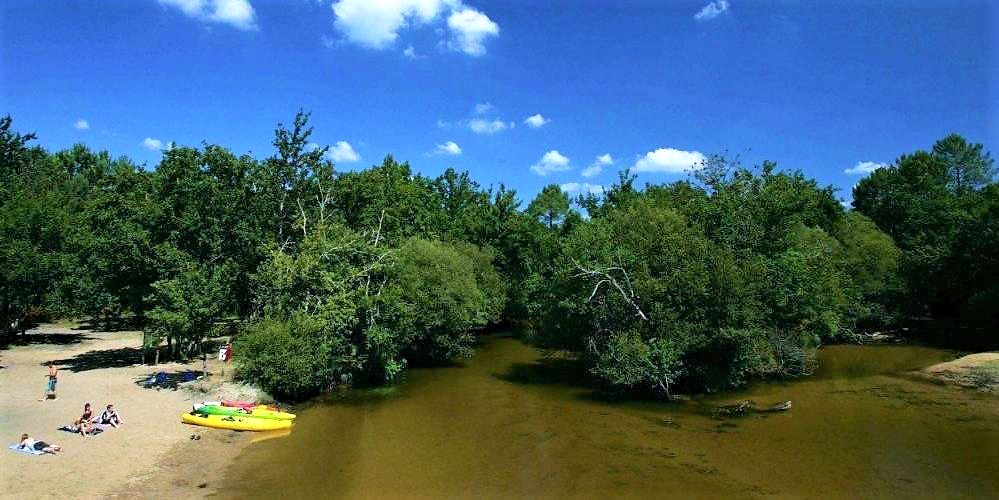 Our day out!
Never knowingly underfed, we loaded out canoe's waterproof 'bidon' with a copious picnic and hit the river around 11.00am! The current is surprisingly strong at first and it takes a while to get used to steering the canoe and avoid being swept into fallen trees and low-hanging branches. As genuine Indiana Jones wannabes, this inevitably did happen and we had some hairy moments where the language become livelier than usual.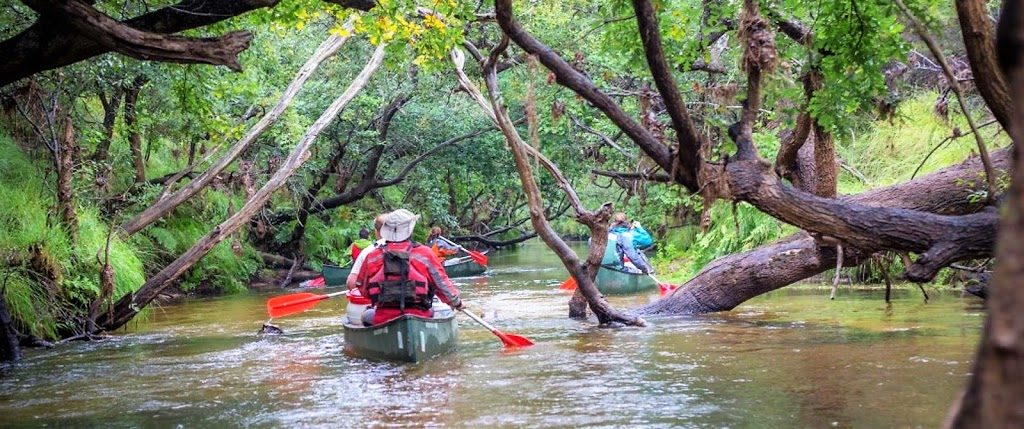 The water itself is beautifully clear with a golden sandy bottom – you quickly find yourself immersed the tranquillity of nature with no sound but the lapping of paddles, birdsong and scores of bright blue dragonflies hovering around the canoe.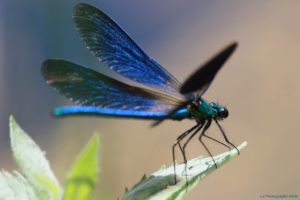 There are a number of deserted beaches along the way to stop for a rest or have a picnic. During our 3-hour descent, we only bumped into a handful of people and mostly had the entire river to ourselves. There are a couple of spots with 'rapids', which whisk you along at high speed for a minute or so. Apart from that, it's plain sailing as you drift peacefully under the Arcachon motorway and SNCF railway bridge on the way back to Teich.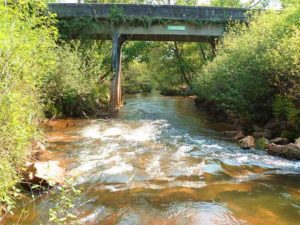 The final section is a sharp left turn up a tributary (le Bras de l'Eyre) and there is significantly less room to manoeuvre! There are several fallen trees blocking the main route and we had to edge our way through with our newfound adventurer-paddling prowess.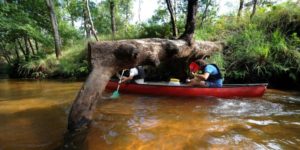 You end up at the bridge on Rue du Pont Neuf and just need to jump out and pull your canoe onto the beach (the tour guides pick them up later). Directly opposite there's a natural lake where you can cool off with a welcome swim! From there, it's just a short 3 minute walk back to the HQ and car park.
Practical info
We went with Villetorte Loisirs in Le Teich – who also organise mountain biking tours and horse/pony treks.
They offer both long and short river descents in canoes (up to 3 people) and individual kayaks.
Long tours start in Salles and leave at 9.00am – it's €20 each.
And short tours leave at 10.45am and 1.15pm – €15 each. A shuttle takes you from the base to the start point.
You have to be at the HQ in Teich 20 mins or so before and should call a few days in advance to reserve (the river is sometimes too strong).
They provide all the gear: lifejackets, paddles and obviously a canoe… The guide also gives you a detailed safety brief in French at the start.
The minimum age for kids is 6 and they have to be decent swimmers…
And a couple of official 'rules of the river' – life jackets are a legal obligation and you get a €130 fine for not wearing one – cops apparently hide in the bushes to try to catch people. Alcohol is also banned and the police have been known to spot drinkers on the river then wait for them in the car park at the end to breathalyse them.
And don't forget to take all your rubbish with you!
Lunch
There are plenty of places to moor up for a picnic and if you do the long descent starting in Salles, you can stop for lunch at the most epic roast chicken 'n chips spot in the entire region, the Rôtisserie Val De L'Eyre in Mios, with a huge outdoor seated area overlooking the river..!

What to bring:
You have a large container on the canoe (the 'bidon') and can surprisingly pack in quite a lot of gear.
Essentials include: water, sun cream, mozzie repellent, towels, trainers-you-don't-mind-getting-soaked, swimming trunks (to wear while canoeing as water gets in the boat!) a change of clothing for afterwards and food for a picnic. I also took a GoPro to do some filming!
The guides were very friendly and professional and the entire day went seamlessly. A fantastic day out from Bordeaux and highly recommended!
And finally…
Put your sunglasses in the bidon! Shades are the most commonly lost item for canoeists with over 2000 pairs per season apparently lining the riverbed. When the water gets really low off season the guides try to clean them all out..!
Here's a video of the descent of the Leyre, taken by Mexico Loisirs, based upriver in Commensacq…
And the company we went with…
Villetorte Loisirs
30 Rue du Pont Neuf,
Le Teich
05 56 22 66 80
https://villetorteloisirs.com
About the author:
Chris Tighe lives in Pessac, loves the Sud Ouest and helps to run the voluntary blog and FB site, Bordeaux Expats. In his spare time, he works a cosy 36 hour week as a translator for a local tech company. He lives 35 minutes from the beach, a two-hour drive from San Sebastian and has successfully escaped his preordained destiny working 60 hours a week in London, commuting four hours a day on rammed medieval public transport – cheers ears.