La Méca (Maison de l'Economie Créative et culturelle en Nouvelle-Aquitaine) will be an assembly of different regional cultural agencies.
Passersby are hard pressed not to notice this beautiful atypical building which is located on the Quai de Paludate near the Gare Saint Jean.
According to this article by 20 mins, the inauguration of the Nouvelle-Aquitaine offices for Economy and Culture is scheduled for the end of June.
The imposing building will host three cultural agencies linked to the region, Frac (Regional Fund for Contemporary Art), the Oara (Artistic Office for the region of Nouvelle-Aquitaine) and Ecla (Writing, Cinema, Book, Audiovisual). The construction itself is a technical and architectural feat, and will most definitely be the stand out emblem of the Euratlantique district.
The structure will be the first thing visitors see when arriving by train from Paris. The building measures 120 m long and 37 m high and is designed by Danish architect, Bjarke Ingels of the BIG agency. He has also been chosen by Google to design their future headquarters in California.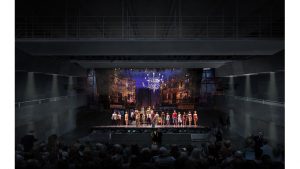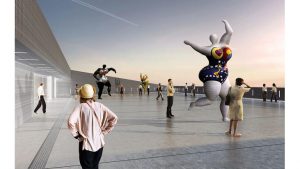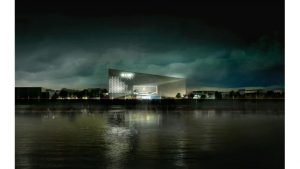 A CULTURAL HUB FOR THE REGION
The Meca will be open to both the public and for professional use.
The initial idea is to bring together these cultural agencies, to make it a cooperative cultural creation. It will be an extraordinary cultural hub with artist residencies. The center will be open to surrounding cities, high schools and other associations.
Not only will this cultural hub provide outlets for creative talents, there will also be one of the most beautiful rooftop terraces in Bordeaux open to the public. And last but not least, a restaurant with a capacity of 56 people will be open five days a week.
The district around the Gare Saint Jean is indeed changing!